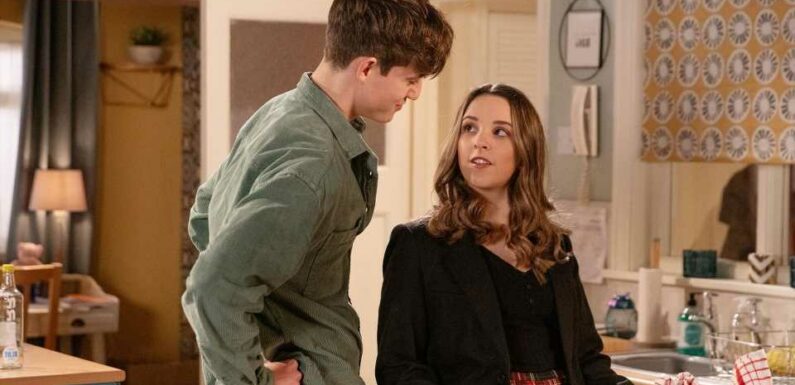 SUMMER Spellman's relationship with Aaron Sandford hits the rocks this week and Amy Barlow pays the price.
This week, the Coronation Street teen is involved in a harrowing rape storyline. Here's what you need to know.
1. Rape horror
The Manchester-based drama tackles a difficult topic in scenes due to air on ITV.
It all begins when Summer Spellman (Harriet Bibby) finds out her boyfriend Aaron Sandford (James Craven) has been having late night chats with his former girlfriend Mia.
When Summer confides in her friend Amy Barlow (Elle Mulvaney)how she's struggling to trust Aaron, she's told she is needy and insecure.
Summer hits back with a jibe about Jacob Hay, who recently left the cobbles, and the pair fall out.
More Corrie
Shock Coronation Street split leads to rape horror
Corrie's Katie McGlynn turns up the heat as she poses in a bikini in the sauna
Later on, Aaron finds Amy upset after the row but reveals that he's been promoted to mechanic after his probation and is in the mood to celebrate.
Amy and Aaron get ready over a few drinks, the sexual chemistry is evident and they find themselves kissing.
But she quickly pulls away, awash with guilt.
Later on, as she struggles to watch Summer with Aaron at the Bistro, Amy heads home.
Most read in Soaps
Matty Barton makes heartbreaking confession in Emmerdale
Shock engagement rocks Coronation Street – but couple keep it secret
Danny Dyer secretly feuded with major EastEnders co-star while on BBC soap
Corrie under fire as fans switch off and slam 'woke and preachy' storylines
As Aaron and Summer snipe at each other, ruining everyone's evening, he announces he's going back to the flat too.
Once home, Amy and Aaron play drinking games, polishing off every drop of alcohol in the flat.
Amy stumbles into the bedroom to find more but declares herself to be too drunk.
She begins to get undressed but later admits that she feels sick as she falls into her bed.
Aaron climbs into the bed next to her and tries to kiss her.
As the scene continues, Aaron makes a decision for Amy which will leave her spiralling the following morning.
How will she cope as she realises she has been raped?
2. Daisy finally gets help
Meanwhile, Daisy Midgeley (Charlotte Jordan) has been struggling to live a normal life since Justin (Andrew Still) became infatuated with her.
The Rovers barmaid has had to endure his harassment as she prepares her nuptials with fiancé Daniel Osbourne (Rob Mallard).
Coming up, the catering company advises Daisy they are sending some wedding cake samples for her approval.
At No.1, Daisy, Daniel, Ken, Jenny and Gemma assemble for the cake tasting.
Daisy's appalled when the samples are delivered by Justin.
Daniel contacts Justin's delivery firm to report his stalking but they refuse to take action without proof.
Daniel admits to his father Ken Barlow (William Roache) that he's worried about Justin posing a risk to his son Bertie but the stalwart promises the family will help Daisy through her ordeal.
When Daisy's hair stylist cancels her wedding booking, Jenny suggests using Maria Connor (Samia Longchambon) but Daisy brands her old and out of touch.
Maria's offended but Daisy later apologises to the local politician.
As her phone pings repeatedly, Daisy gets upset prompting Maria to open up about her own stalker ordeal.
This leads to Daisy finally getting the help she needs from the authorities.
On Maria's advice to go back to the police, Daisy tells Jenny Connor (Sally Ann Matthews) that she's been granted a hearing for a Stalking Protection Order next week.
Could it put an end to her torment?
3. Stephen almost exposed?
Demoted by Carla Connor (Alison King), Stephen Reid swore revenge on the Underworld boss
The businessman played by Canadian actor Todd Boyce was in cahoots with Michael Bailey and his niece Sara Platt as the pair used the Underworld premises behind Carla's back to get their own business started.
Unfortunately, Stephen paid the price of his betrayal and has been left seething ever since.
Stephen has been actively trying to keep Carla at arm's length from her own business.
Stephen takes things to another level when he gathers the shareholders on the workforce and suggests they should hold a vote of no confidence as he maintains Carla isn't fit to take the helm.
Viewers will remember seeing him spike Carla's drinks with LSD, leading her to take leave after a horrific van crash as her husband Peter was convinced her psychosis may have returned.
Unfortunately for the serial killer, Faye Windass (Ellie Leach) is on to him and she gets her phone out to tip off Carla.
Stephen faces the consequences in later scenes of the Manchester-based drama as Carla summons him to her office and gives him a rollicking for trying to oust her from the business.
This comes after Dick Havisham arrives at the factory and belittles Stephen for being incompetent.
Sarah (Tina O'Brien) is saddened by the ordeal, shocked by her uncle's actions.
Soap fans know Stephen won't go down without a fight and as Carla prepares for the Nippersnapper presentation, he laces her tea with LSD again.
But when the Underworld leading lady takes a sip, she spits the tea out, complaining it was filled with full fat milk.
Stephen realises in horror that he gave her the wrong cup, meaning he or Sarah have drunk the LSD.
The pair arrive at the hotel for the presentation and Stephen takes the stage, hoping for the best.
Soon enough, it's clear to him he must have taken the LSD as his vision becomes blurred and he starts to sweat profusely.
Stephen's bad trip begins but could a turn down Memory Lane finally expose him?
4. Shock engagement kept secret
Stephen will be going through a busy week as he has big plans with Elaine Metcalfe.
Elaine (Paula Wilcox) has been desperate to catch Stephen's attention since he first came back to Weatherfield in 2022, to no avail.
Yet in a surprising turn of events next week, the pair agree to buy the Redbank apartment together as flatmates.
Elaine has had her eye on the property for weeks but was devastated when she realised it was outside her budget.
When Stephen agrees to move in with her, Elaine is excited although she secretly wishes they were moving in together as a couple.
She gets a major shock when Stephen agrees to get engaged – but there's a twist.
He soon tells Elaine he'd like them to keep their engagement a secret for the time being and just enjoy the moment.
What does he have in mind?
5. Devastating heart attack
Kevin Webster (Michael Le Vell) was put through the wringer in 2022 after finding out his wife Abi (Sally Carman) had cheated on him with Imran Habeeb.
Since then, the family has been making a go of things, although it hasn't always been easy for Kevin.
Last year, before Abi came back to stay in the cobbles for good, Kevin buckled under the pressure and acted out by destroying Stephen Reid's car.
This week, Kevin gets another devastating blow, months after finally finding balance in his life.
Kevin learns his father Bill has had a heart attack – but did he survive?
How will Kevin cope?
What sort of trouble is ahead for the mechanic?
CORONATION STREET NEWS
Everything you need to know about Coronation Street
New, leaving and returning Coronation Street cast
The filming locations for Coronation Street revealed
All the latest Coronation Street spoilers
Coronation Street's best bits
6. Child abuse exposed
Hope Stape (Isabella Flanagan) recently accused Beth Tinker (Lisa George) of slapping her after she tried to make Peanut pay for the death of her pet chinchilla.
Unfortunately, Hope's allegation was discarded as a lie due to the girl's track record.
However, this was a big mistake as it was later revealed Hope had been telling the truth but she was bribed by Beth to remain quiet.
Coming up, Hope's friend Sam Blakeman (Jude Riordan) takes action to help her.
When Hope reveals that Beth slapped her, but warned her not to bother grassing her up as nobody would believe her, Sam's shocked and tells Tyrone Dobbs (Alan Halsall) that Hope is telling the truth.
Will Beth finally get comeuppance?
7. Faye gets huge news
As viewers will remember, Faye was crushed when she found out she was going through an early menopause.
Prior to her diagnosis, she had believed she was pregnant with Craig Tinker's baby.
In scenes due to air this week, she confides in Sally Metcalfe (Sally Dynevor) that she's received unexpected news.
Faye tells her stepmother that Jackson, the father of her daughter Miley, has made contact asking if she wants to see them.
She then opens up about her mixed feelings as she has come to terms with never being a mother and doesn't want Miley's return in her life to stir anything up for her.
Later on, Gemma Winter (Dolly-Rose Campbell) is swamped after offering childcare to any struggling parent in Weatherfield.
In an attempt to alleviate the pressure, her Underworld colleague Sally offers to look after Michael Bailey's daughter Glory.
The machinist then pretends she needs to nip out for a short while, leaving baby Glory with Faye.
Sally returns to find them playing and hopes her ploy has worked.
Read More on The Sun
Savvy parents scramble to nab Disney toy kitchens reduced from £55 to just £7
iPhone users issued urgent warning as thieves use 'reset' trick
Will she manage to convince Faye to get back in touch with Miley and Jackson?
Coronation Street airs every Monday, Wednesday and Friday from 8pm on ITV.
Source: Read Full Article