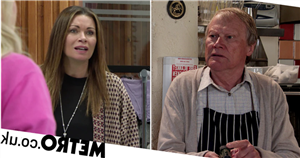 It's been a slow-burning love story for Roy Cropper (David Neilson) in Coronation Street. When Nina (Mollie Gallagher) first presented him with a mobile phone for Christmas he was resistant to its charms, insisting he was an analogue sort of person who didn't need all the fancy trappings of modern life.
But after a nasty incident in which Nina was injured after trying to find him in a dark wood when she wasn't able to contact him, Roy began to see that having a mobile phone might occasionally be useful. Strictly for emergency use, of course.
Roy's first steps into the digital world were typically Roy. Starting texts with a formal 'Dear Nina.' Innocently using the aubergine emoji without a clue that it might have acquired a secondary (rude) meaning. Almost jumping out of his sensible raincoat at an alert sound.
But gradually he's embraced his new phone after finding it can be a valuable source of information – such as for getting updates about the Roman fort excavation he's interested in. In fact he's so excited by waiting for the next update that he's finding it hard to leave his phone alone for long.
We've all been there, but this behaviour is so absolutely Not Roy that Carla (Alison King) becomes quite concerned in upcoming episodes and tells Nina that she thinks Roy is become obsessed with his smartphone.
Something similar has happened before. Back in 2019 Roy became addicted to online Scrabble and Carla had to stage an intervention.
Nina is also concerned when she realises what's happening and she issues Roy with a challenge – put his phone away and work the rest of the shift without it.
Will Roy's fingers be able to keep away from his pocket?
Source: Read Full Article