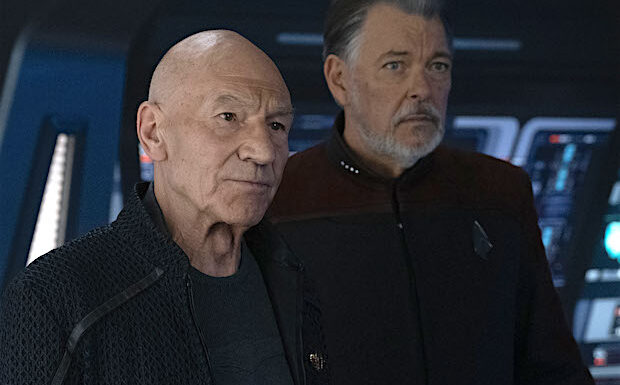 Warning: This post contains spoilers for Thursday's Star Trek: Picard.
We knew this season of Star Trek: Picard would see Jean-Luc cross paths with a lot of his former Enterprise crewmates — but we didn't see this one coming.
In Thursday's episode, Starfleet sent a team of investigators to question Jean-Luc and Riker about their insubordination aboard the Titan, and the team was led by… Ro Laren, the Bajoran lieutenant played by Michelle Forbes on Star Trek: The Next Generation. (Jean-Luc was left deeply disappointed by her on TNG when she left the Enterprise to join a band of resistance fighters.) Forbes reprised her role as Ro Laren this week, and it was clear the wounds between her and Jean-Luc hadn't exactly healed over the years.
"It felt like one of the last great unexplored stories of Star Trek: The Next Generation," Picard showrunner Terry Matalas tells TVLine. "It ended in such a kind of tragic way, those two, and now we're back decades later. One wonders: What happened to Ro Laren?"
Jean-Luc still felt betrayed by Ro Laren's abrupt departure all those years ago, labeling her a "traitor," and he also suspected she could be one of the changelings that have infiltrated Starfleet. That led to a riveting scene where Jean-Luc and Ro held phasers on each other while arguing about their old rift on the holodeck — "You broke my heart," he told her, and she replied: "And you broke mine" — and that intense conversation convinced Jean-Luc that she was the real Ro Laren.
For Matalas and the Picard writers, "the opportunity to tell a story that's essentially a paranoia thriller, where both of them are looking at each other, not entirely certain if each other are who they say they are, and the only way to verify their identity is to work through this kind of catharsis about how they feel, [felt] like it could be good television." He admits "it was a tough one to crack, but it was brilliantly written by our writers, and I think it's satisfying. But it felt like we had to do it."
By episode's end, Ro Laren exposed the changelings within Starfleet and nobly sacrificed herself, piloting a shuttle carrying a bomb into another ship to allow Jean-Luc and the Titan time to escape. "She sets them on the path, hopefully, that could save the galaxy," Matalas notes.
Got thoughts on Ro Laren's surprise return and this season of Picard so far? Beam down to the comments and make your voice heard.
Source: Read Full Article