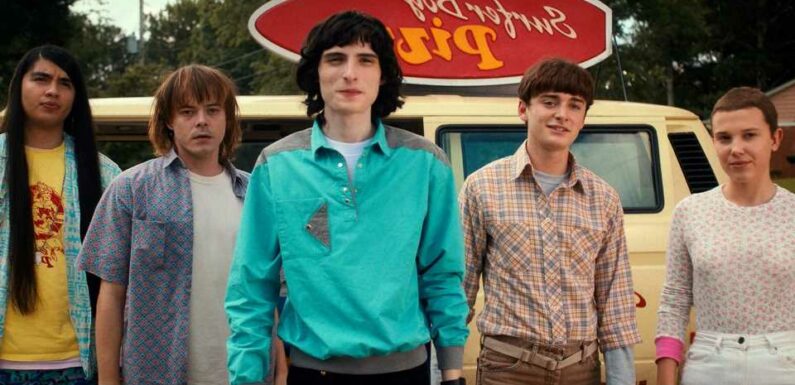 STRANGER Things star Noah Schnapp has come out as gay in a candid video on TikTok.
The 18-year-old – who plays closeted gay teenager Will Byers on the Netflix series – said he was "scared and in the closet" for years.
In a video posted on Thursday, Noah wrote: "When I finally told my friends and family I was gay after being scared in the closet for 18 years and all they said was 'we know.'"
In the clip he lip-synced to someone saying: "You know what it never was? That serious. It was never that serious.
"Quite frankly, will never be that serious."
Noah quipped in the caption: "I guess I'm more similar to Will than I thought."
Back in July, Noah revealed that his Stranger Things character Will is gay and in love with his best friend Mike (Finn Wolfhard).
He told Variety: "It was always kind of there, but you never really knew, is it just him growing up slower than his friends?
"Now that he's gotten older, they made it a very real, obvious thing. Now it's 100 per cent clear that he is gay and he does love Mike."
Noah went on: "I think it is done so beautifully because it's so easy to make a character just like all of a sudden be gay.
Most read in Entertainment
David Haye IS in a throuple with Una Healy & Sian Osborne and has told circle
Footballer and partner arrested with '100 KILOS' of cocaine at Paris airport
Baby boy dies at nursery as six women are arrested
Love Island's Jordan Hames unrecognisable as he shows off transformation
"People have come up to me — I was just in Paris and this, like, 40-year-old man came up to me and he was like, 'Wow, this Will character made me feel so good.
"'And I related to it so much. That is exactly who I was when I was a kid.' That just made me so happy to hear."
Noah's fans flooded Twitter with their support for the teenager after he came out.
One wrote: "SO happy that a gay person is playing a canon gay character in one of the biggest tv shows in the world."
Another posted: "Just saw noah schnapp's tiktok aw welcome babe."
NSYNC star Lance Bass – who came out in 2006 – commented on Noah's TikTok: "Welcome to the fam!
"Your welcome basket is in the mail."
Noah was just 11 when he landed the breakout role of Will Byers in Netflix's hit sci-fi series, Stranger Things.
The series also stars Millie Bobby Brown, Finn Wolfhard, Caleb McLaughlin, Sadie Sink, Gaten Matarazzo, Winona Ryder, Charlie Heaton, Joe Keery, David Harbour, Natalia Dyer and Maya Hawke.
Netflix is set to release the fifth and final season of the show in 2024.
Read More on The Sun
Warning to Brits skipping hearing tests which can prevent deadly illness
Woman left looking like a Stranger Things character after at-home haircut fail
Source: Read Full Article