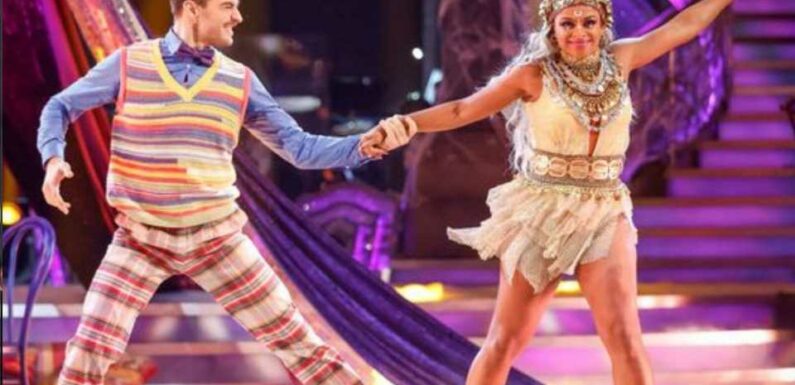 STRICTLY Come Dancing bosses have defended Fleur East after she was allowed to re-record her dance for Sunday night's results show.
Fans of Strictly Come Dancing have said the show is a "fix" following the news that Fleur East was allowed to have a second chance following "an incident with a prop".
A source said: "A few of the other stars backstage were pretty stunned. It's not exactly a live performance if stars get to have another crack of the whip."
A BBC spokesperson said the show had been stopped "as a matter of urgency", adding: "After an incident with a prop at the beginning of Fleur and Vito's dance-off performance, the decision was made to halt proceedings to check they were not injured, as a matter of urgency," the spokesperson said.
"As they had not begun to dance before the incident occurred, it was decided they could start the performance again, once it was confirmed they were fit to do so."
Read our Strictly 2022 live blog below for the latest news and gossip…
Louis Allwood




Dan Walker and Nadiya Bychkova reunite

The Channel 5 presenter partnered up with Nadiya once again as the practice for a dance event later on this week.

He gave a glimpse of the studio via Instagram, saying: "Back in the training room with my professional partner – and 2 time world champion – @nadiyabychkova.

"We are dancing at an event later this week and there are 2 bits of excellent news… 1. I can remember the moves. 2. The trousers (unbelievably) still fit."

Louis Allwood




Will Mellor 'peaked too early' slams choreographer

He said the Coronation Street actor put on a "forgettable" display on the weekend.

James said: "There were select moments in his routine that I did think were excellent, but I'm sad to say it was such a forgettable performance.

"I like Will and I still feel he has a lot more to offer because we saw what he did in Week One – but maybe he peaked too early."

Louis Allwood




Helen Skelton: 'My legs are like jelly!'

Strictly star Helen is feeling the burn after a long day of rehearsals ahead of the upcoming show.

Gorka shared a video on Instagram of himself and Helen after their second day of dance practice.

"Day two update. We just finished rehearsals, well rehearsals finished with us," he said as Helen laughed: "It was a big day, my legs are like jelly."
Louis Allwood




Helen Skelton and Gorka Marquez rehearse their jive

The two are jiving their way towards this weekend, and are hard at work perfecting their moves.

TV presenter Helen uploaded a snap of herself and Gorka as they put the work in for their dance to Tightrope, by Janelle Monae.

Louis Allwood




Strictly's Joe Sugg poses with pro dancer girlfriend in sweet snap

The two met on the show in 2018 when they starred on the show together, and have been in a relationship since.

In a tribute to Dianne Buswell, Joe uploaded a cosy bonfire photo to Instagram, writing: "I missed Halloween!!! 😩 but don't worry I'm making up for it by being early for Bonfire night."

Dianne left a handful of red hearts in the comment section.

Tyler West, Dianne's dance partner of this series commented: "The lighting. The fire. The outfits. I'm loving it 🥺❤️✌🏽."

Louis Allwood




Judges slammed for 'harsh' comments made to Fleur East

The singer found herself in the bottom two of Strictly Come Dancing last weekend, but shouldn't have been, says dance expert.

"Fleur's performance exhibited a heightened level of strength, coordination, and expressivity. 

"Fleur should not have been in the bottom two, it is possible she wouldn't have ended up there had the judges's original scoring been less harsh," said Dr Jill Rose Jacobs, a professor of dance, on behalf of the Heart Bingo blog.

She added: "Fleur's score on Saturday evening did not reflect the top tier performance she gave."

Louis Allwood




Gemma Atkinson explains to daughter why Gorka Marquez wasn't cheered

Strictly pro Gorka and Gemma's daughter, Mia, asked why Gorka wasn't being cheered.

In a sweet clip shared on Instagram, Gemma had to explain to Mia how the scoring system works on Strictly Come Dancing.

She reassured her daughter that Gorka and dance partner Helen, had made it to the next round on the show.

In the adorable video, Gemma said: "But he's back next week," as Mia asked: "Why were they not shouting?"

Gemma then replied: "They didn't shout him because he was in the last two but he's definitely, definitely back next week."

Louis Allwood




James Bye hails Strictly rival as 'incredible'

Speaking on Strictly spin-off It Takes Two, EastEnders actor James Bye hailed Fleur East as "incredible" after she defeated him in the dance-off.

"The standard is getting better and better and better and some dances you are going to excel at. For whatever reason the judges didn't see that the Charleston was one of our best dances," he said.

"It's a game and that is the way you have to play it. We did our best and I'm happy to have left the competition under those circumstances. We danced as well as we could have danced it. And Fleur is incredible."

Louis Allwood




Nadiya Bychkova reveals fave strictly partner

Strictly's Nadiya has revealed who her favourite Strictly Come Dancing partner was.

Speaking to Closer magazine, Nadiya said: "Davood Ghadami is always going to be my favourite because he was my first partner. When I got eliminated, he was in the audience with his wife.

"We are all so crazy busy, but we keep in touch. Last year was incredible with Dan Walker – he helped me a lot to build my confidence. We're still friends."
Louis Allwood




James Bye says leaving Strictly was one of the 'worst experiences'

The 38-year-old actor spoke out about the difficult situation of being told to leave the dance competition.

Speaking on It Takes Two, he told host Rylan Clark: "It was up there with one of the worst experiences of my life.

"She knows what she is doing, she is very good, and I love her to bits, it's horrible competing with someone who I've got close with and I know is a lovely person, and I knew I was going to go!"

Louis Allwood




Gemma Atkinson explains to daughter why Gorka Marquez wasn't cheered

Strictly pro Gorka and Gemma's daughter, Mia, asked why Gorka wasn't being cheered.

In a sweet clip shared on Instagram, Gemma had to explain to Mia how the scoring system works on Strictly Come Dancing.

She reassured her daughter that Gorka and dance partner Helen, had made it to the next round on the show.

In the adorable video, Gemma said: "But he's back next week," as Mia asked: "Why were they not shouting?"

Gemma then replied: "They didn't shout him because he was in the last two but he's definitely, definitely back next week."
Source: Read Full Article