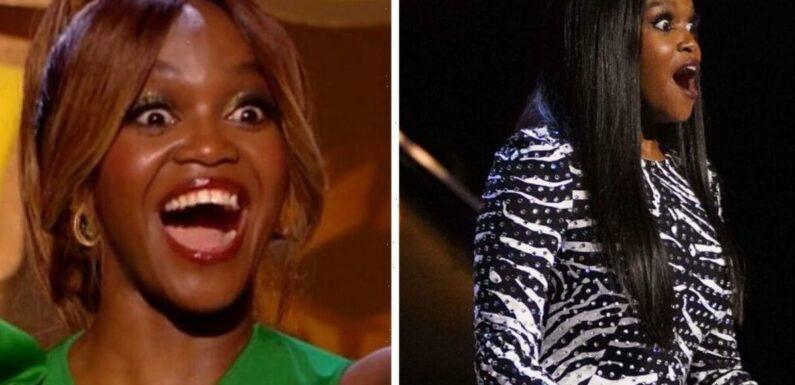 The Masked Dancer: Oti guesses Pearly King
We use your sign-up to provide content in ways you've consented to and to improve our understanding of you. This may include adverts from us and 3rd parties based on our understanding. You can unsubscribe at any time. More info
The Masked Dancer is back on ITV with 12 more mystery celebs who have taken to the stage to show off their best moves. However, it is up to judges Oti Mabuse, Jonathan Ross, Davina McCall and Peter Crouch to guess who is hiding behind the weird and wacky masks. Speaking exclusively to Express.co.uk, former Strictly star Oti admitted she thought one of her ITV co-stars was dressed up in disguise.
Oti's co-stars may think she has the upper hand when it comes to guessing which celebrities are dancing,
However, she believes her dancing background makes it even harder to suss out which famous face is performing.
"I don't think I'd be able to tell whether it is [one of them]," Oti explained when asked if she would recognise one of her Strictly pals.
"There are so many people connected to you [Davina], and me actually but I don't think I'd be able to tell.
"But that is the fun part, the reaction," she added.
When asked about whether her professional background has given her the "edge" against her fellow judges, Oti insisted: " I think that's Jonathan because Jonathan's job is to know people, know what they've done in their career."
Davina was quick to point out Oti could spot who had danced before.
"But not a lot of them…" Oti replied before she said: "One of them has never ever danced before, and they learned to dance on The Masked Dancer, which is incredible.
"When you think, they've never done it before and what they were delivering, you think, 'What?'"
"In the costume as well it makes it difficult," Joel went on to say.
"I thought it was Olly Murs [in the costume] the whole time," Oti admitted as Davina said: "There are people we get every single time and he is one of them."
Oti and the panel have already wrapped up filming for the upcoming series of The Masked Dancer.
However, the judges went on to admit they really struggle to keep the celeb's identities a secret.
"I find it hard when you're talking about them like in moments like this to not reveal the gender," the Strictly star explained.
"That is so difficult when you go this character…and you're like, 'Oh no!'"
So far, The Masked Dancer has unmasked two of the mystery celebrities.
The first week saw Astronaut revealed as Hollywood actor Jesse Metcalfe.
While last weekend, Gavin and Stacey star Joanne Page was exposed as Pig.
This Saturday, the remaining stars will take to the stage once again, but will they be able to keep their identities a secret?
The Masked Dancer airs on Saturday at 6.30pm on ITV.
Source: Read Full Article