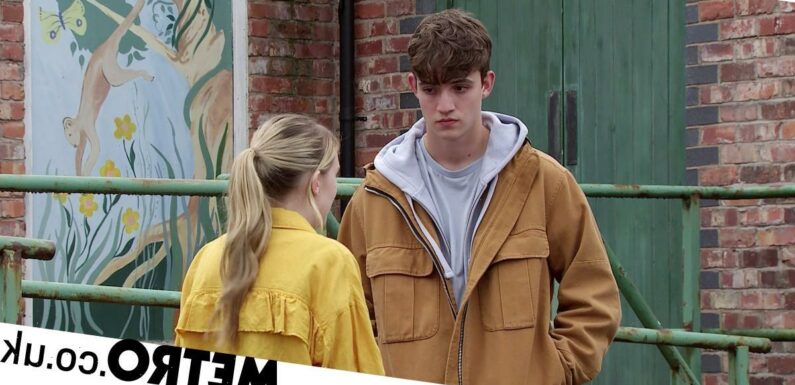 Summer Spellman (Harriet Bibby) finds herself struggling to trust Aaron Sandford (James Craven) in Coronation Street, as she fears that he is cheating.
Summer seriously concerned when she finds out that Aaron has been contacting ex-girlfriend Mia, and the pair have been having late night conversations.
She is understandably shaken, and worried about what this may mean for their relationship.
Summer confides in best friend Amy Barlow (Elle Mulvaney) that she's finding it hard to trust Aaron and worries that he may be cheating on her.
She expects compassion from her bestie, but instead gets the opposite.
Amy, who is still hurt following her broken relationship with Jacob Hay (Jack James Ryan), tells her that she is being way too needy and insecure.
Hurt, Summer makes a comment about her own situation, jibing at Jacob ad leaving Amy furious.
Amy storms off, and Aaron finds her upset following the row.
As drinks begin to flow, Amy and Aaron end up kissing, though Amy soon pulls away, wracked with guilt.
According to actor James Craven, the kiss with Amy happens as a direct result of the problems in his relationship with Summer.
'It goes without saying that him and Summer have had a lot of problems in their relationship in the past, some of them that have been out of their control, but I think he's always been there to support her previously.
'He's always stuck by her no matter what and tried to help her through everything. But I think this time he feels this real sense of betrayal because while he knows he's done something wrong he tries to make amends for it and she just pushes him away.
'I think this time it's his last straw and he sort of thinks what's the point in bothering with any of this?'
It has recently been revealed that Coronation Street will be tackling a non-consensual sex storyline, which will see Aaron take advantage of an unconscious Amy.
Statistics from The Schools Consent Project
1 in 4 women in the UK and many children and men are victims of sex crimes (Rape Crisis)
1 in every 3 three women experience sexual violence during their lifetime. (World Health Organisation)
1 in 3 girls experience unwanted sexual attention in their school corridors (Ofsted)
80% of girls and 55% of boys said unwanted or inappropriate comments of a sexual nature were made a lot or sometimes to them or their peers (Ofsted)
Nearly 90% of girls and 50% of boys said being sent unwanted sexually explicit pictures or videos happens a lot or sometimes to them or their peers (Ofsted)
92% of girls and 74% of boys said sexist name-calling happens a lot or sometimes to them or their peers (Ofsted)
91% of reported rapes never get charged
2% of reported rapes result in conviction
The story will follow Amy's journey as she realises that she has been raped, and deals with emotions that come with that.
Coronation Street have been supported through this storyline by The Schools Consent Project, a charity established in early 2015 which sends legally trained volunteers into schools to deliver workshops on the legal definition of sexual consent and key sexual offences.
It is hoped the storyline will open up conversations between families and friends about the issues surrounding sexual activity amongst young people, including consent, awareness, respect and education.
Source: Read Full Article