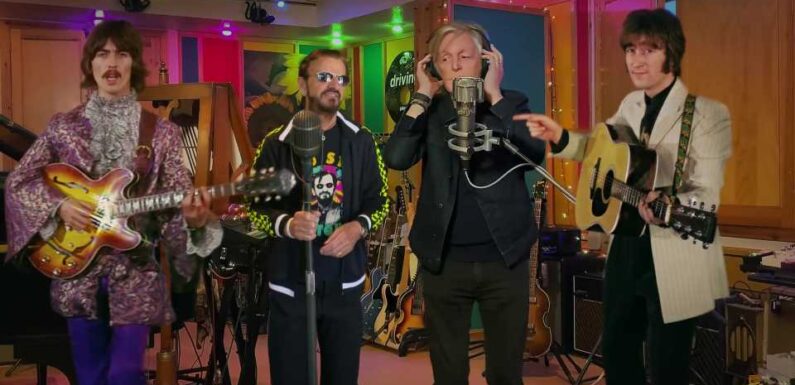 THE Beatles "reunite" in the video to their new song produced 53 years after the band split.
It sees surviving members Sir Paul McCartney, 81, and Sir Ringo Starr, 83, joined by John Lennon and George Harrison, who died in 1980 and 2001 respectively.
The video to Now and Then, written and recorded as a demo by Lennon in 1978, was created by The Beatles: Get Back director Peter Jackson.
It features footage that spans the band's career and the Paul and Ringo of today singing alongside a super-imposed John and George.
Jackson, 62, said he was at first reluctant to create the music video.
The director said: "My lifelong love of The Beatles collided into a wall of sheer terror at the thought of letting everyone down."
READ MORE THE BEATLES
SIMON COSYNS
The Beatles' last song Now And Then reminds us why we still love the Fab Four
WET IT BE
Incredible moment driver spots face of The Beatles legend John Lennon in a puddle
The band had not released the song until now because of issues with limited technology at the time.
McCartney explained the problems they faced back in the mid-Nineties: "Every time I wanted a little bit more of John's voice, this piano came through and clouded the picture."
Decades on, AI wizardry was able to extricate and isolate Lennon's voice.
McCartney added: "Let's say I had a chance to ask John, 'Hey John, would you like us to finish this last song of yours?'.
Most read in Music
SUPER STAR
90s superstar looks unrecognisable in pic of singer in grip of booze addiction
back for good
Huge ITV show to return to screens – with an epic line-up of stars
SIMPLY THE FEST
I've been to Glastonbury 15 times in a row – top tips to bag 2024 tickets
new look
90s superstar who worked with Eminem looks unrecognisable two decades later
"I'm telling you, I know the answer would have been, 'Yeah!'. He would've loved that."

Source: Read Full Article