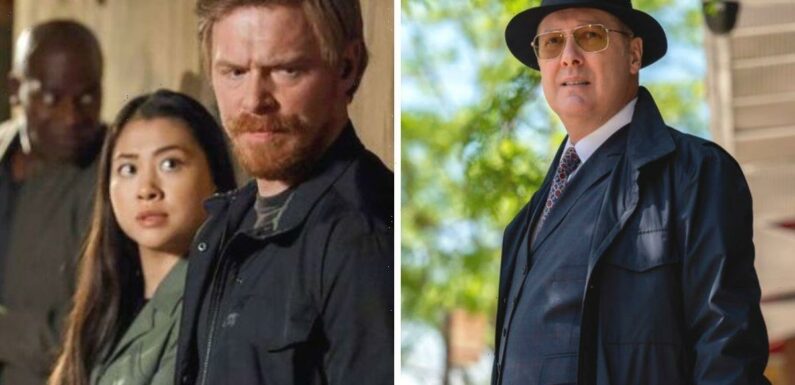 The Blacklist: NBC releases trailer for ninth season
We use your sign-up to provide content in ways you've consented to and to improve our understanding of you. This may include adverts from us and 3rd parties based on our understanding. You can unsubscribe at any time. More info
NBC's thrilling series The Blacklist will finally make its eagerly awaited return to screens, with a milestone season 10, in February. Newcomer Anya Banerjee revealed a snippet of her character with a behind-the-scenes tease.
Nearly a decade ago viewers were introduced to the mysterious Raymond 'Red' Reddington (played by James Spader).
Since the debut, the criminal mastermind has kept viewers enthralled as they tune in each week to watch the FBI task force work through the blacklist.
Season six of the suspenseful series ended with a bittersweet finale, as the team were able to close the murder case of their friend, Liz Keen (Megan Boone).
As they stood around Liz's grave, tech expert Aram Mojtabai (Amir Arison) revealed he was leaving the task force for a fresh start in Brooklyn.
While agent Alina Park (Laura Sohn) discovered the cause of her mysterious headaches was pregnancy and she too would be taking time away.
As fans were devastated to learn two beloved characters were departing, bosses revealed Anya Banerjee would be joining the cast as Siya Malik.
Her arrival will transport fans back to season one, as Anya is the daughter of the late Meera Malik (Parminder Nagra) who was assassinated in the season finale.
The actress gave fans a glimpse into her character as she took to her Instagram stories with a behind the scene photo while on set.
As she held a water bottle Siya was posed wearing a brown cardigan, which was paired with a grey plaid skirt but it's yet to be seen if she was dressed in character.
The snap was captioned: "Good Morning NYC," which was a nod to The Blacklist as production takes place in New York.
Red is likely to be taken aback by Siya's arrival as her mother Meera was an early member of his task force.
According to Deadline "Siya Malik is an active Intelligence Officer for the UK's Secret Intelligence Service, also known as MI6″.
DON'T MISS…
Hairy Bikers' leave BBC viewers devastated with 'sad' update [UPDATE]
The Blacklist casts New Amsterdam star for season 10 [INSIGHT]
The Blacklist fans fear cancellation as NBC shares season 10 shake-up [REACTION]
With Anya cast as a series regular, fans can expect to see a lot of her character as she could potentially be a thorn in Red's side.
Although her mother's death took place in season one, it's likely she wants to learn more about Meera's legacy and work.
Siya could also be looking for answers surrounding her mother's death and there's a chance Red could know more about Meera's death than previously believed.
However, this could be the least of Red's concerns as season nine ended with Wujing (Chin Han) out for vengeance.
As he also had a list of blacklisters at his disposal, season 10 could see Wujing recruit those criminals to take out Red.
Fans can also expect to see Diego Klattenhoff, Hisham Tawfiq and Harry Lennix reprise their roles.
As many were concerned season 10 could be the final instalment of The Blacklist, viewers will have to stay tuned to find out whether the show will be renewed for another season.
The Blacklist season 10 premieres on NBC on Sunday, February, 26. A UK release date is yet to be announced.
Source: Read Full Article