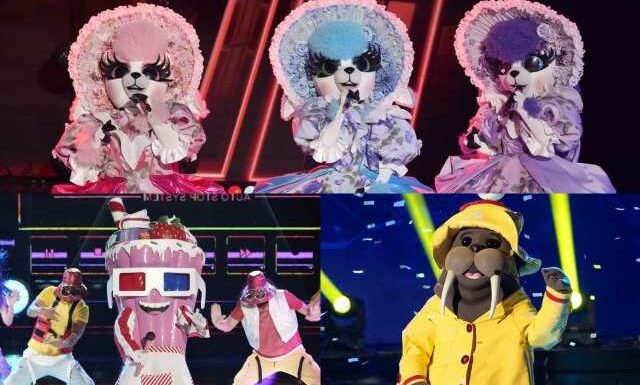 A 1990s hearttrob and an NFL running back are unveiled as celebrities behind the masks as two more contestants are sent home at the end of the show's milestone 100th episode.
AceShowbiz -"The Masked Singer" is finally back with a new episode after it's getting pushed back due to the World Series. The Sunday, November 6 outing was extra special as it marked the show's milestone 100th episode.
Celebrating the 1990s, the episode featured NSYNC's Lance Bass and fellow '90s star and close friend Danielle Fishel, who were on hand to help deliver clues to each of the contestants. This week, last week's reigning champion the Lambs faced off against two new competitors, the Milkshake and Walrus.
Walrus kicked things off with a rendition of "Two Princes" by Spin Doctors. His clue package included screaming fans at a local mall, a cat named Jenny and the hint that Walrus was responsible for a very popular TV catchphrase.
Up next was the Milkshake, who impressed the crowd with his take on Sir Mix-a-Lot's "Jump On It". The clue package featured peach pits, orange juice, an ice cream sundae and references to Wiz Khalifa and Snoop Dogg.
As for the Lambs, the trio sang a cover of "Ironic" by Alanis Morissette. Their new clues included a film roll and clapperboard.
Walrus got the lowest votes and was sent home first that night, which seemed to really devastate Nicole Scherzinger, who needed a consolation hug from Ken Jeong. The panelists began throwing their guesses, with Ken naming John Stamos, Jenny McCarthy mentioning Scott Wolf, and Nicole going with Mario Lopez. But it was Robin Thicke who was right as he guessed that Walrus was "Blossom" star Joey Lawrence.
Milkshake then had to battle it out against the Lambs. Each had to deliver their own take on "What Is Love" by Haddaway. In the end, the Lambs won over the panelists and maintained their reign, while Milkshake had to unmask.
But before that, the panelists made their guesses again. Nicole thought Milkshake was T.I., Ken named LL Cool J, Jenny picked DJ Jazzy Jeff, while Robin guessed that Milkshake was NFL star Deshaun Jackson. No one guessed correctly this time, but Robin was close as Milkshake was unveiled to be former NFL star running back Le'Veon Bell.
"The Masked Singer" will return with a new "Hall of Fame Night" episode on Wednesday, November 9 before the semi-finals begin. The Harp was the first to enter the semi-finals, joined by the Lambs.
Source: Read Full Article