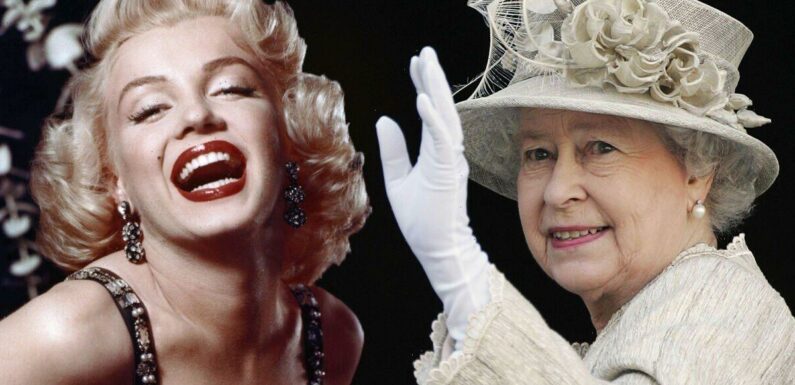 Buckingham Palace: Crowds gather to mourn the Queen
We use your sign-up to provide content in ways you've consented to and to improve our understanding of you. This may include adverts from us and 3rd parties based on our understanding. You can unsubscribe at any time. More info
Earlier this month, on September 8, 2022, it was announced that Queen Elizabeth II had died. She was 96-years-old and reigned over the United Kingdom and the Commonwealth for 70 years.
Throughout these decades she met countless celebrities from all walks of life. And in 1956 she crossed paths with one of the hottest stars in Hollywood: Marilyn Monroe.
The Queen and Marilyn may have seemed very different, but really they were extremely similar in a few ways.
They were born just a few months apart in 1956 – The Queen on April 21 and Marilyn just weeks later on June 1. When they met they were both 30-years-old.
Both women were also titans of their own realms. The Queen, obviously, a ruler of a country and kingdom, while Marilyn had taken over her corner of Hollywood as a strong actress with such releases as The Seven Year Itch, River of No Return and Clash By Night.
In 1956 Marilyn spent four months in the UK to shoot her new film, The Prince and the Showgirl. In the movie, she worked alongside Laurence Olivier.
Marilyn was also accompanied by her husband, Arthur Miller. The pair lived in Englefield Green on the outskirts of London.
In October, she was invited to attend the Royal Command Performance on October 26, 1956. She dutifully attended and lined up to be received by The Queen and her sister, Princess Margaret.
The Leicester Square Odeon was clad with the most famous celebrities from around Hollywood when Her Majesty finally made her way to Marilyn.
The pair exchanged some kind words to one another before The Queen moved on to the next member of celebrity royalty.
Years later, The Queen's brutal words about Marilyn were revealed.
Jack Lemmon discusses working with Marilyn Monroe in 1993
Michelle Morgan's 2022 book "When Marilyn Met the Queen: Marilyn Monroe's Life in England" the background of Her Majesty's comments were detailed.
The author wrote: "In 1961, an article appeared in People that gave a glimpse of the Queen's thoughts on Marilyn, through the eyes of an unnamed 'friend.'"
The friend claimed The Queen said: "I thought Miss Monroe was a very sweet person. But I felt sorry for her because she was so nervous that she had licked all her lipstick off."
Michelle noted that footage of the event seems to back up The Queen's apparent comments.
"Marilyn can be seen licking her lips as she waited for the royal guests to reach her," she penned.
The article also claimed that The Queen became "fascinated" with Marilyn after meeting her. And before long, she had watched all of her films after meeting her.
Marilyn also had some positive comments to make about The Queen after she met the monarch.
Marilyn was later quizzed on what happened between her and Queen Elizabeth II.
She responded: "The Queen is very warm-hearted. She radiates sweetness. She asked how I liked living in Windsor, and I said, 'What?!' and she said that, as I lived in Englefield Green, near to Windsor, we were neighbours. So, I told her that Arthur and I went on bicycle rides in the park."
It was later revealed she also spoke to Princess Margaret. She told her her trip to England was going "very well".
She added: "And it will be with regret that we have to leave in about a fortnight's time."
SOURCE / SOURCE
Source: Read Full Article