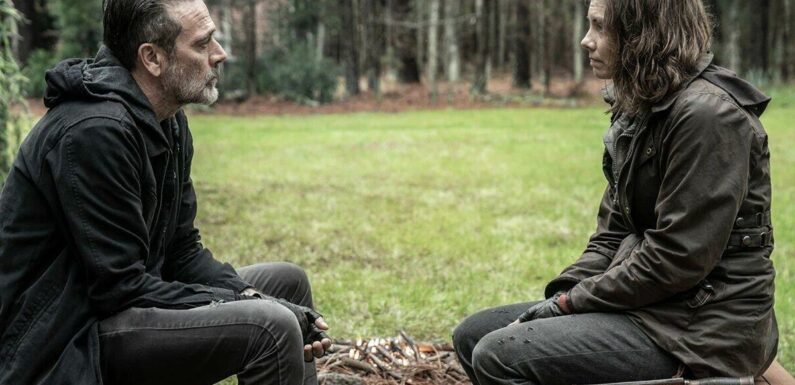 The Walking Dead: Walkers attack nursery in final episode promo
We use your sign-up to provide content in ways you've consented to and to improve our understanding of you. This may include adverts from us and 3rd parties based on our understanding. You can unsubscribe at any time. More info
The Walking Dead returned to AMC for the final time and it was an emotional episode, titled Rest in Peace. The main question on everyone's minds was whether Rick Grimes (played by Andrew Lincoln) would return for one last outing. Express.co.uk has all you need to know about the surprise comeback at the end of the series.
How did The Walking Dead end?
Fans of the series will know Andrew Lincoln and Michonne's Danai Gurira are due to reunite for a spin-off series coming in 2023.
The new series will reveal what happened to Rick after he was taken away aboard a Civic Republic Military helicopter in season nine.
However, viewers were treated to a final shot of Rick writing letters to his loved ones in the hope he will one day see them again.
He says: "I think of the dead all the time. And the living who I lost," before shots of his family and friends appear on the screen.
"I think about them all every day. Their faces. What I learned from them. How they made me who I am. So much more than all this made me who I am."
As Rick and Michonne's voiceovers become intertwined, they are both seen in different locations.
Rick was looking disheveled with longer hair, and he wore jeans with bare feet.
More importantly, he was wearing a brown and orange worker's jacket bearing the three-circle symbol of the Civic Republic.
"I know you're back there. I know your brother is back there. Just as sure as I know he's out there. Somewhere," Michonne narrates.
"Not just as a part of us. He's alive out there."
From Rick's outfit and what he is carrying, it seems he has been working at a Civic Republic Cull Facility as seen on The Walking Dead: World Beyond.
As for Rick's location, it is finally revealed he is offshore of Philadelphia, Pennsylvania – the location of the Civic Republic.
A CRM helicopter similar to the one he was taken away in approaches him before the series ends.
The show's final moments are the perfect set-up for the new Rick and Michonne spin-off.
Opening up on how they got Danai and Andrew back, writer Scott Gimple told Deadline: "We've been working on that story for like a long time, and we knew we knew each episode.
"And those episodes are turning out pretty much towards what we planned them to be, and I really wanted to stress that we did that together.
"So, in some ways it was like picking the right moment from the story that we were telling.
"To get to that point or to be able to tell that story that we were telling in The Walking Dead, which is the way that you continue on through hardship is from the strength that you have drawn from all the people that you've known and love.
"So, we have the story pretty well down. We just were like, okay, what point works with what Angela and I are hoping to say. Yeah."
Elsewhere in the finale, Maggie (Lauren Cohan) attempts to forgive Negan (Jeffrey Dean Morgan).
She says: "I'm trying to [forgive you], because I don't want to hate you anymore.
"I don't want my son to see anyone has that kind of hold on me."
The finale also said goodbye to some beloved characters as Luke (Dan Fogler) was bitten trying to save his girlfriend.
Rosita (Christian Serratos) was also bitten after she tried to save the baby in an intense escape scene.
The Walking Dead is available to watch on AMC+ and Disney Plus.
Source: Read Full Article