Is it a boy for Brie Bella? Fans will have to wait find out whether the pregnant Total Bellas star is having a boy or a girl. The 36-year-old and her husband Bryan Danielson, 39, have decided to hold off on learning the gender of their new baby, as revealed in the show's June 11 season finale. But viewers of the reality show have theories about what the former WWE is having.
Nikki Bella wanted to throw a joint gender reveal party with her sister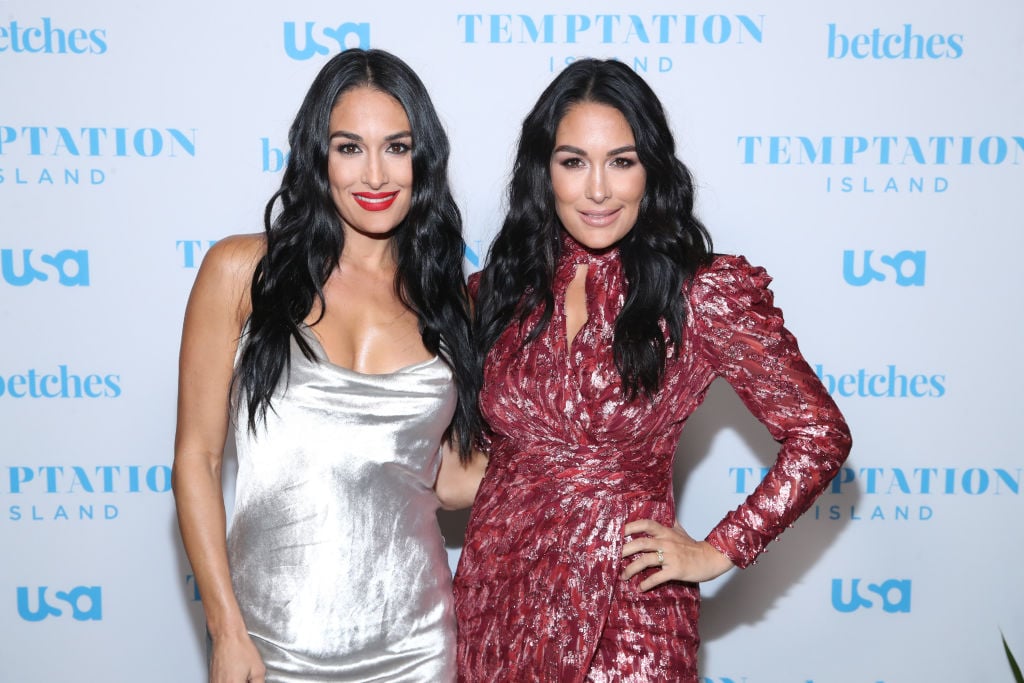 RELATED: How Does John Cena Feel About Nikki Bella's Engagement?
In January, Brie and her twin sister Nikki revealed that they are both expecting and due just days apart. This is baby no. 2 for Brie and her husband. Nikki is pregnant with her first child with Artem Chigvintsev. 
In the last episode of Total Bellas, Nikki tried to convince her sister that they should have a joint gender reveal party. 
"You know me, I love planning parties," she says. "That's why I think it would be so fun if we did it together. I was thinking we should do a duel gender reveal. Fiesta theme, we could hit the same piñatas together."
Brie Bella's husband reminded her they were going to wait 
At first, Brie seemed open to the idea of the shared gender reveal party. But then Bryan reminded her that they'd agreed to wait until the birth to find out whether the baby was a boy or girl. 
"We don't really want to know the gender," he says. "I thought we wanted to do a surprise."
Bryan and Brie eventually agreed that they'd stick to their original plan. But he was bothered that she would even consider changing her mind after they'd already made a decision on the issue. He hinted it was symptomatic of a bigger problem in their marriage.
"I feel like this is going to be a constant in my life until the day I day," Bryan says. "I'm going to want one thing, and Nicole is going to want another thing. And then Brie's just going to go the way of Nicole."
Fans think Nikki and Brie are both having boys 
Ultimately, Nikki and Artem decide to host their own gender reveal celebration, where they learn they are having a boy. As for Brie and Bryan, they're waiting to be surprised when the baby arrives later this summer. But fans are convinced Brie — who also has a three-year-old daughter named Birdie — is having a boy. 
"I just know you're having a boy as well," one wrote on Instagram. 
"I'm pretty sure that you and @bryanldanielson have a son in the tummy too! You and @thenikkibella have had the exact same symptoms," another commented. 
Many other fans are sure the twins will have babies of the same gender, with one predicting the babies will be the "best of friends."
'Total Bellas' Season 6 premieres in the fall 
RELATED: 'Total Bellas' Star Nikki Bella's Pregnancy Self Care Includes a $7 Beauty Product
The Bella twins growing families will be the star of the show on the next season of Total Bellas. E! announced June 11 that the series has been renewed for a season 6, which will premiere in fall 2020. The new season will focus on Nikki and Brie's expanding families as they welcome their new babies, with Nikki navigating parenthood for the first time and Brie continuing her journey as a mother.
Source: Read Full Article