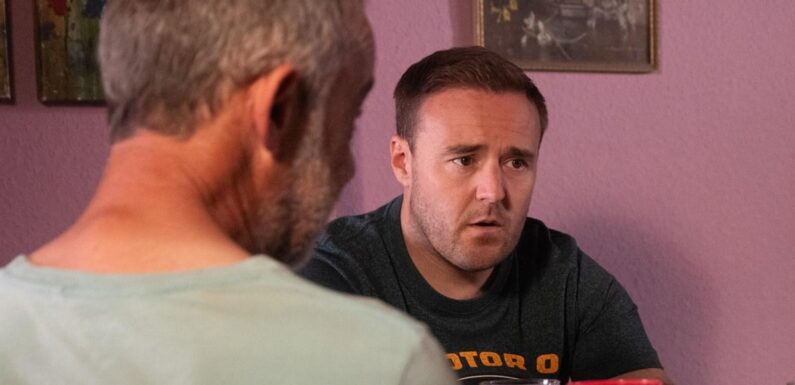 Tyrone Dobbs (Alan Halsall) made a mistake in Wednesday's (September 6) episode of Coronation Street by giving Cassie Plummer (Claire Sweeney) some cash.
Recovering drug addict Cassie has been trying her best to keep on the straight and narrow but tonight, after meeting up with a dealer called Dean, she relapsed.
Tyrone decided to give Cassie some money so she could go into town and collect some new shoes for Ruby (Billie Naylor) ahead of her party. Once Evelyn (Maureen Lipman) discovered what Ty had done, she pointed out that Cassie could easily throw that money down the drain by purchasing some drugs.
To view this video please enable JavaScript, and consider upgrading to a webbrowser thatsupports HTML5video
And she did.
As the party got underway, Abi (Sally Carman) ended up revealing that Cassie nearly stole some money at the start of the week so she could pay Dean, which left Ty horrified.
As a search got underway, it was Hope (Isabella Flanagan) who found Cassie. She was laying down by a wall and had overdosed on drugs.
After discharging herself from hospital, Cassie returned to Number 9 to face Evelyn's wrath.
Evelyn told her daughter that she couldn't stay in the same home as Ruby and Hope after what had happened.
Tyrone desperately tried to find another solution but ultimately, he knew Ruby and Hope had to be the priority. Cassie grabbed her bag and went to leave, but was touched when Tyrone said that she could continue working at the garage.
At the precinct flat, Cassie was surprised when Abi paid her a visit. She explained that Tyrone had called and she's there to help, which left Cassie touched.
'He's really trying to have an open mind and open heart', Alan Halsall told us.
'But also he does have Evelyn's warning and advice or in the back of his mind so is always a bit curious, but he wants it to work.
'I think that's the thing, it is not so much what he thinks as what he wants. He really wants it to work more than anything and therefore he's willing to dismiss things because he kind of needs it or wants it so badly to work.'
Source: Read Full Article