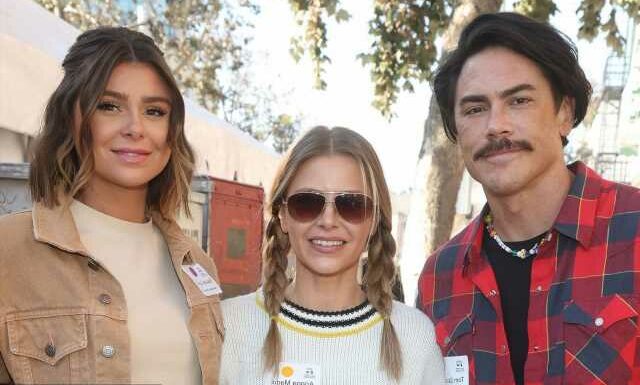 In other related news, the 'Vanderpump Rules' star is photographed leaving his and his former girlfriend Ariana's shared house with suitcases after their breakup.
AceShowbiz –Tom Sandoval faces a rather huge repercussion following his split from Ariana Madix due to his alleged affair with "Vanderpump Rules" co-star Raquel Leviss. Fans of the Bravo reality TV series apparently are planning to boycott Tom's new bar after news of their breakup broke online.
As soon as the split was confirmed on Friday, March 3, fans flooded the comments section of the Instagram account for Schwartz & Sandy's in Los Angeles. "Time to cancel this bar nobody likes two timing men," wrote one person. #teamkatieandariana you lost a fan and paying customer … Poor Ariana Worst thing to do for business, cheating on your gf. Karma," another fan added, referring to Tom's business partner Tom Schwartz's recent divorce from Katie Maloney.
"I'll take my business to Ariana and Katie's sandwich shop instead," someone else commented. Echoing the sentiment, a fourth person simply declared, "Boycotting this bar."
In other related news, Tom was photographed leaving his and Ariana's shared house with suitcases after the split. In pictures that circulated online, the restaurateur could be seen loading multiple suitcases into a vehicle as he sported tense look.
Joined by a friend, Tom also made a pitstop at a gas station after leaving home. They bought a couple drinks and a snack before hitting the road again. It's unknown if Tom was moving out for good or he was traveling somewhere. It should be noted that his band had a show Friday night in Anaheim.
Meanwhile, fans can expect to see Tom and Ariana's split playing out in current season 10 of "Vanderpump Rules". TMZ reported that the exes got together at their home on Friday morning to talk about their breakup in front of the Bravo cameras. The producers reportedly hoped they could squish the segment into the end of the season, which is currently airing on the network.
Tom and Ariana called it quits after dating for nine years. It was reported that Ariana was blindsided by Tom's betrayal. "Ariana was blindsided by the cheating," a source told Page Six. The source added that she had "no idea there were any issues" in her relationship because her ex had been "affectionate in public recently."
You can share this post!
Source: Read Full Article