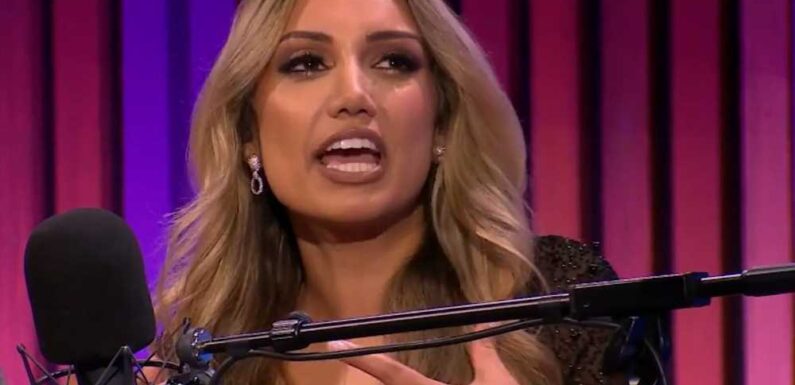 STRICTLY Come Dancing star Nikita Kanda ended up in an awkward moment on the Big Brother spin-off show last night when she wound up slating a housemate – in front of his family.
Jenkin came under fire over his behaviour towards Yinrun and Trish, even refusing to share his birthday cake with his housemates.
Fans have also claimed that bosses are editing out the Welsh housemate's worst behaviour in the house.
And as the final draws closer host AJ Odudu wanted to know how far some of the housemates would go to snatch the huge cash prize.
Presenting Big Brother's daily spin-off show Late and Live last night, she asked her panel: "Who is most likely to throw their friend under the bus to win £100,000?"
Nikita was the first to blurt out a name and nearly jumped out of her seat to say "Jenkin!"
READ MORE ON NIKITA
she's back
Strictly Come Dancing legend raises hopes she's about to make shock return
unstoppable
Strictly's Nikita Kanda reveals secret injury just days before she was axed
Laughing, AJ shouted over: "Say it with your chest Nikita!"
And the radio host replied: "I am saying it with the chest!"
Nikita quickly apologised to Jenkin's sister who was sat in the studio audience after spotting her "starring".
The star added: "Sorry! I feel like he would. And he definitely wants to win.
Most read in TV
GREAT ESCAPE
Hit BBC show to get first ever celeb specials after 21 years on screens
GET THEM IN
I'm A Celeb official line-up as Nigel Farage and Britney's sis head into jungle
I'm A Celeb sign up huge YouTube star – as full line-up nearly complete
SHOCK EXIT
Carol Vorderman fights back tears after being sacked by BBC
"He's going from group to group a little bit."
DJ Nikita appeared on Big Brother's Late and Live after being knocked out of Strictly early doors.
She was the second to be eliminated from the show with her pro partner Gorka Marquez after Les Dennis went in week one.
She lost against documentary maker Zara McDermott in the dance off.
Nikita later revealed she had suffered a secret injury just days before she was booted from the competition.
The BBC Asian Network presenter said: "I had so much fun, it's so iconic. It's [set in the] 1990s, I'm a 90s baby.
"I really just took the role on I feel like, and he really helped me each week with my confidence getting there, the sassiness, the acting.
"I even hurt my foot the day before and I just think I have to power through.
Read More on The Sun
GET THEM IN
I'm A Celeb official line-up as Nigel Farage and Britney's sis head into jungle
CLOSING TIME
Major DIY homeware chain to shut store doors permanently before Christmas
"I've got a bandage on now, it's not very glamorous under the sparkles."
Source: Read Full Article