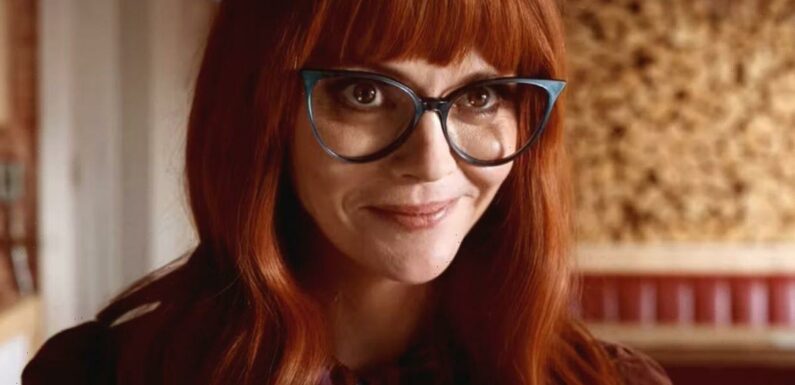 Christina Ricci calls her character 'passive-aggressive'
We use your sign-up to provide content in ways you've consented to and to improve our understanding of you. This may include adverts from us and 3rd parties based on our understanding. You can unsubscribe at any time. More info
Wednesday became a huge hit for Netflix after it landed on screens in November 2022 and gained worldwide acclaim. Mrs Marilyn Thornhill star Christina Ricci recently opened up about her character as fans eagerly await the release of season two.
The Addams Family returned to the spotlight with a focus on the titular teenager (played by Jenna Ortega), as she attended Nevermore Academy.
Fans of the cult classic will recall Wednesday was originally played by Christina Ricci in the 1991 hit movie, The Addams Family.
Christina, who made her start playing the sullen and acerbic character, also stars in Wednesday as Mrs Marilyn Thornhill.
After portraying the Nevermore Academy teacher, the 43-year-old shared major insight into her "passive-aggressive" character.
Christina shared: "Marilyn is the botany teacher at Nevermore Academy, where all the outsiders and children with supernatural talents are going.
"She is the only normie teacher, so she doesn't have any supernatural skills."
The actress continued: "Turns out she's not as nice as she seemed to be in the beginning, passive-aggressive.
Christina confirmed: "Insanely passive-aggressive," as she spoke on The Late Show with Stephen Colbert.
In the pilot episode, Marilyn encouraged Wednesday to reach out if she needed any support.
Although she was initially sceptical, the teenager began to warm up to the teacher, whose friendliness seemed genuine.
Things then took a turn in the season finale, when the series revealed a very different side to Marilyn.
Throughout the show, Wednesday was investigating the mysterious deaths in the woods near the school.
The culprit was a monster called Hyde, which viewers learned was being controlled by Marilyn.
It was revealed that the teacher had been using Hyde to prepare for a long-awaited act of revenge against Nevermore Academy and the Addams family.
Marylin was born Laurel Gates and was the last surviving member of a local family who despised the outsiders of the school.
She wanted payback after the death of her younger brother who was killed 30 years ago after trying to poison the school's dance, attacking Wednesday's father, a young Gomez Addams (Luis Guzmán).
Thankfully for fans, they will soon get to see the fallout of this discovery as Wednesday has been renewed for season two.
The announcement came with a clip in which Netflix confirmed: "More torture is coming. Lucky you."
Co-showrunners Miles Millar and Alfred Gough stated: "We can't wait to dive headfirst into another season and explore the kooky, spooky world of Nevermore.
"We just need to make sure Wednesday hasn't emptied the pool first," they added to Tudum.
Wednesday is available to stream on Netflix.
Source: Read Full Article