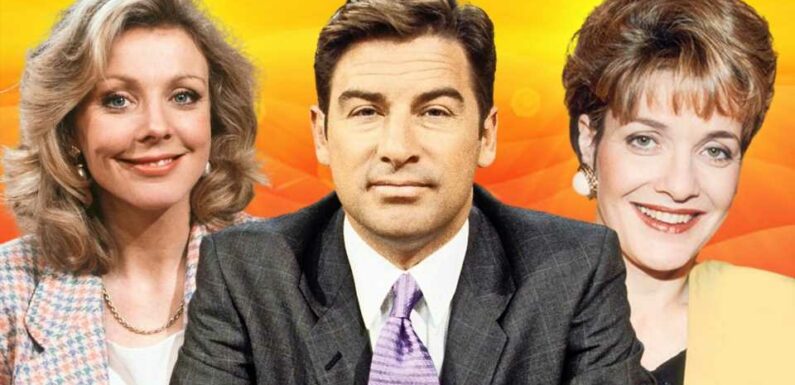 IT WAS the flagship breakfast show that launched the careers of many famous faces we know today.
GMTV, which stood for Good Morning Television, broadcast its first episode 30 years ago this month and remained on air for 17 years. 
It turned the likes of Eamonn Holmes, Lorraine Kelly and Fern Britton into household names.
It also boosted the careers of Dr Hilary Jones, Mr Motivator and Carol Vorderman.
Here we take a look at what happened to its big name stars – from becoming a lingerie mogul to setting Guinness World Records.
King's representative
Fiona Armstrong was part of the GMTV launch team but left after a few months to present a breakfast news programme on BBC World.
MORE WHERE ARE THEY NOW? STORIES
Where S Club 7 are now – from shock marriage split to 'traumatic' boob job
Where Waterloo Road stars are now – from James Bond hopeful to pub owner
Since then she's fronted shows about antiques, politics and cooking for ITV, as well as other stints with the BBC. 
Fiona, now 66, shares a daughter with her first husband, businessman Rod Potts, who proposed two weeks after their first 'blind date'.
She is now married to Sir Malcolm MacGregor, the chief of Clan Gregor. Fiona became a specialist in Scottish clans and has made more than 20 films about them – and holds the official title Lady MacGregor.
In 2016 she was appointed Lord Lieutenant of Dumfries – the King's personal representative in the area – and has duties including officiating events and organising royal visits. 
Most read in TV
Coronation Street favourite quits after two years leaving fans devastated
Georgia Taylor is dating her co-star after split with partner of 14 years
Dancing on Ice's Joey Essex opens up on his romance with Vanessa Bauer
Ray Quinn unrecognisable after quitting fame to be a carpet fitter
She's also a patron of a couple of fishing charities and is passionate about encouraging more women to take up the sport. In 2010 she was named one of the country's top 10 female anglers.
Business lecturer
Michael Wilson presented GMTV's weekday programme with Fiona before switching to the GMTV News Hour, which ran from 6am and broke records by reaching one million viewers within six months.
In 1995 he left for Sky News and became the longest-serving business editor on TV, clocking up 14 years.
Michael later returned to GMTV as a business analyst and has broadcast on other TV networks as well as presenting a business show on JazzFM.
He's given lectures around the world about topics including the collapse of the Berlin Wall, the recent economic crisis and the future of financial services.
Voice of regional buses
Anne Davies, now 65, appeared in a number of segments on GMTV, opening the first show alongside Eamonn in 1993.
It was a rollercoaster year for Anne, who married her partner and fell pregnant later that year.
She moved to the News Hour, followed by a cookery section and the Sunday Review.
Anne reported on Madeleine McCann's disappearance in 2007, which won her an RTS television award.
The mum-of-two continues to work on TV but also offers presenter coaching and has fronted events ranging from climate change summits to awards ceremonies and fashion shows.
In recent years, Anne has worked as the newsreader for BBC East Midlands Today and was also the voice for onboard bus announcements for Trent Barton's Indigo Service. 
'Unrecognisable'
Ross Kelly initially joined GMTV as a producer but became a relief presenter and reporter. 
He famously interviewed the Spice Girls ahead of their debut performance of Wannabe for GMTV on London's Southbank in July 1996.
He left in 2000 and fronted a short-lived gameshow Burn Your Bills and debate programme The Heaven And Earth Show.
Ross, now 61, also had stints presenting on This Morning, as the quizmaster on the property-based gameshow Whose House, and appeared on Lily Savage's Blankety Blank in 2001.
The star, who still appears to be close with his presenter pals, was branded "unrecognisable" due to his greying hair and beard at a 2014 celebration for Lorraine Kelly's 30 years on TV.
Panto queen
Prior to appearing on GMTV, Amanda Redington had acted in three films and been part of two musical groups – K-Ram and The Rap Pack.
She married Dutch singer Frank Boeijen in 1990, but they divorced in 1994.
She also appeared in multiple pantomimes taking on roles including the Wicked Queen in Snow White, Peter Pan and Jack in Jack and the Beanstalk. 
Amanda, now 61, went on to feature in adverts for Coca-Cola, M&Ms, Maltesers, NatWest, Persil and Vodafone, and worked at Radio Jackie.
She appears to have retreated from the public eye and it's not known what she currently does for work.
Guinness World Record breaker
Steve Chalke, now 67, presented multiple shows for ITV over the years and spent a stint hosting BBC's Songs Of Praise. 
The TV star is also a baptist minister and previously founded the coalition Stop The Traffik and charities Oasis Trust and Faithworks.
He was a three-time Guinness World Record holder for raising the most sponsorship money as an individual for a single event. He raised £1.25m in 2005, £1.855, in 2007 and £2.32m in 2011, all by running the London Marathon.
He also became the fastest money-generating sports person in history in 2007.
Steve, now 67, served as a United Nations special adviser on human trafficking and has written more than 40 books. 
He shares four children and six grandchildren with wife Cornelia Reeves.
Strictly feud
Fiona Phillips served GMTV fans with scoops from the entertainment world including reporting on the first OJ Simpson trial and the Oscars.  
Later she appeared on Loose Women, Watchdog and Strictly Come Dancing in 2005 alongside professional dancer Brendan Cole. 
In 2021 she branded Cole a "rough old taskmaster" and claimed she never should have done Strictly – later admitting she was suffering from a crippling bout of depression at the time.
Fiona told the Mirror: "I became a comedy type figure. I'm not glad I did it, but it was an experience." When Brandan was axed in 2018, she claimed it was "karma".
"Brendan was a real bugger, actually," Fiona told the Daily Star. "He wasn't very nice. He was really naughty."
Fiona, now 62, voiced the character Katie Current in the 2005 animated film Shark Tale, which featured Will Smith, Angelina Jolie and Robert De Niro. 
The journalist was offered the role of public health minister in Gordon Brown's administration in 2007 but turned it down to take care of her two kids.
Classical music host
Penny Smith spent 17 years with GMTV and forged an impressive career.
She co-presented The Krypton Factor and had cameos in a 2001 episode of Jonathan Creek and the 2006 film Garfield 2.
Fiona's appeared on other shows including Have I Got News For You, Never Mind The Buzzcocks and Loose Women.
After departing GMTV she hosted multiple radio programmes including a classical music drivetime show for Scala Radio, and makes regular appearances on TalkTV.
Penny, now 64, was married to fellow journalist Tony Birtley for three years in the 80s.
Her famous exes include Rory Bremner and Paul McKenna – but she's been dating the actor Vince Leigh since 2001.
Age-gap romance
Ross King was GMTV's LA correspondent and he continues to produce showbiz reports for Lorraine.
He's also had cameos in TV shows, roles in theatre productions and appeared in at least six films including Jason Seagal's 2002 flick Half Past Dead and The Day After Tomorrow in 2004. 
In 2004 Ross served as the weatherman for the US TV station KTLA after beating 5,000 people in a competition for the job.
Scottish star Ross, now 60, was awarded an MBE for services to broadcasting, arts and charity in the 2018 New Year Honours List. 
Last month we reported he'd split from his actress wife Brianna Deutsch, 22 years his junior at 38, after seven years of marriage.
Lingerie mogul
Rhonda Shear spent four years until 1997 as a Hollywood correspondent for GMTV but also worked as an actress and model.
She has 39 acting credits on IMDB including a cameo in the Star Wars parody Spaceballs and roles in Cheers, Happy Days, The A-Team and The Dukes Of Hazard.
Read More on The Sun
I'm the world's best boss – I gave employee HALF my lottery jackpot for helping me
Shoppers go wild for Home Bargains shampoo that's £10 cheaper than elsewhere
In 2001 Rhonda launched a lingerie range and nine years later her product the Ahh Bra became an overnight success, selling more than 25 million units internationally.
The 68-year-old, who posed nude for Playboy twice, branched out into loungewear, swimwear and fragrances. 
Source: Read Full Article