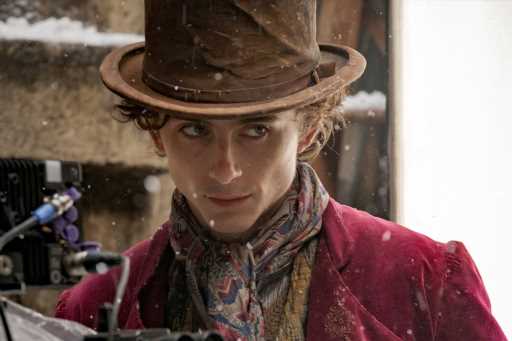 After debuting the first footage from Paul King's Wonka at CinemaCon last year, Warner Bros showed off an extended trailer today for the Christmas 2023 release. The origins story stars Timothée Chalamet as the titular candymeister, who lands in a mid-European city (the pic was shot in London) after traveling the world perfecting his craft. "I'm something of a magician, inventor and chocolate maker," he says.
Related Story
Zendaya, Timothée Chalamet Show Up At CinemaCon To Show Off 'Dune: Part Two' Trailer
His goal is to open a chocolate shop. But Willy Wonka soon learns he must battle some pretty sinister characters. He's told, "Many people have come here to sell chocolate and been crushed by the chocolate cartel."
RELATED: CinemaCon 2023 – Deadline's Full Coverage
This Wonka, as Chalamet told the CinemaCon audience in Las Vegas today, "is full of joy and optimism." In the trailer, he is undeterred and says, "Mark my words, this is going to be the greatest chocolate shop the world has ever seen." In a fun interaction, Wonka then comes across an Oompa Loompa, played by Hugh Grant.
Additional cast members include Keegan-Michael Key, Sally Hawkins, Rowan Atkinson, Olivia Colman and Jim Carter.
King is directing from a screenplay he wrote with Paddington 2 co-writer Simon Farnaby (with prior writers including Simon Rich, Simon Stephenson, Jeff Nathanson, and Steven Levenson). Harry Potter franchise producer David Heyman is producing. Michael Siegel and Rosie Alison serve as executive producers. The below the line team includes Oscar-nominated DP Seamus McGarvey (Anna Karenina, Atonement), Oscar-nominated production designer Nathan Crowley (Tenet, Dunkirk), editor Mark Everson (the Paddington films) and Oscar-winning costume designer Lindy Hemming (the Paddington films).
This marks the third time WB has taken on the Wonka story, with the previous versions being adaptations of Roald Dahl's classic novel Charlie and the Chocolate Factory. The first one, in 1971, starred Gene Wilder as Wonka, and the second in 2005 starred Johnny Depp in the role.
Wonka starts offshore release on December 13 and heads to North America on December 15.
CinemaCon, the annual convention of movie theater owners from around the world, runs through Thursday at Caesars Palace in Las Vegas.
Must Read Stories
Actor, Calypso Singer And Civil Rights Icon Dies At 96: Photo Gallery & Obituary
Warner Bros Day: 'Dune' & 'Aquaman' Sequels, 'Barbie', 'Wonka'; Zaslav Cheers Exhibitors
Late-Night Weighs In On Tucker Carlson & Don Lemon Exits; Nets' Stocks Dip; More Reactions
'The Lion King' Takes Throne In 'Phantom'-less Broadway; Newcomers Strong
Read More About:
Source: Read Full Article