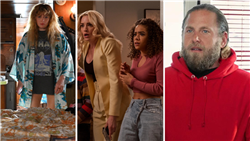 Kenya Barris and Jonah Hill's romantic comedy You People managed to unseat Ginny & Georgia atop the Nielsen U.S. streaming charts for the week of January 23 to January 29.
The Netflix film racked up 1.6B viewing minutes in its opening weekend, while Ginny & Georgia took second place with 1.3B viewing minutes for its fourth week on the streamer.
Meanwhile, The Last of Us was up 5% (about 40M minutes) versus the previous week, with 877M minutes viewed on HBO Max that week. Nielsen streaming measurements only account for viewing on HBO Max, so these numbers don't reflect any viewership on HBO's linear channel.
Related Story
Kelly Rowland, Trevante Rhodes & Others Set For New Tyler Perry Netflix Film 'Mea Culpa'
For the second week in a row the Pedro Pascal-led series outpaced House of the Dragon, which managed 781M viewing minutes with a comparable number of episodes. The feat put The Last of Us at No. 6 on the charts for this week.
The Walking Dead, That '90s Show, and Cocomelon rounded out the top five streaming programs, all of which went to Netflix.
Prime Video also made it onto the list this week with Shotgun Wedding at No. 7 overall. The film took home 872M viewing minutes, which put it at No. 2 on the streaming movie list.
NCIS and Grey's Anatomy rounded out the list for Netflix, while HBO Max took in another win with The Big Bang Theory.
While it didn't make into onto the Top 10 overall programs, Peacock's Poker Face landed at No. 3 on the streaming originals list with 547M minutes viewed for this week, at which point four episodes had debuted. That's Peacock's highest-ranking original ever, according to Nielsen.
Here is the full Top 10, with streaming service, title, number of episodes ("1″=feature film) and minutes of viewing:
Must Read Stories
Q4 Revenue Slips; More 'Lord Of The Rings' Movies In Works; Zaslav Lauds CNN
The '80s Are Over: ABC's 'The Goldbergs' To End After Current Season 10
101 Studios Inks Overall With Smokehouse TV's George Clooney & Grant Heslov
'IT' Prequel From Team Behind The Stephen King Films Set At HBO Max
Read More About:
Source: Read Full Article