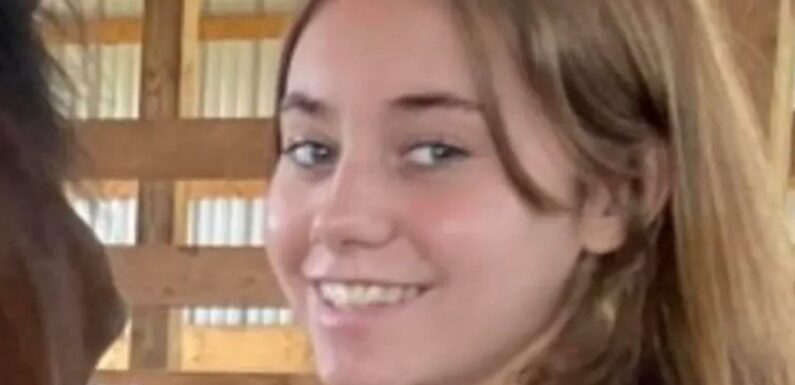 A DAD whose daughter died by suicide has vowed to get justice after she was beaten at school.
Adriana Kuch's body was found at her home in New Jersey on February 3 – just two days after the assault.
Distressing footage showed the student, 14, being attacked with a full water bottle several times, ABC7 reported.
Schoolgirls kicked, punched, and pulled Adriana's hair and she was seen lying on the floor in the hallway.
One person was heard hurling insults in the shocking footage.
Her dad Michael Kuch has shared stills from the attack online.
He has branded the assault "meaningless bullying" and has vowed to get justice for his daughter.
He told ABC7: "Getting hit with a water bottle didn't hurt Adriana.
"What hurt her was the embarrassment and humiliation, they just kept coming at her."
In a heartbreaking Facebook post, he said: "Last night, I was so tired.
Most read in The Sun
Nicola cops ARE hunting shabby red van – I saw the vehicle, says key witness
Real reason The Apprentice star Reece Donnelly quit the show revealed
Nicola Bulley dive expert reveals video 'proof' she didn't fall into the river
Nicola cops search for 'tatty red van' seen on the same day mum vanished
"I honestly could not cry. I slept for almost five hours and back to tears. Sleep may have been a bad idea."
In a separate Facebook post, he claimed that the attack was planned and said that Adriana's face was "covered in blood" when he took her to a police station.
The dad said that his daughter blacked out following the attack.
Michael described the attackers as "animals" and said "he would not be able to sleep" until they pled guilty in court.
He has shared a poster that reads: "Justice for Adriana."
Michael slammed those who recorded the assault on their cell phones.
The superintendent of Central Regional High School Triantafillos Parlapanides told News12 that cops were not called.
He said: "I don't believe a police report was done. We normally just suspend.
"If a parent wants to press charges they can with the police.
"But we're not going to double-whammy a kid where they are suspended and then police charges as well."
Parlapanides has since the New York Post that the students were suspended immediately.
And officials in the Berkeley Township have told NBC New York that four girls have been suspended until the end of the legal process.
Adriana, who was originally from Ohio, was found dead in her family's home just two days after the attack.
An online obit revealed that the freshman loved to walk in the woods and enjoyed activities such as skateboarding, and riding dune buggies, and dirt bikes.
Adriana's family said: "She adored all animals, she helped children with special needs, she loved jogging with her brothers, and was a true nature lover."
Read More on The Sun
I'm a traveller & I'm not obsessed with cleaning…but I swear by my £1.25 hack
Amazing Sky TV hack lets you watch deleted shows – and it's so easy to do
In a Facebook post, Michael described his daughter as "beautiful", adding that "she loved everyone."
If you or someone you know is affected by any of the issues raised in this story, call the National Suicide Prevention Lifeline at 800-273-TALK (8255) or text Crisis Text Line at 741741.
Source: Read Full Article