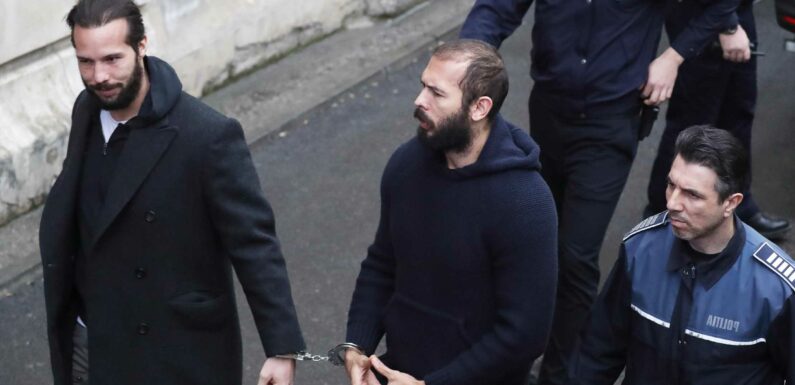 INFLUENCER Andrew Tate was pictured making a mysterious hand signal as he arrived at court in Bucharest this morning.
The ex-kickboxer and his brother Tristan are expected to find out today whether they'll stay behind bars after they challenged the court's last week ruling that sees them spending at least 30 days in jail.
The duo have been in custody for over two months amid acriminal investigation into allegations of human trafficking, rape and organised crime.
They were arrested on December 29 at their luxury complex outside the Romanian capital.
And even though lawyers urged a court to grant them bail at a hearing last Monday, the judges ruled it was necessary to extend warrants for the brothers' detention by a further 30 days.
The two brothers appealed the decision and appeared in court in Romania today expecting to find out the outcome.
read more on andrew tate
Andrew & Tristan Tate 'got women to tell cops they LOVED them in freedom bid'
Was Tristan Tate taken to hospital?
The brothers have already lost two previous appeals against prior 30-day extensions that have kept them behind bars while investigations continued.
As he was seen walking in handcuffs next to his brother, Andrew Tate, 36, was pictured making a strange hand signal.
Forming a type of downwards-facing triangle – Tate was pictured multiple times making the unnatural hand gesture.
The hand gesture was often used by former German Chancellor Angela Merkel and was referred to as "The Merkel-Raute."
Most read in The Sun
Reaction as emotional Fury breaks down after stunning win, Paul wants rematch
Molly-Mae in tears as she finds out Tommy won after refusing to watch fight
Fans convinced fight is FIXED after Fury beats Paul despite being knocked down
Fury breaks down in tears as he survives shock knockdown to beat Jake Paul
Conspiracy theorists believe similar hand signals are used to signify secret societies, such as both Freemasonry and the Illuminati.
Others were also linked to the bizarre conspiracy theory after intentionally or unintentionally forming the triangle hand gesture including former prime minister Theresa May, ex-European Commission President, Jean-Claude Juncker, Denzel Washington and Tom Cruise.
Andrew Tate's move – if intentional – may be potentially connected to his unfounded belief "The Matrix" – an unknown network of powerful people – are out to get him.
Tate has used the term in the past to describe the powers that be in politics, media and large organisations.
It comes as it has been claimed the two brothers were plotting to convince several women to tell prosecutors they loved them and they were not victims in a bid to prove their innocence.
Tate's spokesman denied reports in Romania that his brother was recently rushed to hospital amid hellish conditions in their prison cell.
Tate has repeatedly whinged about life holed up in a cell and in an email to subscribers, he moaned about the "blistering cold" while being "locked in a box".
And in another, Tate launched a thinly veiled attack on his supporters from his jail cell, saying he needs "better people".
Read More on The Sun
Savvy parents scramble to nab Disney toy kitchens reduced from £55 to just £7
iPhone users issued urgent warning as thieves use 'reset' trick
Andrew has threatened to sue a woman who accused him of trafficking for £249million to "shut down" the case against him.
The Tate brothers have maintained their innocence on all allegations, and claim their detention is part of a conspiracy to silence them.
Source: Read Full Article