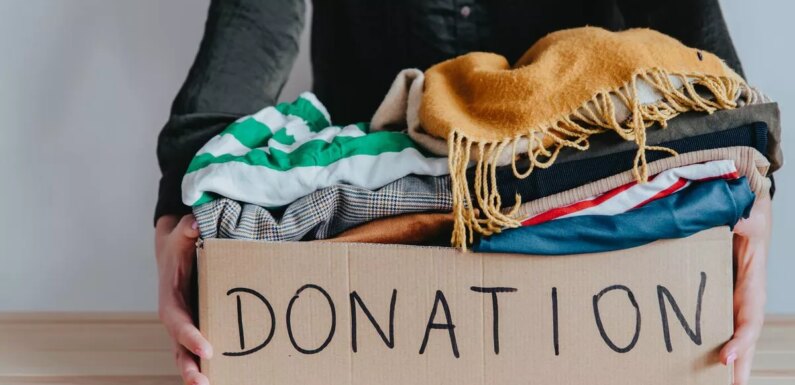 Bookmark
Never miss any of the fun stuff. Get the biggest stories and wackiest takes from the Daily Star, including our special WTF Wednesday email
Thank you for subscribing!
Never miss any of the fun stuff. Get the biggest stories and wackiest takes from the Daily Star, including our special WTF Wednesday email
We have more newsletters
Charity shops say they are sick of being gifted people's dirty undies.
One centre has now urged people not to drop off worn pants, saying it is "unfair" on volunteers. Millom Network Centre in Millom, Cumbria, is dedicated to helping improve the lives of the local community. It posted on Facebook: "All items of clothing MUST be in clean/washed condition."
It added: "It is totally unfair on our dedicated staff and volunteers to have to sort through soiled items of clothing and underwear, not to mention the health risks. Please have respect for our staff and volunteers who have the task of sorting through the clothes – it is wholly unacceptable."
READ MORE: Putin's sex-mad gymnast lover under 'house arrest' as 'uncrowned queen' has no power
For more news, click here.
It isn't the first to complain about grim donations. In 2021, a volunteer for a branch of Cancer Research UK's charity shops in south London hit out at those who drop of dirty clothes.
They said: "We get dirty pants donated sometimes. We're not a recycling plant and we're not a laundrette. Sometimes the smell just comes to you straight away – you open the bag and it's like, 'whoa'."
Almost half a million Brits will get 10% pay rise today due to cost of living
And a volunteer at a Devon charity shop ranted: "After so many years working for a charity as an assistant manager, I can honestly say I must have seen most things donated. I have come across stained and torn clothes, broken ornaments, electrical items with plugs cut off, filthy dirty food mixers, frying pans still with food burnt on, stained bedding and cushions, and filthy cuddly toys that no sane parent would let their child handle.
"The smell when you open big bags of clothing can be overpowering. I personally hate sorting kids clothing as they are often stained, especially the baby stuff. The sad thing is that for every quality item that we can sell in our shops we have to sort through hundreds more than we can't sell. I estimate that we keep about 10% of our donations."
And a volunteer at another charity put a video on TikTok and said: "What we don't want is your underwear with holes in that you've been wearing for the last 18 years."
For the latest breaking news and stories from across the globe from the Daily Star, sign up for our newsletter by clicking here.
Facebook
Cancer
London
In the News
Source: Read Full Article