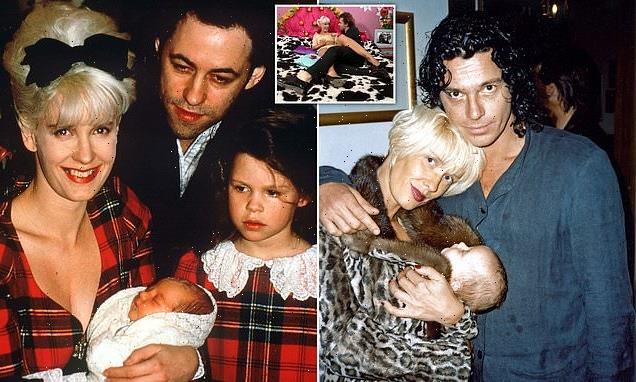 'This will kill Michael': Chilling moment Paula Yates predicted death of lover Michael Hutchence as Channel 4 doc recounts how trip to Australia to see him was cancelled amid child custody battle with ex Sir Bob Geldof
TV host had been in London at the time but had to delay a return to Australia 
She wanted to take children back to see Hutchence but this was cancelled 
READ MORE – What happened to Paula Yates's kids and where are they now? 
Paula Yates predicted the death of her partner Michael Hutchence after Bob Geldof stopped her taking her children to Australia to see him, a documentary has revealed.
The late TV host had been in London at the time but had to delay a return to Sydney to see Hutchence because of a custody battle with Geldof over their three children.
An archive interview shown during the new Channel 4 documentary 'Paula' last night saw her recall saying to her barrister when she left court: 'This will kill Michael.'
INXS lead singer Hutchence was found hanged in his hotel room in Sydney aged 37 on November 22, 1997 – which was soon after Yates made the comment.
Yates, who died in 2000 from a heroin overdose and was known for hosting The Tube and The Big Breakfast, had three children with Geldof – Fifi in 1983, Peaches in 1989 and Pixie in 1990.
Paula Yates in Sydney in 1996 with her partner Michael Hutchence and daughter Tiger Lily
Paula Yates in Milan in 1997 with Michael Hutchence and daughters Tiger Lily and Peaches
Paula Yates and Bob Geldof in 1989 with their children Fifi Trixibelle and Peaches=
But in 1994 she began an affair with Hutchence after she interviewed him on a double bed on Channel 4 show The Big Breakfast.
What happened to Paula Yates' kids and where are they now? How daughters' lives have been blighted by tragedy
Yates left Geldof the following year – before she and Hutchence then had their own daughter, Tiger Lily, in 1996.
Geldof gained custody of Peaches and Pixie, who were aged eight and seven at the time, after drugs were found at the London home of Yates and Hutchence.
Yates had returned to Britain from Australia and left Tiger Lily with Hutchence, but she was hoping to go back to the country with her other girls.
However, the documentary revealed Geldof decided not to let the children go to Australia – and their trip had to be cancelled when a court hearing was adjourned.
The programme included a previously unheard interview with the TV host which she gave to OK! magazine's Martin Townsend just months before her death in London in 2000.
Yates said: 'Bob decided against letting the girls go to Australia and so we had to go back into court, and then I couldn't get to Australia unless I left my girls behind.
'Michael hated to be away from us. Absolutely. Found it almost unbearable. And I think it was a crushing disappointment when I rang him and told him.
'And it's funny because I left the court, and I turned to my barrister and I said: 'This will kill Michael.'
Yates was found dead at her house in Notting Hill, West London, in September 2000 following an overdose of heroin.
The documentary also heard from a close friend of Yates who recounted a chance encounter they had with Princess Diana at the height of her fame.
The friend, Belinda Brewin, claimed Diana said she liked to see Yates on the front pages of the newspapers, because it meant she could escape public scrutiny for a day.
Paula Yates and Michael Hutchence began their relationship in 1994 when she interviewed him on a double bed on Channel 4 show The Big Breakfast
'I remember, we were on Fulham Road and we went into this jewellery shop, we went in and Princess Diana was in there,' Ms Brewin recalled in the documentary.
'And Princess Diana said to Paula: "I love it when you're on the front page of the papers, because it means I got the day off".'
Ms Brewin also described the mother-of-four as a cross between Marilyn Monroe and Mary Poppins.
And the documentary saw Robbie Williams recall how all five of Take That sat on the Big Breakfast bed but he was jealous that Yates seemed to fancy bandmate Jason Orange.
It also looked at her treatment on Have I Got News For You in 1995 when Private Eye editor Ian Hislop denounced Yates as an attention-seeker with breast implants, until she told him to stop being 'unkind'.
'Paula' is a two-part documentary on Channel 4. The first part aired last night and is now available on catch-up. The second part airs tonight at 9pm 
Source: Read Full Article