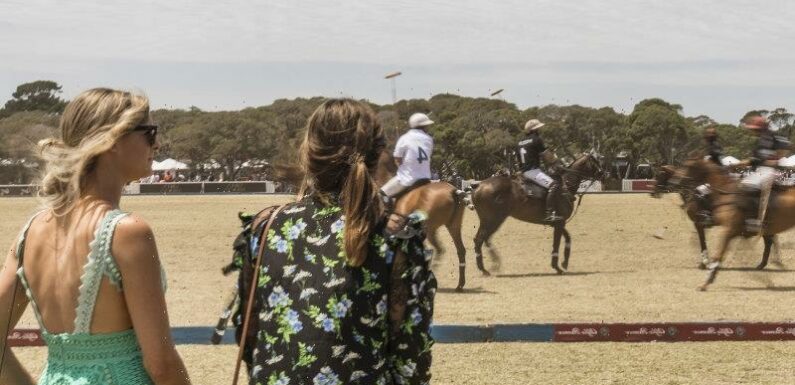 Tennis and cricket are booming, and the grand prix broke attendance records last year, but the polo is still feeling the effects of the COVID crunch.
This season, there is only one exhibition event – Twilight Polo on West St Kilda beach on Saturday, February 4.
The events that used to fill the calendar – Daylesford Polo, Polo in the City, Flinders Polo and Portsea Polo – are either delayed or cancelled.
Punters enjoying the pre-COVID Portsea Polo in 2019.Credit:Chris Hopkins
"Everyone is a lot more wary of putting on any event these days, or being rained out, or not getting the uplift from tickets," says James Thomas, of Venture Polo, which offers lessons and supplies polo teams to pro-am [professional and amateur competitions] and exhibition matches.
The fate of Flinders and Daylesford polo events is unclear. Portsea Polo plans to return next year and Polo in the City will return on November 25 to Albert Park for the first time since the lockdowns.
Twilight Beach Polo director, Brad Taylor, said the pandemic challenges have remained for event operators: staff shortages, insurance premiums, rising costs, transportation and supply chain.
"The industry lost a lot of great people who obviously had to put food on the table by starting new careers; they just haven't come back to the industry," Taylor said.
Brad Taylor, founder of Twilight Beach Polo.Credit:Penny Stephens
"It is a credit to any event operator that has been able to survive COVID."
Taylor survived by drastically downsizing his company, stripping out expenses, cutting staff, shutting his office and "not paying myself any money".
But his business Idiom Events, which sells corporate packages to major events, benefitted last year from the grand prix, the Melbourne Cup, Test cricket and the AFL grand final.
He hopes a crowd of 4000 will see four teams of three play in four seven-minute chukkas in the twilight competition.
"The power of sport brings people together. It's emotional, it really connects people," he said.
"I hope the others come back."
Twilight Polo was cancelled in 2020 and 2021 but was staged last year with COVID restrictions, including masked staff.
Urban Polo, which stages Polo in the City events interstate, was not so lucky. "Our booking in Melbourne [with Parks Victoria] was bumped by a Frisbee competition last year," said Urban Polo's Janek Gazecki.
"However, it's also noteworthy that the Melbourne corporate and sponsorship market was absolutely dead last year – like nothing we've ever witnessed," he said.
Professional polo players Blake Reid, left, riding Pop, and Josh Dales, riding Isla, enjoy a hit-out ahead of Twilight Beach Polo at St Kilda.Credit:Penny Stephens
"It will be interesting to see whether it will recover this year."
Troy McBean, co-chair of the Victorian Polo Association, said participation in polo was strong.
"Memberships this year have increased by 10 per cent year-on-year due to increasing awareness and popularity of horse sports and the work of the commercial operators providing accessible pathways into the sport," he said.
"Whilst I cannot comment on the status of specific commercial events in Victoria, I can say that like many businesses, polo has seen many cancellations due to COVID in past years, and this year, experienced unprecedented weather events creating many difficulties in preparing fields in time for corporate events."
No doubts about sponsorship here … a marquee at the 2019 Portsea Polo sponsored by beer maker Stella Artois. Credit:Katelyn Flood
Thomas said events need healthy sponsorship atop ticket sales to make a profit.
"Essentially, it comes down to the sponsorship dollar. It is just not where it used to be."
Polo is not the only public event which has struggled to return.
The Hillcrest Primary School tragedy in 2021, when six children died and three were injured after a gust of wind lifted a bouncing castle 10 metres into the air in Tasmania, underscored the potential risks to even the most innocuous public events and put the insurance industry on alert.
Rising litigation and higher claim settlements are forcing some insurers to increase premiums or withdraw from offering coverage.
"There has been a tightening of the market for public liability insurance, which covers public and community events, as well as other industries such as amusement parks and pubs," said Andrew Hall, chief executive of the Insurance Council of Australia.
Companies insuring community and public events have struggled to maintain profitability over the past three COVID-affected years, with payouts often higher than premiums received, he said.
Some local councils and state governments are demanding public liability insurance of $20 million, adding to costs.
"Local and state government authorities also often set very high default public liability coverage requirements that may not reflect the actual potential risk of an activity or event," Hall said.
"There is no one silver bullet to fix these issues."
A cultural guide to going out and loving your city. Sign up to our Culture Fix newsletter here.
Most Viewed in National
From our partners
Source: Read Full Article