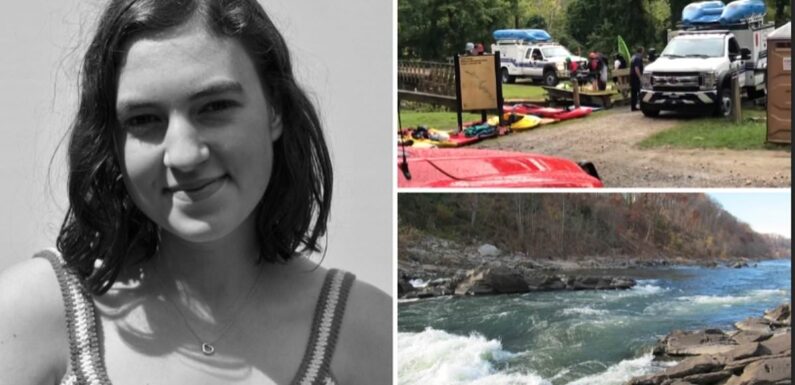 Columbia University student from Ireland Ella Mills is killed in a freak kayaking accident in Little Falls on the Potomac River
Former Trinity College Dublin student Ella Mills had only moved to New York days earlier
She got trapped under a rock by a strong current after being tipped out of her boat
Pete Piringer of Montgomery County Fire and Rescue said being trapped under the water in that area would be 'like having 500 pounds of pressure against you'
The brother of a young Irish woman has said he is 'heartbroken' after she died in a freak kayaking accident just days after beginning a new life in the US.
Ella Mills had arrived from Dublin to study English at Columbia University in New York earlier this month and registered within days for a trip to the Potomac in Washington DC with the university's Whitewater Kayaking Club.
But she was tipped out of her boat on a stretch near Little Falls and caught by a current which dragged her under a rock at about 3.15pm on Sunday.
The group desperately tried to pull her free but the force of the water kept her under as first responders raced to the scene.
'It's very deceiving, in some areas it looks calm, but it's not,' said Pete Piringer of Montgomery County Fire and Rescue.
'If you're brought even a foot or two under water, it's like having 500 pounds of pressure against you.'
Columbia University student Ella Mills in a photo released by her former high school in Dublin
The stretch of white water at Little Falls on the Potomac is a magnet for kayakers but potentially deadly 
First responders were unable to save the student's life when they arrived at the scene 
Ella had just moved to Manhattan as a third-year General Studies student on the university's Dual BA program after studying English at Trinity College Dublin.
'She had a love for learning, was intellectually curious, and passionate about literature—eager to soak in new ways of looking at literature and viewing the world as a literary scholar,' Columbia Professor Lisa Rosen-Metsch wrote in a tribute as she broke news of the death to students.
'She was an active member of the Trinity College Dublin community as part of the Trinity College Dublin drama society, the DU Players, the Trinity College Dublin Tennis Club, and the Philosophical Society, among many others.
'To our GS community, we are grieving with you and holding Ella and her family and friends in our thoughts and hearts.'
The university was due to hold a counselling session for Ella's friends, and her brother Leo praised it for its response.
'This is really heartbreaking but I am extremely happy that the school is being proactive in this,' he wrote.
Around two-dozen people from Columbia were on the trip when the tragedy took place near Chain Bridge on a stretch of the river that runs northwest out of the capital towards Maryland.
Pete Piringer of Montgomery County Fire and Rescue warned that calm waters can be very deceiving
The beautiful stretch of the Potomac is not far from DC's state line with Maryland 
Ella's teachers described her as 'intellectually curious, and passionate about literature'
Ella was described as 'much cherished' by her former headteacher at Sutton Park School in Dublin where she graduated in 2020.
'Ella's Mum Jo-Ann Feely will be known to many of you as Chair of our Board Of Management,' wrote head Ronan Walsh on the school website.
'Our hearts are broken for Jo-Ann, Ralph and Ella's two siblings Isabel and Leo who are in Second Year.
'This is a truly tragic time. Words fail us all. Our sympathies and thoughts are with Ella's family and her large group of friends. May she rest in peace.'
Source: Read Full Article