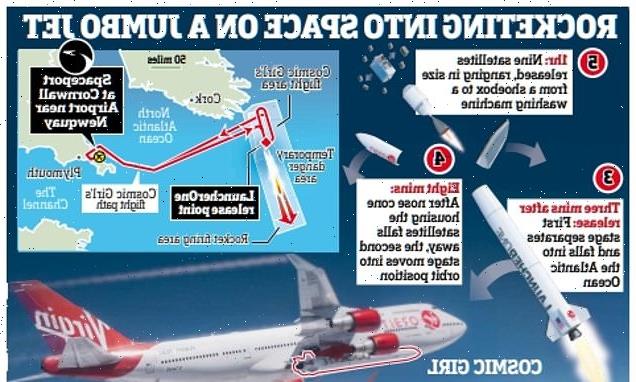 Britain blasts off! Countdown as first launch of space rocket into orbit from Britain is set to take place within hours
The first space launch into orbit from Britain will take place in Cornwall tonight
A 're-purposed' jumbo jet Cosmic Girl will carry a 70ft rocket under its wing
The launch, called Start Me Up, set to be attended by 25,000 people in Newquay 
The first launch of a space rocket into orbit from Britain is set to take place tonight.
A 're-purposed' jumbo jet called Cosmic Girl will take off from the UK's first spaceport in Cornwall carrying the 70ft rocket under its wing to a height of 35,000ft, before releasing it south of Ireland.
The rocket, LauncherOne, will then soar into space with a payload of nine satellites.
 Their purposes range from navigation to sea surveillance to prevent illegal fishing, smuggling and piracy. 
Technicians work on Virgin Orbit's LauncherOne rocket attached to the wing of Cosmic Girl, a Boeing 747-400 aircraft, ahead of Britain's first space launch on Monday 
The rocket will launch from Cornwall Airport. Approximately ten minutes after the take-off, the spacecraft will reach 35,000ft
The rocket launch, called Start Me Up after the Rolling Stones song, has been arranged by Virgin Orbit from Cornwall Airport near Newquay. 
It is set to be attended by 2,500 people. 
Thousands more, including billionaire Virgin founder Sir Richard Branson are set to see a livestream on YouTube.
The launch will be broadcast on YouTube. Sir Richard Branson is expected to watch the rocket online 
The company says it should be possible for most people in the UK and Ireland to see LauncherOne within 60 seconds of ignition, while those living on the coast of France, Portugal, and Spain will get a good view within two to three minutes 
Spaceport Cornwall (pictured in an artist's impression) will be the first such hub in the UK to enter service when the repurposed Newquay Airport hosts the space plane lift-off at night, after all the commercial flights have ended
However, experts warned the weather could see a last-minute postponement until later this month. 
David Rothery, professor of planetary geosciences at the Open University, said: 'This rocket launch sprinkles a little bit of stardust on the UK.'
THE 'PROMETHEUS-2' MISSION
The 'Prometheus-2' mission will send two cube-shaped satellites ('cubesats') into space by Virgin Orbit, although there will be other payloads aboard.
The Cubesats will operate in low Earth Orbit, around 340 miles above the Earth and 30-60 miles apart at 17,000mph.
Cubesat 1 includes a hyperspectral imager, a laser detector and a GPS receiver. The hyperspectral imager will capture multiple slivers of pictures over different wavelengths of light for higher definition images. The GPS receiver confirms the precise time and position of the satellite over the area of the Earth to be photographed.
Cubesat 2 includes two optical imaging cameras, a laser range finder, and a GPS receiver. One camera will be fitted with a wide-angle lens for a 180-degree view of Earth's surface with the second camera observing the other Cubesat 1 to support space situational awareness and enables us to understand what else orbits the Earth. 
Source: Read Full Article