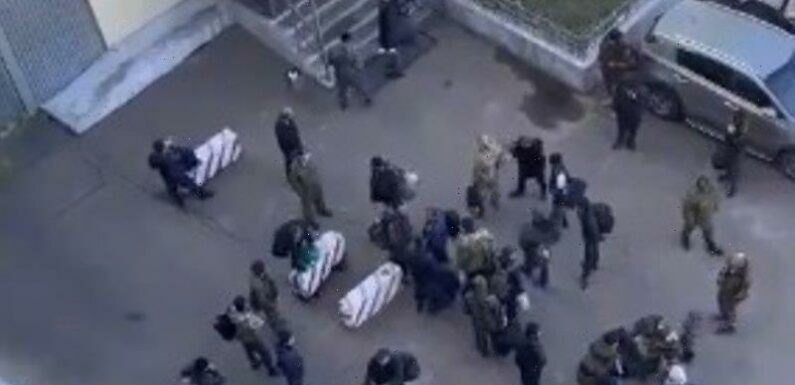 London: Videos have emerged on social media showing Russian men called up by the government for war in Ukraine, one of them saying emotional goodbyes to their families.
A video shared by a BBC reporter shows a child crying as she farewells her father as he boards a bus, following Russian President Vladimir Putin's decision to enact a partial mobilisation of forces to fight in the war in Ukraine.
"Daddy, goodbye!" she says. "Please come back!"
Other videos emerged of men preparing to leave their cities for training in the military.
Some Russians detained while protesting against Putin's partial mobilisation have been handed draft papers while in custody, the OVD-Info rights group said on Thursday.
Since Putin on Wednesday announced the first large-scale mobilisation in Russia since World War II, flights to leave the country have sold out and protests have been held – and swiftly broken up by police – in cities across Russia.
OVD-Info said at least 1310 protesters had been detained, and some had been presented with summonses to enlist. One protester in Moscow was told they faced a 10-year jail sentence for refusing to receive an enlistment order, it said.
Under Russian law, police have the power to stop people who are thought to be evading mobilisation. The law provides for lengthy, years-long prison terms and hefty fines for those dodging the draft without legal grounds for exemption.
"Information was received from 15 police departments that the detained men were handed a summons to the military registration and enlistment office," OVD-Info said in a statement.
Kremlin spokesman Dmitry Peskov declined to deny reports that some protesters had been given draft papers, saying only: "This is not against the law." The police could not be reached for immediate comment, nor could the draft office.
Journalists have also reportedly been ordered to enlist.
Russian TV channel Dozhd said that Artem Kriger, a journalist at the SOTA news site, was given a draft summons after being arrested while covering anti-mobilisation protests in Moscow.
Some Russian men rushed for the borders on Thursday after Putin's mobilisation order, with traffic at frontier crossings with Finland and Georgia surging and prices for air tickets from Moscow rocketing.
Some 10,000 volunteers have turned up to enlist for Russia's military campaign in Ukraine without waiting for call-up papers issued under a partial mobilisation, Russian news agencies reported on Thursday, citing the Russian General Staff.
Putin on Wednesday announced Russia's first public mobilisation since World War II. His defence minister said it aimed to recruit 300,000 experienced specialists for Russia's campaign in Ukraine, where it has recently suffered severe setbacks.
As well as the mobilisation, Putin effectively announced plans to annex four Ukrainian provinces, saying on Wednesday Moscow would assist with referendums on joining them to Russia. He also threatened to use nuclear weapons to defend his country.
UN Secretary-General Antonio Guterres told a Security Council meeting on Ukraine on Thursday that talk of a nuclear conflict was "totally unacceptable".
He also effectively warned Russia against taking the territories saying, "any annexation of a state's territory by another state resulting from the threat or use of force is a violation of the UN Charter and of international law".
Ukraine and its allies have dismissed the plans for referendums in Luhansk, Donetsk, Kherson and Zaporizhzhia provinces from Friday until September 27 as a "sham" to try and legitimise an illegal land grab.
On the ground, Russia's military fired nine missiles on the city of Zaporizhzhia, hitting a hotel and a power station, regional governor Oleksandr Starukh said. At least one person died with others trapped under rubble, he added. Zaporizhzhia is about 50 km from the nuclear plant of the same name.
In the Russian-held southern city of Melitopol, also in the Zaporizhzhia region, a blast hit a crowded market. The city's exiled mayor said it had killed three soldiers and was staged by occupying forces to accuse Ukraine of terrorism. A member of the Russian-installed local administration accused Ukrainian special services of trying to cause chaos on the eve of voting.
In further violence, Russian-installed separatists said at least six civilians had been killed and six more injured in a missile strike on a market in central Donetsk on Thursday.
Bodies lay on the street next to a wrecked bus surrounded by debris and twisted metal. A firefighter hugged a sobbing woman whose daughter had been killed inside the vehicle.
Reuters with reporters
Get a note directly from our foreign correspondents on what's making headlines around the world. Sign up for the weekly What in the World newsletter here.
Most Viewed in World
From our partners
Source: Read Full Article