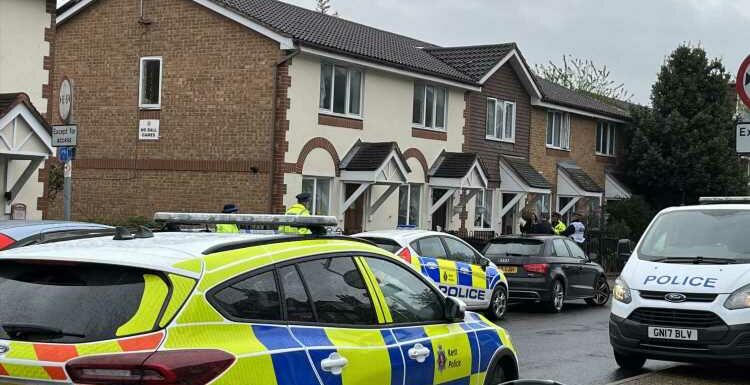 A WOMAN has died of her injuries after being shot during a suspected hostage taking in Kent.
Police rushed to the scene on Priory Road, Dartford, at 12.40pm on Saturday following reports of a disturbance.
Firearms officersattended and while at the scene, a 36-year-old woman suffered injuries believed to have been caused by a handgun.
She was rushed to hospital where police say she tragically died on Monday afternoon.
A 29-year-old man was also taken to hospital with a firearms injury and he remains in a critical condition.
He is being treated as the suspect and an investigation is underway.
Read More uk news
Moment paralysed woman signs 'I love you' to mum after boyfriend kidnap
Mum admits infanticide after throwing newborn from the balcony of flats
After an hour-long stand-off with a man inside, officers stormed the property by smashing through the front door.
Neighbours described how "pandemonium" erupted on the residential street as cops entered the home.
They claimed they heard two gunshots during the "chilling" incident.
The locals also said the woman was being "held hostage" by a man at the back of the terraced house.
Most read in The Sun
Andy Whyment had to apologise to his mum on returning from I'm A Celeb
The official coronation portraits fill me with sadness – here's why
Huge 90s boyband confirm comeback after performing for first time in 4 years
Wills' most powerful statement was 'No, we're NOT racist'… until Sunday night
One said: "I was in the house and my husband and two girls were out – they couldn't get back home.
"I went out and was told, 'Get back – you must stay indoors'. I went to the garden where I could see more."
A police spokesperson said: "Kent Police was called to a report of a disturbance at a property in Priory Road, Dartford at 12.40pm on Saturday.
"Officers, along with a trained police negotiator, attended and attempted to engage with a man inside the address.
"Whilst they were at the scene, a man and a woman suffered serious injuries consistent with gunshot wounds and were taken to a London hospital where they remain in a serious condition.
"Officers remain at the scene and enquiries are ongoing to determine the circumstances surrounding the incident."
Source: Read Full Article