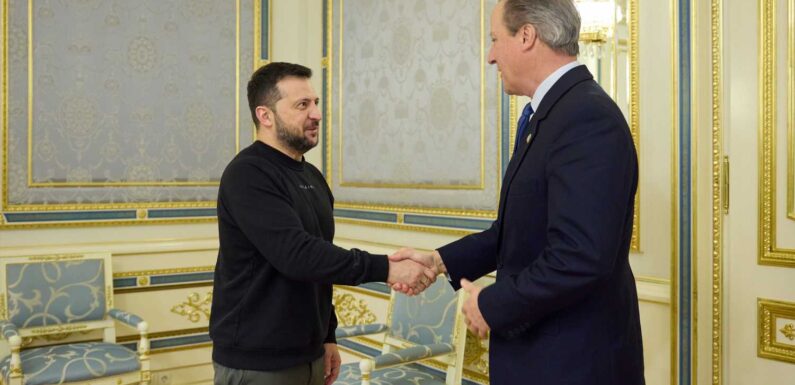 DAVID Cameron has visited Ukraine in his first overseas trip as Foreign Secretary.
The 57-year-old ex-PM was this week granted a peerage by King Charles – allowing him to accept a role as Foreign Secretary.
Mr Cameron replaced James Cleverly, who has taken over from Suella Braverman as Britain's new Home Secretary following Rishi Sunak's decision to remove her from the role.
Today he took his first trip abroad.
Ukraine's president said the pair discussed the supply of weapons for his forces fighting against the Russian invasion when they met in Kyiv.
Volodymyr Zelensky said: "We had a good meeting focused on weapons for the frontline, strengthening air defence, and protecting our people and critical infrastructure.
read MORE ON CAMERON
UNITED FRONT
Cameron meets with Ukraine's Zelensky on his first visit as Foreign Secretary
CAM BACK
Rishi Sunak hails new cabinet as David Cameron laughs off wisecrack at No 10
"I am grateful to the UK for its support!"
The former prime minister assured Ukraine that it could count on Britain's support.
He said: "What I want to say by being here is that we will continue to give you the moral support, the diplomatic support, the economic support, but above all the military support you need – not just this year and next year but for however long it takes.
"It's really important that we have this meeting to make sure we can get the communications right with all our friends and allies to make sure the attention is here in Ukraine."
Most read in The Sun
SCRUM OF THE OTHER
Stuart Hogg splits from wife & enjoys spa with 'world's sexiest jockey'
WOW!
Alex Scott wows as she goes braless in see-through dress at GQ Men of the Year awards
EVIL LURKING
Hamas terror cell INSIDE MRI suite at Gaza hospital revealed in IDF footage
NO SHOW
MAFS UK groom QUITS reunion as he snubs show following dramatic marriage split
Britain has been a close ally of Ukraine throughout the full-scale war launched by Russia in February 2022.
Ukrainian Foreign Minister Dmytro Kuleba said he and Cameron also held talks at his ministry.
Kuleba said: "The UK remains steadfast in providing Ukraine with weapons, increasing their co-production, and ridding the Black Sea of Russian threats."
Ukraine is trying to build up a Black Sea shipping corridor to revive its seaborne exports, defying threats from Moscow which quit a U.N.-brokered deal in July that had allowed some food exports to flow despite the war.
The Ukrainian statements did not say when the talks took place.
Strict security measures in place because of the war mean details of visits by foreign dignitaries are sometimes released only some time after they have happened
 Mr Cameron, 57, had retired as one of youngest ex-PMs in history – and clearly felt he had more to give when he told pals in 2018 he was "bored s***less".
Allies even suggested he could become Foreign Secretary – an offer now grasped years later by Rishi Sunak.
The PM will hope to draw on his wealth of experience, often overshadowed by his legacy-defining Brexit gamble.
Source: Read Full Article