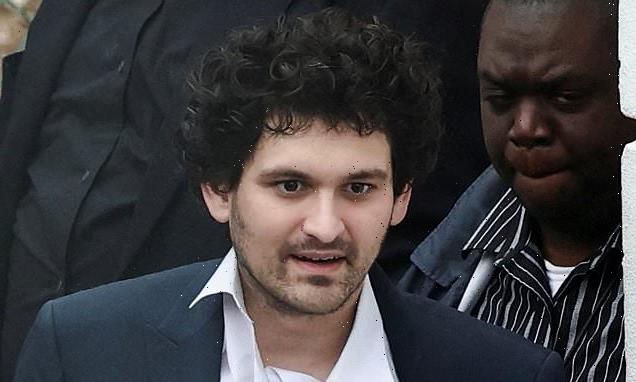 BREAKING NEWS: FTX founder Sam Bankman-Fried to be released on $250million bail after returning to US from Bahamas – despite claiming he had just $100,000 to his name
SBF was granted bail in New York City on Thursday a day after being extradited 
His parents and two other people will fulfil the bail – the largest in US history 
The 30-year-old is charged with eight counts of fraud and money laundering 
Prosecutors say he used his platform FTX as a 'personal piggy bank' 
SBF filed for bankruptcy before his arrest; he claims he has $100k to his name  
Fallen FTX founder Sam Bankman-Fried will be released on a $250million bond, according to a deal struck today in a New York City courtroom. 
The disgraced financier had recently claimed to have just $100,000 to his name. 
He was arrested in the Bahamas last week on a range of fraud and money laundering charges for what prosecutors described as one of the biggest financial crimes in American history. 
They allege that he used his crypto-trading platform as a 'personal piggy bank', convincing investors to mark their billions with him only to funnel their assets into his own company. His alleged scheme was revealed when FTX filed for bankruptcy in November. 
Today, a judge agreed to grant him bail – the 'largest pre-trial amount in US history. 
Sam Bankman-Fried is shown being extradited to the US yesterday
Bankman-Fried's mother, Barbara, is shown arriving in court on Thursday 
His parents, Stanford Law professors Barbara and Alan Bankman-Fried, have agreed to put up the equity they own in their $4million California home, where he will live during his house arrest, as part of the bail requirement. 
Two other people – one relative and one  non-relative – will fulfil the rest of the bond. It remains unclear if he is required to pay the full $250million or a portion of it.  
Bankman-Fried, 30, has been charged with a range of fraud and money laundering charges after allegedly stealing $1.8billion from his crypto-trading platform, FTX, to fund his own life. 
Federal prosecutors and investigators from the SEC say he used the platform like a 'personal piggy bank' to fund his own lifestyle.  
Bankman-Fried was arrested in the Bahamas last week and was extradited to New York where he appeared before a judge today. 
He was due to testify before Congress about his failed business, and in leaked testimony claimed that he had just $100,000 to his name, but that he could make all his investors who lost money 'whole again'. 
Bankman-Fried's ex-girlfriend and former CEO, Caroline Ellison, has entered a plea deal with prosecutors to avoid charges of her own. 
She was facing 110 years in prison on seven tax violations and various counts of fraud, but prosecutors have agreed not to prosecute her on the most serious charges. 
In exchange, she will cooperate with their ongoing investigation and will plead guilty to the less serious tax violations, which would see her saddled with a $250,000 fine. 
Source: Read Full Article