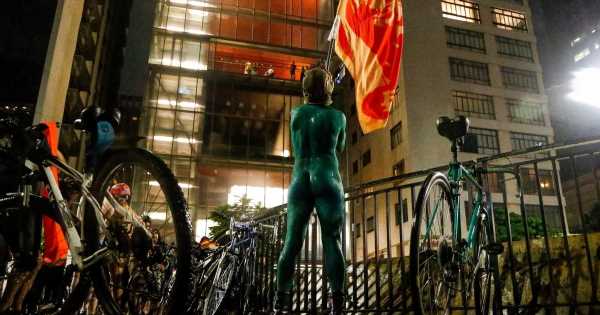 Cyclists have stripped off and taken to the streets in an act of defiant protest.
Brazilian bike riders got their gear off in the city of Sao Paolo, Brazil, to raise awareness about the fragility of cyclists in the city.
They got together in the largest avenue of what is regarded as the financial capital of Brazil.
READ MORE: Prince Harry lost virginity to cougar in field who 'spanked him' then sent him away
Reports claim some 30 people took part in the demonstration on Paulista Boulevard to express concerns about the everyday dangers facing the city's road users on two wheels.
Not all were naked, with some of the participants in the protests only scantily clad.
One of the protestors even went so far as to fully paint themselves green from head to toe, wearing on his head a Russian-style chapka hat.
Known as the Pedalada Pelada, or Pedaling Bare, the naked demonstration is similar to the International Naked Bike Ride.
Photographer Allis Bezerra, 41, told AFP: "We are naked on one of Latin America's biggest avenues, showing that we are vulnerable to the force, the violence of cars."
He continued: "This movement serves to demonstrate to society just how important we are. By using bikes as our means of transport, we take cars off the street that would be polluting the environment."
OnlyFans teacher sacked for report card d**k pic ratings now 'Millionaire Mama'
A 43-year-old artist, Andresa Aguida, had "Sustainable Pedalling" painted on her naked chest.
She said: "Motorists show us no respect when we are riding.
"They honk and seem to be saying: 'Move or I'll run you down."
The Brazilian Association of Traffic Medicine reported in June 2022 that an average of 44 incidents took place on the roads involving cyclists in the South American country.
For the latest breaking news and stories from across the globe from the Daily Star, sign up for our newsletter by clicking here
READ NEXT:
Art teacher sacked after letting 15-year-old pupils pose topless and smoke
Secondary school sparks huge row after banning skirts for 'gender neutral uniforms'
Fuming dad, 40, fights 30 schoolkids in 'mutual combat' as he confronts 'son's bullies'
Angry mum outraged after school put son in isolation 'because of haircut'
Source: Read Full Article