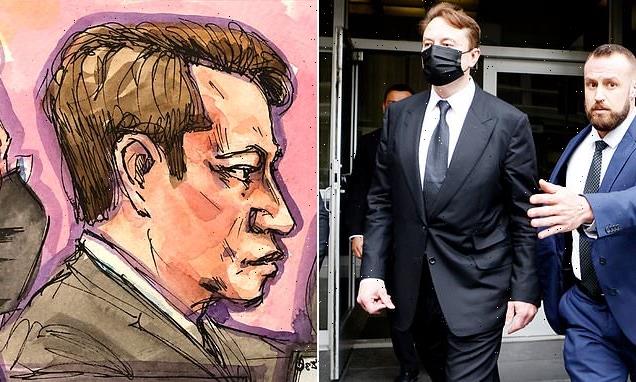 BREAKING NEWS: Elon Musk did NOT violate federal securities law when he tweeted about potentially taking Tesla private, jury finds
Elon Musk has scored a major victory in court after a jury found he was not liable for 2018 tweets about potentially taking Tesla private
Musk was accused of misleading investors when he tweeted that he had secured funding to take Tesla private at $420 a share
Musk previously testified that the value was not a marijuana joke  
Elon Musk has scored a major victory in the courtroom after a jury found he was not liable for misleading investors in 2018 tweets about potentially taking Tesla private. 
On Friday afternoon, the nine-jury person jury said investors in the class-action case failed to prove that they were misled by the Tesla CEO.
In 2018, Musk tweeted that he had the financing to take Tesla private even though it turned out he hadn't gotten an iron-clad commitment for an aborted deal that would have cost $20 billion to $70 billion to pull off. 
The tweets caused Tela's stock to surge during a 10-day period covered by the lawsuit before falling back after Musk abandoned a deal, based on evidence presented during the three-week trial. 
Elon Musk, center, leaves a federal courthouse in San Francisco on Friday after a jury found he was not liable for misleading investors in 2018 over a tweet
The case is centered around a tweet Musk sent in August 2018 where he claimed the funding was 'secured' for a deal to take Tesla private
Pictured: A court sketch of Musk awaiting the jury's verdict on Friday
The infamous 2018 read: 'Am considering taking Tesla private at $420. Funding secured.' 
It was then followed by another tweet stating that the trade was imminent: 'Investor support is confirmed. Only reason why this is not certain is that it's contingent on a shareholder vote.' 
Alex Spiro, Musk´s attorney, admitted that the 2018 tweets were 'technically inaccurate,' but he told the jurors: 'Just because it's a bad tweet doesn't make it a fraud.' 
The final day of the trial was notable as Musk showed up to court, even though his presence wasn't legally required.
He sat stoically in court as he was vilified as a rich narcissist whose reckless behavior risks 'anarchy,' while his defense hailed him as a visionary looking out for the 'little guy.' 
If the jurors had decided the tweets duped investors, Musk and Tesla would've been on the hook for billions of dollars in damages. 
Although his presence wasn't required, Musk still showed up to court following a four-year spat with Tesla investors who claimed he duped them 
The investors said Tesla's value shifted because of Musks' tweets in 2018 claiming he was going to take the company private at $420 per share 
Musk's attorney, Alex Spiro (left) said his client's only mistake was making a 'bad tweet'
Nicholas Porritt, a lawyer for the Tesla shareholders in the trial, had urged the jurors to rebuke Musk for his 'loose relationship with the truth.'
'Our society is based on rules,' Porritt said. 'We need rules to save us from anarchy. Rules should apply to Elon Musk like everyone else.'
Glen Littleton, the laid plaintiff in the case, testified that he had liquidated positions after Musks' tweet because he believed Tesla was going private, The Wall Street Journal reports.  
'This represented a threat to my livelihood,' Littleton told the court. 
U.S. District Judge Edward Chen, who presided over the trial, decided last year that Musk´s 2018 tweets were false and has instructed the jury to view them that way.
Court sketching captures Elon Musk defending claims he misled investors with 2018 tweet claiming Tesla might go private, with shares selling for $420 a piece 
During roughly eight hours on the stand earlier in the trial, Musk insisted he believed he had lined up the funds from Saudi Arabia's Public Investment Fund to take Tesla private after eight years as a publicly held company. 
He defended his initial August 2018 tweet as well-intentioned and aimed at ensuring all Tesla investors knew the automaker might be on its way to ending its run as a publicly held company.
'I had no ill motive,' Musk testified. 'My intent was to do the right thing for all shareholders.'
Following the impact of Musks' tweet on the stock in 2018, he was swiftly forced to forfeit his position as Tesla's executive chairman and pay millions of dollars in fines and legal fees.
Source: Read Full Article