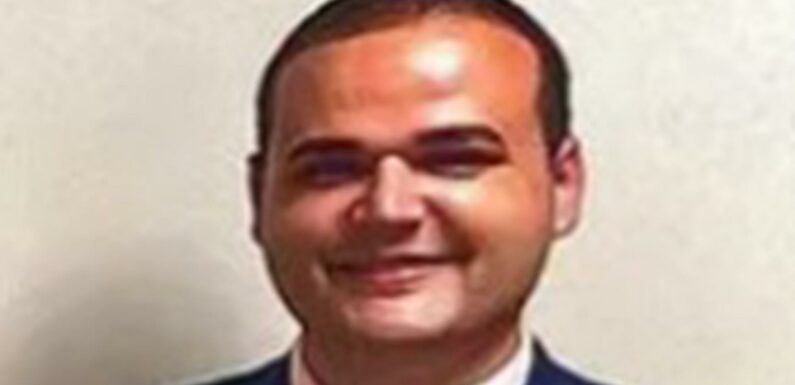 THE heartbroken fiancée of a TV journalist has said "she will never be the same again" following his death.  
Dylan Lyons, a reporter at Spectrum News 13, was among three people killed in a string of shootings that rocked Orlando, Florida yesterday.
Two others were injured and cops have since arrested suspect Keith Melvin Moses, 19.
Lyons' fiancée Casey Lynn has been left heartbroken following the 24-year-old's death.
She tweeted: "The love of my life was murdered. I will never be the same person ever again."
Lyons' elder sister Rachel has created a GoFundMe page and said: "He was an acting father to his niece and nephew who he loved so much.
"He loved his fiancé and was a devoted son to his mother and father.
"He was a happy soul and [a] wonderful person in life. My brother was our baby. He was taken too early from us."
A woman, 20, was also killed while a nine-year-old girl died after being shot.
The youngster's mom is fighting for her life in the hospital, and Lyons' colleague – a photographer – was also injured.  
Most read in The US Sun
Family of woman claiming to be Madeleine McCann 'refuse to take DNA test'
Nicola cops probed in 2 reviews over welfare check & personal info release
Nicola Bulley's body was identified by dental records, inquest hears
B&M shoppers rush to buy summer must-have for £30 instead of £500
Greg Angel, a Spectrum News 13 anchor, tweeted that his co-worker has been able to speak with investigators and colleagues.
Cops believe the violence is "connected" and have said Moses is responsible.
Sheriff John Mina said: "The shooting this morning, the two shootings of the two news reporters, and the shooting of the mother and child are all connected.
"The suspect is responsible for all of them."
"He (Moses) is being formally charged in the murder from this morning, and we expect additional charges for the shootings of the four people this afternoon."
The string of violent attacks began at around 11.15am when cops received reports about a woman who was shot.
Witnesses claimed that she fell out of a car after being fatally wounded.
Deputies collected evidence from the neighborhood and left to follow leads as they worked to identify the perpetrator.
Hours later, news crews from multiple TV stations were at the scene, reporting on the deadly shooting.
At around 4pm, officials received reports of a second shooting.
Lyons started reporting on the woman's death but he was gunned down after several shots were fired. The photographer was also targeted.
Officers also received reports of a third shooting at a nearby home.
The little girl, who died, has not been identified.
Cops are trying to identify a motive behind the string of shootings.
Mina said: "It's unclear why exactly they were targeted, and certainly we're going to look into that."
Charter Communications, Spectrum News 13's parent company, released a statement after the tragedy.
'WORST NIGHTMARE'
The company said: "We are deeply saddened by the loss of our colleague and the other lives senselessly taken today.
"Our thoughts are with our employee's family, friends, and co-workers during this very difficult time.
"We remain hopeful that our colleague who was injured makes a full recovery. This is a terrible tragedy for the Orlando community."
Spectrum News 13 reporter Asher Wildman said: "Many of us lost more than a colleague today.
"But, I can't tell you how much it has meant to me and my News 13 family members who have reached out just to ask if we are OK."
White House Press Secretary Karine Jean-Pierre said: "Our hearts go out to the family of the journalist killed today and the crew member injured in Orange County, Florida, as well as the whole Spectrum News team."
Dozens of journalists from networks across the country have shared their condolences.
KALB-TV reporter Brooke Buford said: "I'm so incredibly sorry for the loss of your beloved colleague. Sending prayers to your entire newsroom family and love from Alexandria, LA."
Read More on The Sun
Perfume whizz reveals exactly what your favourite perfume says about you
Matt Lucas takes brutal swipe at Bake Off after quitting Channel 4 show
Fox23 journalist Shae Rozzi posted that she was sending prayers from Oklahoma.
During a live bulletin, WESH2 reporter Luana Munoz said through tears: "This is every reporter's worst nightmare."

Source: Read Full Article