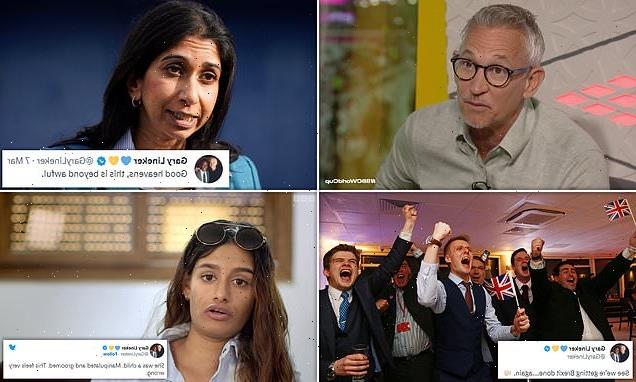 The world according to Gary Lineker: From tax rows to £1.35m BBC salary, migrants and hypocrisy over Qatar human rights – how ex-footballer has gone from flogging crisps to self-appointed political commentator
READ MORE: Home Secretary Suella Braverman blasts Gary Lineker for Nazi slur 
Section 4 of the BBC's Editorial Guidelines – on the importance of impartiality – leaves little to the imagination.  
'The BBC is committed to achieving due impartiality in all its output,' it reads, adding that the principle is 'fundamental to our reputation, our values and the trust of audiences'. 
Yet it appears the news hasn't yet reached Gary Lineker, whose comments comparing Suella Braverman's clampdown on Channel migrants to Nazi Germany is just the latest in a long list of divisive political interventions.
The football pundit, who is currently locked in a £4.9m tax battle with HMRC, regularly lectures his 8.7million Twitter on everything from Brexit and the Tories to protests by Just Stop Oil and the fate of Shamima Begum. 
Lineker has been frequently criticised for his flagrant breach of impartiality rules – including by senior BBC employees such as the cricket commentator Jonathan Agnew.  
He's also faced accusations of hypocrisy, including after news emerged he pocketed £1.6m working for Qatar's state-owned broadcaster a decade before becoming one of the loudest critics of FIFA's decision to let it host the World Cup. 
Below, MailOnline examines his other political interventions and controversies in recent years.
Gary Lineker's comments comparing Suella Braverman's clampdown on Channel migrants to Nazi Germany is just the latest in a long list of divisive political interventions
March 7 
The Match of the Day host, 62, shared online a video of Mrs Braverman announcing details of her new Illegal Migration Bill with the comment, 'Good heavens, this is beyond awful'.
He then used his Twitter account, with 8.6million followers, to describe the measures to tackle the migrant crisis as 'immeasurably cruel'.
When another user accused him of being 'out of order', the former England footballer, who has previously been rebuked for other anti-Tory comments, responded: 'There is no huge influx. We take far fewer refugees than other major European countries.
'This is just an immeasurably cruel policy directed at the most vulnerable people in language that is not dissimilar to that used by Germany in the 30s, and I'm out of order?'
February 28
Lineker is an outspoken Remainer and has regularly voiced his opinion on Brexit. 
Commenting on a speech from Rishi Sunak about Northern Ireland having access to the Single Market, he wrote: 'This is sensational. Not a hint of irony. Quite brilliant.' 
February 27 
The day before he had written 'so we're getting Brexit done, again' alongside a fist emoji. 
February 23
Environment Secretary Therese Coffey raised eyebrows when she urged Brits who were struggling to buy tomatoes to 'cherish the humble turnip'. 
Lineker compared her comments to former PM Liz Truss famously being compared to a lettuce. 
February 22  
Last month saw Shamima Begum lose a challenge against the decision to revoke her British citizenship, with judges ruling the Home Secretary had acted lawfully to protect national security. 
Lineker was not happy, tweeting that Begum – who fled London aged 15 – had been 'groomed'. 
He wrote: 'She was a child. Manipulated and groomed. This feels very wrong.'
February 20
Lineker shared a tweet calling for migrants who had crossed the Channel to be given legal status.  
The tweet he shared read: 'So why can't we let them? Why leave them to fester in a hotel with the far-Right screaming abuse at them? Give them legal status and get them going.'
February 15
A decision by Formula 1 to ban drivers from making political statements attracted the ire of Lewis Hamilton, prompting Lineker to voice his support for the British driver. 
He wrote: 'Well played Lewis Hamilton. No point having a huge platform if you don't use it for good. Free speech and all…'
That same day he had joked about 'the delights of Brexit' while waiting in an airport queue. 
February 7 
Outspoken MP Lee Anderson was promoted to Conservative Party chairman, commenting Lineker to sarcastically remark 'fantastic appointment' next to laughing emojis. 
That same day he also retweeted a post calling for a windfall tax on fossil fuel companies, asking 'how do they [the Government] get away with this avarice'. 
A follower commented 'because people keep voting for them', to which he replied, 'agreed'. 
January 26  
Lineker shared a list of Tory MPs who voted down an amendment on sewage – a move that attracted the ire of anti-pollution campaigners. 
'Why on earth would you do this?' he asked. 
January 21
Lineker called trophy hunting 'sickening', as he shared a petition to ban it.
January 14
The former footballer retweeted a post calling Ms Braverman 'utterly devoid of sensibility' after an exchange between the Home Secretary and a Holocaust survivor.
January 12
Culture secretary Michelle Donelan said the BBC should be 'conscious' of recent comments made by Lineker.
Ms Donelan was speaking to The News Agents podcast about remarks Lineker had made on the same show about the World Cup in Qatar and racism in America.
'There is a problem with impartiality and the BBC, they would say that they've recognised that themselves,' she said. 
Brexit has been one of Lineker's favourite topics of discussion. Pictured are Leave supporters in 2016=
December 2023
Lineker risked another impartiality row by branding the US an 'extraordinarily racist country'.
The former England striker-turned-TV presenter swiped at the Americans while defending his criticism of World Cup hosts Qatar, whose regime persecutes political activists, women and LGBT minorities.
Doha hit back over what they claimed was the Corporation's 'very racist' coverage of the tournament.
But Lineker showed he was prepared to do the same with the World Cup by branding the US a racist country.
November
Lineker led the BBC One's coverage of the Qatar World Cup – despite his repeated criticisms of the country for its deeply conservative stance on issues like gay rights. 
Lineker led the BBC One's coverage of the Qatar World Cup – despite his repeated criticisms of the country for its deeply conservative stance of issues like gay rights 
Claims of hypocrisy grew even louder after it emerged he had previously pocketed £1.6 million while working for the Gulf state's sports broadcaster.
READ MORE: Lineker continues £4.9m tax battle with HMRC
The broadcaster was paid £400,000 a year for four years from 2009 to 2013 by Al Jazeera, which is owned by the Qatari state. 
Lineker's contracts to front Champions League coverage for the channel – seen by The Daily Mail – included 'minimum 5-star hotels' and first-class flights if necessary.
He is said to have insisted on a one-week holiday each February to allow for his traditional trip to Barbados. 
Lineker's last deal with the Doha-based broadcaster was signed in August 2012 – 20 months after the controversial decision to hand Qatar the World Cup.
He declined to comment.  
October 
Lineker breached BBC impartiality rules with a social media post criticising the Tories, the broadcaster's complaints team ruled.
The broadcaster used Twitter to quote an article about Liz Truss – then foreign secretary – urging Premier League teams to boycott the Champions League final in Russia.
In his post, the former England striker added: 'And her party will hand back their donations from Russian donors?'.
That same month, Lineker also led a backlash against Foreign Secretary James Cleverly after he told gay football supporters to be 'respectful' of World Cup host Qatar. 
He posted on Twitter: 'Whatever you do, don't do anything gay. Is that the message?' 
September 
New BBC director general Tim Davie was forced to address the continued controversy over Lineker's political tweets, saying the former England footballer's approach to impartiality was a 'work in progress'. 
However, he told MPs the broadcaster's social media behaviour had undergone a 'massive improvement'. 
August 
Lineker sparked a row with a senior BBC journalist this year with a tweet about sewerage.
He wrote on Twitter: 'As a politician how could you ever, under any circumstances, bring yourself to vote for pumping sewage into our seas? Unfathomable!'
The post prompted veteran BBC journalist Neil Henderson, a home and foreign news editor, to ask the £1.35million-a-year presenter if his contract allowed him to breach the corporation's impartiality rules. 
The journalist wrote to him: 'The BBC lives or dies by its impartiality. If you can't abide it, get off it.'
Mr Henderson, following discussions with BBC bosses, later issued an apology. 
July 
Lineker found himself at odds with ex-racing driver turned Sky commentator Martin Brundle over his response to a Just Stop Oil protest.
Protesters stormed the British Grand Prix, sparking fury from Brundle, who said they could have been killed.
Lineker tweeted: 'History will look back very favourably on these people'. 
But Brundle replied: 'Gary please don't encourage this reckless behaviour. They'd have been sliced into 100 pieces and fans, marshals and drivers were wholly at risk of injury and death. I totally support freedom of speech and opinion, but do it responsibly.' 
October 
Lineker said he had spoken to the BBC's director-general Tim Davie 'quite a few times in recent weeks' and that Mr Davie was 'perfectly happy' with his conduct on social media.
His comments came after new guidelines and training were announced by the BBC to 'ensure the highest possible standards of impartiality' among staff at the broadcaster.
February 2018 
Lineker was challenged over his comments on Brexit by BBC cricket commentator Jonathan Agnew.
Lineker has been vocal in his opposition to Brexit, including on Twitter and attending a rally in 2018 calling for a second referendum.
Agnew, responding to one of Lineker's posts, Tweeted: 'Gary. You are the face of BBC Sport. Please observe BBC editorial guidelines and keep your political views, whatever they are and whatever the subject, to yourself. I'd be sacked if I followed your example. Thanks.'
Source: Read Full Article