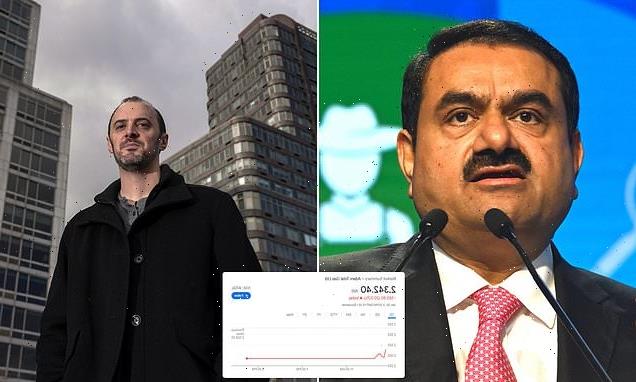 Indian billionaire slips to seventh richest man in the world as his companies lose $70BN after being attacked by American investor: NYC-based firm is accusing Gautam Adani of 'largest con in corporate history'
Gautam Adani, 60, is now just the seventh-richest man in the world after his personal net worth dipped to $92.7billion 
 His company has lost $70billion worth of its value following a report accusing him and his family of using offshore shell accounts for money laundering
Activists are now urging major bond investors to divest from the Adani Group
An Indian billionaire who was just last week the world's third-richest man has seen his worldwide position plummet as his companies lose $70billion.
Gautam Adani, 60, became just the world's seventh-richest man one week after New York City-based investment firm Hindenburg Research filed a damning report accusing him and his family of controlling a web of offshore shell accounts to carry out money laundering and taxpayer theft in the 'largest con in corporate history.'
The Adani Group — one of India's most powerful and prominent industrial conglomerates — has since lost $70billion worth of its value as its share prices continue to plummet and activists urge major bond investors to divest from its subsidiaries.
Meanwhile, Adani lost nearly $27billion of his own personal net worth, the Economic Times reports. His $125billion fortune fell by $6billion immediately following the report, and fell by another $20.8billion on Friday. 
He is now estimated to be worth just $92.7billion. 
Gautam Adani, 60, the founder of the Adani Group, has seen his personal net worth fall from $125million to $92.7billion following a scathing report accusing the company of using off-shore accounts to carry out money laundering and taxpayer theft
The Adani Group has repeatedly refuted these claims and even issued a 413-page rebuttal of the fraud accusations by Hindenburg Research, a small firm run by Nathan Anderson.
But its efforts do not yet seem to be working, as shares of Adani Total Gas and Adani Green Energy were down 20 percent on Monday, though its flagship company Adani Enterprises was up almost 4 percent.
It is now falling short of its goal to raise $2.5billion in stock offerings, as investors have bid just a fraction of the 45.5million shares on the offer, the New York Times reports. The offerings expire on Tuesday. 
And due to the company's hold on the Indian market, the Nitty 50 Index, which includes the country's largest companies, is down 25 percent over the past week after previously outperforming the S&P 500 last year.
The company's situation may now only get worse, as advocacy groups focused on climate change called for major bond investors to shun the company. 
The activists groups participating in a campaign called Toxic Bonds told Reuters they had written to money managers like BlackRock, Allianz and Pimco to reject any new investments or credit arrangements with the Adani Group, and to publicly divest their funds.
So-called green bonds, used to raise money for projects meant to benefit the environment, are one of Adani's main sources of funding and losing out on those funds could put a serious dent in the conglomerate's worth.
 In a letter to these firms obtained by Reuters, Nick Haines, a campaign manager for SumofUs argues that Hindenburg's findings 'undermine any confidence investors could have that proceeds from Adani's planned green issues this year would be ringfenced.'
It notes that Adani's empire includes interests in coal, with its Carmichael mine in Australia producing around 10million tons of coal for export each year.
The company has said it will invest more than $50billion in green hydrogen, but based on Hindenburg's findings, activists argue, any money invested in the company could prop up its coal production.
'The interconnected financial nature of the Adani Group makes it clear that buying debt from any subsidiary of Adani is, by extension, supporting Adani's mining business,' the letter says. 
Hindenburg Research, run by Nathan Anderson (pictured), raised questions about how the Adani Group used its offshore entities in tax havens like Mauritius, the Caribbean Islands, and the United Arab Emirates
It also called into question Adani's close ties with Prime Minister Narenda Modi, alleging the close ties allowed his company to expand into the media, energy and cement sectors. The two are pictured here in 2019
Hindenburg's report raised questions about how the Adani Group used its offshore entities in tax havens like Mauritius, the Caribbean Islands, and the United Arab Emirates, noting that certain offshore funds and shell companies tied to the group 'surreptitiously' own stock in Adani-listed firms.
Gautam Adani: The world's third-richest man valued at $125B
Gautam Adani, 60, is the chair of the Adani Group, one of the three largest industrial conglomerates in India.
He began his journey as a diamond sorter in Mumbai in the late 1970s before going to work in his brother's plastics business in 1981. 
After securing a deal win Korea, he launched the group's flagship import-export business, Adani Enterprises. 
His business secret, as the Financial Times put it, was simple. 'Earn a small amount in one business, then take on heavy debts against its income to finance expansion into another,' the broadsheet said.
The group now has interests in ports, power generation and transmission, real estate, cement among a plethora of other industries. 
Adani controls India's largest port, Mundra Port, and became the country's biggest airport operator after purchasing a 74 percent stake in Mumbai International Airport in 2020.
Adani has been accused  by his critics of leveraging personal connections with Indian Prime Minister Narendra Modi to secure advantages.
At a net worth of $125billion, Adani only ranks behind French luxury goods mogul Bernard Arnault and Tesla CEO Elon Musk.  
It also called into question Adani's relations with the Indian government, as his close ties to Prime Minister Narendra Modi apparently enabled the corporation to receive a number of government concessions in recent years, that helped it expand into the media, energy and cement sectors, the New York Times reports.
The short seller alleged that at least 28 of the shell entities were operated by Adani's older brother, Vinod, or his 'close associates,' as Hindenburg highlighted Indian officials' investigation into fraud allegations against the group. 
According to the officials in those investigations, Vinod would move money from offshore entities into private offshore trusts and companies owned by the family. That money would then go to the entities in Mauritius before being used to invest in Adani Group stocks.
'If the Adani Group secretly controls significant amounts of publicly traded stock without disclosure, the resultant share price of Adani listed companies could be easily manipulated to meet the immediate needs of the Adani Group,' Hindenburg concluded. 
The alleged money laundering would not only allow the conglomerate to manipulate stock, but it would also allow its companies to 'maintain the appearance of financial health and solvency' despite their debt, the short seller added.  
Hindenburg said that key listed Adani companies had 'substantial debt,' which has put the entire group on a 'precarious financial footing.'
The short seller asserted that shares in seven Adani listed companies have an 85 percent downside on a fundamental basis due to what it called 'sky-high valuations'.
The report also highlighted that the Adani Group has been the subject of four government investigations, alleging that the conglomerate illegally benefited from government tax credit programs.    
The research report, Hindenburg said, was based on an investigation over two years that involved speaking with dozens of individuals, including former Adani Group executives as well as a review of documents. 
It called the scheme the 'largest con in corporate history.'
Shares of Adani Total Gas and Adani Green Energy were down 20 percent on Monday
The Adani Group is now trying to fight back against these claims, issuing a 413-page rebuttal of the claims, calling the New York City-based firm the Madoffs of Manhattan (referring to the infamous scammer Bernie Madoff).
It claims that 'the Hindenburg report has been made with a clear intent to profiteer at the cost of our shareholders and public investors.
'Its report is neither "independent" nor "objective,"' the company's statement says. 'It is a manipulative document that is rife with conflict of interest and intended only for creating a false market in securities to book wrongful gain, which clearly constitutes securities fraud under Indian law.'
The company ultimately concludes: 'We reaffirm that Adani Group is in complete compliance with all applicable laws and regulations, and continue to retain all our rights to pursue remedies to safeguard our stakeholders before all appropriate authorities.'
But Hindenburg is standing by its report, saying Adani's statement 'predictably tried to lead the focus away from substantive issues, and instead stoked a nationalist narrative, claiming our report amounted to a "calculated attack on India."
'In short, the Adani Group has attempted to conflate its meteoric rise and the wealth of its chairman, Gautam Adani, with the success of India itself.
'We disagree,' Hindenburg said in a statement. 'To be clear, we believe India's future is being held back by the Adani Group, which has draped itself in the Indian flag, while systematically looting the nation.
'We also believe that fraud is fraud, even when it's perpetuated by one of the wealthiest individuals in the world.' 
Source: Read Full Article