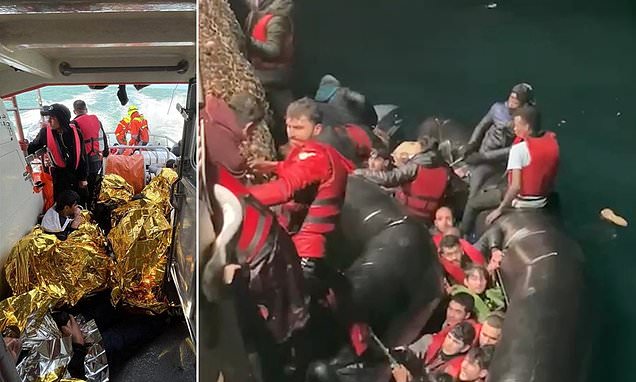 Gunshots and fights between migrants broke out in Dunkirk just hours before tragic boat started its ill-fated journey across the Channel
A teenage boy, 15, says he heard gunshots and fights break out hours before the ill-fated boat set sail
Six people died, and another two are feared missing, after a small boat sunk off the coast of France early on Saturday  
Witnesses have claimed that gunfire and clashes involving migrants broke out just hours before a small boat travelling from Dunkirk to Britain sank, killing six people and leaving two missing. 
An unnamed teenage boy from Afghanistan said that he heard gunshots ring out at the Grande-Synthe camp near Dunkirk on Friday night, amid clashes that he believed were between Afghans and Kurds. 
The 15-year-old told The Times that he also saw chaos in the camps after Afghans were turned away when they reached overcrowded dinghies on French beaches. 
He said that he managed to get himself on a boat with about 60 other people after lying to the people smugglers and claiming that he was Kurdish, but was later transferred to a rescue boat because the seas were so treacherous. 
The testimony comes after it was revealed that six people died after a small boat sank in the Channel, while a further 50 or so people had to be rescued after it launched off Sangatte, northern France in the early hours of Saturday morning. 
More than 50 people had to be rescued after a boat carrying dozens of people sank off the coast of Franc
Several people were taken to hospitals in Kent to deal with the traumatic injuries they suffered
Five people were taken to hospital in Kent, with three of these people suffering from hypothermia and another being take into intensive care. 
Two people are feared to be missing in the Channel. 
French authorities have revealed that most of the people who died after the boat sank were from Afghanistan. 
Sources claimed that French authorities did not do enough to help save the lives of the Channel-crossers, with many claiming that the first French lifeboat reached the site of the sinking 15 minutes after an RNLI boat was at the scene, despite the boat sinking around five miles from France's coast. 
New Home Office figures revealed that more than 500 people crossed the Channel on Saturday alone, including ten who were brought to Dover on British lifeboats. 
French authorities have been accused of not doing enough to help the migrants
Campaigners have called on the UK to open up more safe and legal passages for migrants to avoid needless deaths
Channel crossings skyrocketed last year, with the UK seeing 60% more crossings than 2021
More than 1,600 people crossed within three days, bringing the total number of people who crossed this year to nearly 16,700. 
A record number of people, 45,755, crossed the Channel in 2022, which is a 60% rise from the year before. 
Campaigners have said that the tragedy highlights the need for the UK to open safe passages for migrants to come to our shores. 
Steve Smith, chief executive of refugee charity Care4Calais said the incident was an 'appalling and preventable tragedy.'
'This terrible loss of life demonstrates yet again the need for a system of safe passage to the UK for refugees. This would enable them to apply for asylum while in France, and then to travel safely to the UK without risking their lives in small boats.
'It would put the people smugglers out of business overnight,' he said.
Enver Solomon, chief executive of the Refugee Council, urged the government to focus on creating an 'orderly and humane asylum system'.
He accused the government of 'focusing on passing expensive and unworkable legislation and shutting down existing safe ways to get to the UK.'
Head of bargaining at the Public and Commercial Services union, Paul O'Connor said the Government had 'blood on its hands', branding its approach a 'moral disgrace'.
'There is a readily available policy to prevent this tragic loss of life,' he said.
'Unfortunately, our calls on the Government to adopt it have fallen on stony ground. It's clear they have no desire to prevent these dangerous crossings.'
Source: Read Full Article