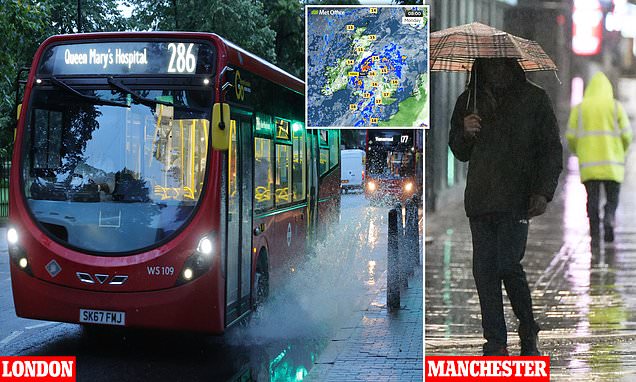 Summer, where art thou? Heavy downpours set to drench the UK with floods and power cuts possible – before a blast of 30C heat this weekend as August finally gets back on track
Met Office rain warning for up to 80mm (3in) over northern England and Wales 
But temperatures will build gradually this week with 30C possible this weekend 
Heavy rain will drench parts of Britain today as the washout summer continues – but conditions will improve later this week with temperatures set to reach 30C (86F).
The Met Office has imposed a 21-hour yellow rain warning for a total of up to 80mm (3.1in) to fall over northern England and Wales throughout today until 9pm tonight.
Forecasters said persistent and possibly thundery downpours will develop, with 20mm (0.8in) to 40mm (1.6in) expected to fall over much of the warning area.
There is also a chance of 60mm (2.4in) to 80mm (3.1in) falling in some places within three to six hours, most likely over North West Wales and North West England.
Homes and businesses could be flooded, communities could be cut off by flooded roads and the conditions could also lead to road closures, the Met Office said.
Miserable weather in Manchester this morning as a pedestrian shelters under an umbrella 
A bus creates a splash as it is driven through Greenwich in South East London this morning
Forecasters also warned of possible delays or cancellations to trains and buses, and a chance of power cuts and loss of other services to some homes and businesses.
READ MORE Torrents and the Machine! Downpours at the Boardmasters Festival in Cornwall fails to dampen spirits on You've Got The Love band's headline day
Away from the North and West, much of the UK will be mostly cloudy today with some light showers – although there could be some sunny spells.
It is then going to be a wet night for some areas, particularly northern England, the Midlands and Wales.
Showers are set to be locally heavy at times, with the chance of thunderstorms tonight still lingering from the day.
However, once the rain subsides, temperatures are set to build in parts of the UK throughout this week – with highs increasing gradually each day.
Tomorrow, light showers are expected, becoming widespread for a time in the afternoon – and there is a chance of thunderstorms in Scotland later on.
It will be quite cloudy to start, although sunny spells will break in – and the late afternoon will be sunnier and drier with some areas of light cloud.
Heavy cloud will start the day on Wednesday, with sunny periods expected during the afternoon, but there could also be light showers for some areas.
Southern England will enjoy the warmest weather, with today getting up to 23C (74F) before tomorrow hits 24C (75F), Wednesday 26C (79F), Thursday 27C (81F) and Friday 28C (82F). The weekend could then hit 30C (86F) in some areas.
Met Office forecaster Greg Dewhurst said temperatures should remain between 18C (64F) and 23C (74F) today, before conditions becoming drier tomorrow.
He said: 'Temperatures overall similar to the last couple of days really. So, jumping between 18C and 23C so overall an unsettled day.
'The good news is that low pressure moves out of the way as we go into Tuesday, so it should be a drier day on Tuesday. A better chance of seeing some sunny spells particularly across eastern parts of the UK.'
He said temperatures could then start to soar in southern parts of the UK as the week progresses. 'An area of low pressure to the west of the UK and the Atlantic slowly starts to move towards us,' he said.
'What that allows to happen is for the winds to turn southerly, and we start to import some higher temperatures from the near continent.
'So, staying into Friday, we're likely to see those temperatures rising, potentially getting towards the high 20Cs and then possibly by Friday and into the weekend, depending on cloud and shower distribution, we could locally see temperatures around 30C by the weekend.'
Source: Read Full Article