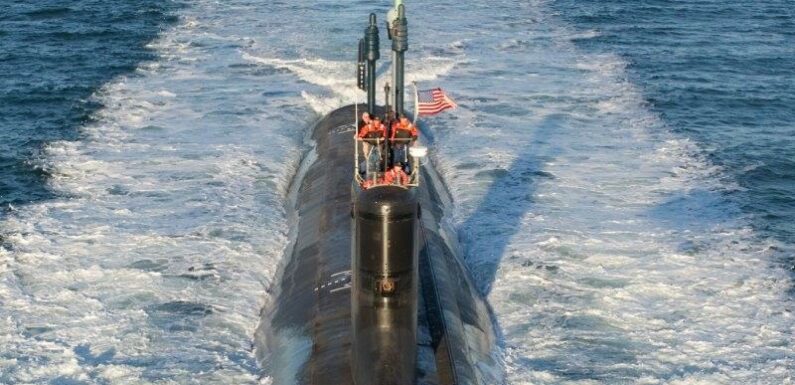 Washington: A maze of US regulations and export control laws still stand between Australia and the multibillion-dollar AUKUS agreement, even as the countries prepare to announce within weeks how the nuclear subs will be acquired.
With Prime Minister Anthony Albanese set to join US President Joe Biden and British Prime Minister Rishi Sunak to unveil the details of the agreement this month, Australia's ambassador to the US, Arthur Sinodinos, has signalled that one of the biggest hurdles to the deal is yet to be resolved.
Under AUKUS, Australia will need the US Congress to legislate exemptions on export controls and intellectual property transfers on sensitive technology.
Asked if Australia had secured a guarantee that US export control rules would be wound back to allow for the crucial transfer of nuclear technologies under the AUKUS pact, Sinodinos said that while a lot of work had been done to speed up the process, "it's not finished".
"The attitude we've taken is we want to push the (Biden) administration process as far as possible," he said, adding that the upcoming AUKUS announcement would build on the momentum "to get this done."
"But the very fact that Americans are prepared to share their crown jewels with us implies that there will have to be progress on the seamless transfer of technology. None of us want this to be bogged down."
The comments came as Sinodinos prepares to stand down as ambassador in coming weeks to make way for his successor, former prime minister Kevin Rudd.
Rudd previously headed up the Asia Society, an international-relations think tank in New York, and is regarded as one of the country's foremost experts on China. He will also be the first former prime minister to become US ambassador – something that carries great weight in the corridors of power at the White House and Capitol Hill.
Asked if he had any advice for Rudd, Sinodinos, a former Senator and chief of staff to prime minister John Howard, replied: "We should not be afraid to have more ambition in where we take the relationship. And I think Kevin is a big thinker, and I think he's the sort of person who is well suited to doing that."
Speaking at the Centre for Strategic and International Studies, a Washington-based think-tank, Sinodinos added that he was "genuinely excited that someone like Kevin got the job" due to Rudd's knowledge of China and understanding of the Indo-pacific region.
"That in itself needs to be leveraged," he said.
As US ambassador, Arthur Sinodinos played an important role in the creation of the AUKUS pact.Credit:Sarah Baker 
The AUKUS agreement is a strategic pact between Australia, the UK and the US, which was established in 2021 to counter China's growing influence in the region.
This month's announcement is expected to provide the first concrete insights into the cost, timing and procurement of the deal, which Albanese has described as "the single biggest leap in our defence capability in our history".
As part of AUKUS, the US has committed to sharing nuclear propulsion technology with Australia. However, US defence technology is tightly controlled under laws such as the International Traffic in Arms Regulations (ITAR) and other restrictions, and some fear the maze of regulations is so cumbersome it could stifle AUKUS pact.
Two of America's biggest proponents of the deal, Democrat Congressman Joe Courtney and Republican Congressman Mike Gallagher, have even suggested giving Australia a special exemption to accelerate the delivery of its nuclear-powered fleet.
"Congress must find a way to grant Australia a degree of freedom or flexibility from ITAR's requirements," Gallagher, who is also the chairman of the Select Committee on China, recently told The Sydney Morning Herald and The Age.
"There are ways we can exempt our closest allies without compromising national security or hurting American manufacturers. Congressman Courtney and I intend to make sensible ITAR reform a top priority this Congress."
Sinodinos said the Biden administration was aware that export controls would have to be unwound for AUKUS to function effectively and ensure the "seamless transfer of technology."
"That work is underway. It's not finished, but compared with say six months ago, the work is getting done," he said.
Get a note directly from our foreign correspondents on what's making headlines around the world. Sign up for the weekly What in the World newsletter here.
Most Viewed in World
From our partners
Source: Read Full Article