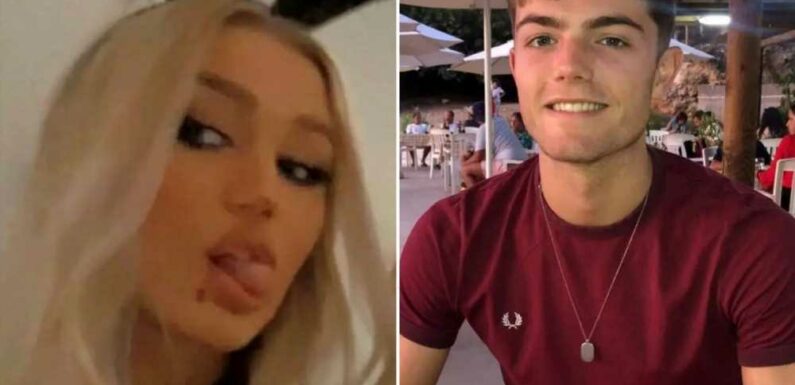 A WOMAN has bravely told how she was groped by a pervert who was dressed as a cop before he gave her a chilling warning during a night out.
Alexandria Child's was enjoying an October pub crawl with pals when she met Jonty Manning in The Lofts bar, Newcastle.
The psychology student was ushered away from her friend by the 21-year-old predator who said he would buy her a drink.
But sinister Jonty, who was wearing a novelty cop costume pinned her against the packed bar, digging his fingers into her waist and biting her neck and shoulders.
The terrified 21-year-old, who was dressed as a Playboy Bunny, was in so much pain she dropped to her hands and knees and crawled along the floor in a desperate bid to escape him.
To her horror, when she stood up, the sex pest, grabbed her again and told her: "I could do much worse".
Read More on UK News
Nicola Bulley development as TWO witnesses claim they spotted 'shabby van'
Elderly woman sexually assaulted at home as manhunt launched and public warned
Alexandria said: "I was on a Halloween bar crawl with my friend.
"The final bar was Lofts in Newcastle, which is where we met up with another group, which included Manning.
"I had never met him before but my mate had, so I didn't think he was weird.
"But he started being strange and digging his hands into my ribs. It really hurt but I'm quite a small girl so I just thought I felt it more because of my size.
Most read in The Sun
ITV axes major show after actress falls out with co-star
Two 'suspicious' men spotted by witness near missing Nicola's dog-walking route
Casa Amor boys set to go to war as they set their sights set on one girl
Urgent police appeal as teen girl found dead in park from serious injuries
"He asked if I wanted to get a drink and I insisted that I couldn't leave my friend.
"Eventually he convinced me and we went to the bar.
"He had his hands on my sides and I couldn't move, it was also a really packed bar.
"He dug his fingers into my ribs again and eventually it was so painful that I dropped to the floor and tried to crawl away from him, which was embarrassing enough.
"I stood back up and he got me in the same position.
"He bit my shoulder and neck.
"People started noticing his behaviour and asked if I was okay.
"He told me 'I could do much worse'."
Brave Alexandria says the sex pest then proceeded to grope her breasts and bum as she fought to shake him off.
It wasn't until a good Samaritan reported the deranged pervert that a bouncer dragged him off her and he was arrested on the night out in 2021.
She added: "When he told me it could get worse, that's when I became fearful. It was sinister.
"He grabbed my boobs and my bum until someone, probably a bar tender or clubgoer told the bouncer.
"They dragged him off me and he was arrested.
"I had to give a statement but I was in complete shock."
Manning, of Jesmond Road, Newcastle, initially denied any wrongdoing but was later identified via CCTV.
He eventually pleaded guilty to sexual assault.
On January 16, Judge Amanda Rippon sentenced him to an eight-month community order with 40 hours of unpaid work at Newcastle Crown Court.
The court heard Manning was in the process of completing a degree and had a number of character references.
Jessica Slaughter, defending, added that he had also taken on part-time work on weekends.
Ms Slaughter added: "When he was shown the footage his response was to say 'I feel horrific about it' and 'I just feel terrible'."
But Alexandria has now slammed the sentence and believes he got off lightly.
She said: "He got a slap on the wrist after I have been put through hell.
"What is a community order going to teach him?
"I feel completely let down by the legal system.
"I still haven't received an apology from him.
"It impacted my university work as I had anxiety about going to court.
"I haven't been able to go back to the bar where it happened."
Despite the lenient sentence, the student still encourages other women to come forward when they have been sexually assaulted.
She added: "Women should come forward if this happens to them and report it to the police.
Read More on The Sun
I'm a stylist – my fail-safe bra hack for open backs and strapless tops
Casa Amor line-up revealed in full as sexy Love Island bombshells arrive
"The perpetrator will continue to get away with it otherwise.
"They have to be punished for sexually assaulting someone."

Source: Read Full Article