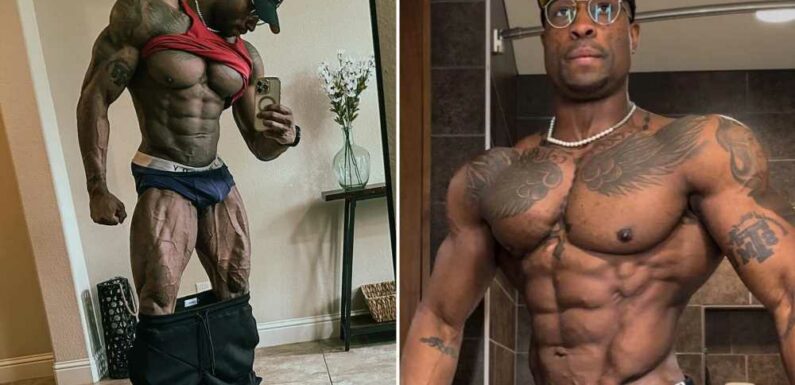 ELITE bodybuilder Erin Banks has revealed a move he uses to bulk up during leg day.
The legend skips most popular lower body exercises like deadlifts and squats, but has a unique solution to build muscle.
Erin told Insider: "Leg day is crazy, I've grown my legs tremendously.
"I don't really squat or deadlift because it compresses the waist, and you need to carve your body in a different way."
What's the muscle man's solution to create his toned body? Hack squats.
Erin swears by the exercise, which reportedly helps give more definition to quads and other leg muscles.
READ MORE IN WORLD NEWS
I'm a bodybuilder – my fit lifestyle hid cancer for five years
I'm a ginger gym girl and did the 'bicep curl challenge' – men think I'm cute
To try a hack squat, use a hack squat machine at the gym.
Position your feet flat on the plate and lean into the pads on your back.
Enter a deep squat, holding onto the bars by your shoulders, then stand up.
Repeat for however many repetitions you plan to do.
Most read in The Sun
Seven predictions for tomorrow's Spring Budget and what it means for you
Hollyoaks' Jessica Fox gives birth to 'miracle' baby and reveals sweet name
Kai and Sanam crowned Love Island winners by host Maya Jama
BBC sitcom AXED after just one season
The hack squat allows the bodybuilder to keep a small torso, which is highly sought after in competitions.
For his workout, Erin begins with hack squats, leg presses, lunges and hamstring curls.
But Erin said his physique isn't just due to his workout routine.
To keep truly fit, his diet is key, especially when it comes to toning ab muscles.
He said: "For getting abs, people think they need to go to the gym and do ab exercises.
"But if your food is not correct, you will never have abs like me."
Erin gained international fame in bodybuilding after winning Mr Olympia and the highly respected Arnold Classic.
But he didn't begin his fitness journey until only five years ago – and thanks his daughter for his journey.
Five years ago, Erin lost 40 pounds in only four months, and entered the world of personal training.
Banks eats six meals a day, starting at five in the morning. 
Before his workout, he makes sure to eat at least two meals. 
He said of the gruelling routine: "The main thing is sticking to your routine. It's a very taxing thing to do." 
Erin often shares glimpses into his fitness journey on Instagram with his hundreds of thousands of followers.
He recently posted some advice: "Go Get That s*** Done This Week! Take Advantage Of Your Positives And Most Importantly Learn From Your Mistakes! Stay Your Course And Be Great!!"
One bodybuilder in his seventies shared advice for staying fit and motivated as you train.
Robby Robinson, 76, said: "Healthy eating, hard, hard consistent work and the love for training are my secrets.
Read More on The Sun
Dumped Love Islanders mobbed by fans as they land in UK after missing final
I took my fluffy doodle to groomers – but he came back looking like Pennywise
"You could say I am genetically blessed but hard work creates the results.
"Age has no importance – the made up mind is powerful."

Source: Read Full Article