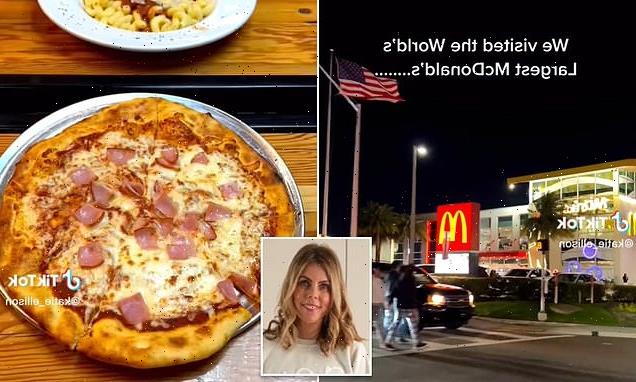 She's lovin' it! British influencer sets TikTok alight with trip to world's largest McDonald's in Orlando, where guests are served stone-baked pizza and pasta on ceramic crockery
Influencer Katie Ellison was on a family vacation during her visit to Epic McD
She shared interior views of the dessert bar and 22-foot play park for the kiddos
Ellison's son tried the pasta and she tried the pizza with topping and gave
A British influencer set TikTok alight with her visit to the world's largest McDonald's in Orlando, where guests are served stone-baked pizza and pasta on ceramic crockery. 
Social media influencer Katie Ellison paid a visit to the World's Largest McDonald's during a recent family vacation to Florida, and shared tantalizing clips of the three-story temple to fast food, whose name is the Epic McD's.
Ellison shared the restaurant's huge games arcade and play center, as well as a huge fish tank.
But it was some of the very specialized food items that really got people talking. 
The Orlando McDonald's offers stone-baked pizza dishes, as well as pasta – with guests served the food on traditional white ceramic crockery with metal utensils to help them eat it.  
Husband and one of her children ate the traditional McDonald's fare – but Ellison and her son were a bit more adventurous ordering the pizza and pasta combo.
Visiting the World's Largest Mcdonald's in Orlando, Florida…. 🤣🍔🍟 #mcdonalds #worldsbiggestmcdonalds #visitorlando #orlandotravel #orlandoguide #thingstodoinorlando #travelorlando #orlandowithkids #orlandovacation #orlandoholiday
The large kiosk is where patrons can place their food orders from the vast menu 
Katie Ellison a social media influencer from the UK and mother of three documented a recent  trip to the World Largest McDonald's in Orlando. Florida 
The pizza with ham topping was 'really nice,' she said but the pasta with sauce her son was a 'a bit watery.'
Ellison who placed her ordered at one of the kiosks told her viewers that 'you'll find things you wouldn't find at a normal McDonald's.'
She was even delighted with the ceramic crockery and cutlery that she said was served in a 'bowl and proper fork and knife and a little bit of garlic bread as well.'  
The family-friendly attraction, also known as Epic McD, is located on International Drive less than a mile south of Universal Orlando Resorts.
The World Record Academy lists the restaurant as The 'World's Largest Entertainment McDonald's.' 
The dessert bar that serves up an assortment of sweets including, specialty cakes and ice cream. There is also a gourmet breakfast like the Ham & Cheese French Toast and Belgian Waffles.
Patrons can order from a computer if they don't want to wait on line. Large-screened kiosks allow customers to view all the food choices available. And, there are plenty of different areas to sit and eat in.
Visitors are greeted by a 30-foot-tall image of Ronald McDonald at the entrance.
A close-up of the pasta dish her son ordered that she critiqued was a 'bit watery'
The cheese pizza with ham topping that Ellison said was 'really nice'
The 22-foot play park is where the kiddos can play for hours 
There's also an arcade offering hours of entertainment for adults and the kids 
Source: Read Full Article