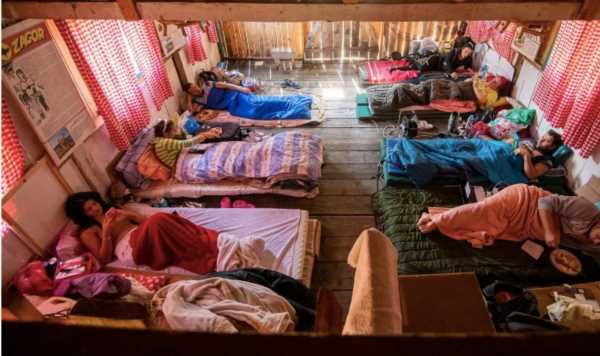 Competitors of Montenegro's annual Lazy Olympics are fighting for the title of the country's "laziest citizen", by seeing who can stay in bed for the longest continuous time.
The quirky event, held in the village of Brezna, has made headlines for its unusual goal: see who can lie down for the longest period of time, with sitting or standing up resulting in immediate disqualification.
The winner will take home the final prize of 1,000 euros in cash. The contest kicked off on August 19 with 21 participants, smashing all previous records this year by going past the 24-day mark.
But as the days rolled on, only four determined souls were left horizontal.
READ MORE: Cheapest destination in Europe is a 'hidden gem of the Mediterranean'
Every year, contestants stay at the holiday resort, get three square meals a day, and are allowed to visit the loo every eight hours. Their health is closely monitored, but the golden rule is simple – no standing or sitting up, or they're out.
Competitor Radona Blagojevic, 21, explained a recent tweak to the rules, saying: "Earlier we had a rule that there was no getting up, not even going to the toilet, so who could last the longest.
"But since 2021, we introduced the innovation that every eight hours they can take a 15-minute break to go to the toilet," Blagojevic said.
The bizarre contest started in 2001 as a way to playfully challenge the stereotype that Montenegrins are a lazy bunch.
Don't miss…
The beautiful UK island that was once absolutely swarming in dinosaurs[LOOK-BACK]
Travel expert shares 'massive' mistake Britons make on holiday[INSIGHT]
British expats warned leading bank is about to close all accounts[WARNING]
We use your sign-up to provide content in ways you've consented to and to improve our understanding of you. This may include adverts from us and 3rd parties based on our understanding. You can unsubscribe at any time. More info
While most contestants are from Montenegro, the competition has attracted folks from nearby countries like Serbia, Bosnia and Herzegovina, Croatia, and even participants from as far as Russia and Ukraine.
Competitor Lidjia Markovic, a beautician, commented on her remarkable display of endurance by saying: "I'll get up when I get bored, but I'm not sure when that will be.
"My brother and parents came to beg me to stop, promising 1,000 euros in exchange if I did. But I told them there is no chance and that I'd stay until the end."
Source: Read Full Article