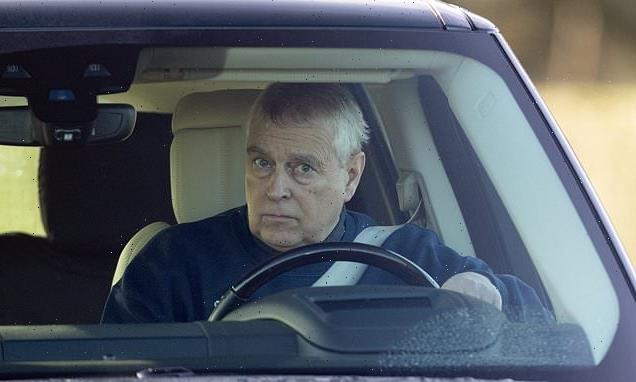 EPHRAIM HARDCASTLE: Is Prince Andrew's coronation role under threat over Netflix drama?
Rufus Sewell's portrayal of Andrew in the Netflix Newsnight interview drama could inadvertently cost the disgraced prince a key role in his brother's Coronation.
Charles is currently selecting the four luminaries who will hold the canopy in place over him at his anointing.
Traditionally, it falls to four Knights of the Garter. But, with a quarter of the 24 positions vacant and many of the survivors too frail to participate, the King is considering inviting his heir William and his three siblings to perform the role. 
However, as Netflix highlights Andrew's friendship with Jeffrey Epstein, the monarch may have second thoughts.
No word yet on who will play Beatrice in the Netflix drama. When she discovered that her dad had agreed to the inquisition she insisted on attending. 
Recalled BBC producer Sam McAlister: 'She asked to come along too… Suddenly she was in that room with us.' 
Before Andrew pressed the self-destruct button, he insisted on Emily Maitlis as interrogator. 
Has he given Emily's Netflix doppelganger Gillian Anderson a similar thumbs-up?
King Charles's appearance with a hole in his right sock at a Brick Lane mosque should have sent shudders of apprehension though his wardrobe squad. 
Were his dressing team aware that his engagement involved removing shoes and that his socks weren't in good order? It wouldn't have occurred in Australia. 
On his last visit there, Charles's 13-strong entourage included a dresser, a butler, a valet and a travelling yeoman to manage his clothes.
Oscar nominee Paul Mescal, pictured, reveals that his stellar success prompts his Irish neighbours to bring him down to earth. 
'If they ever feel I am getting too big for my boots, it pops up that I once promoted Denny's sausages,' he tells Radio 4, describing how, after three years at drama school, he was poor and needed the money. 
'But I didn't know you weren't supposed to eat them all. You were supposed to spit them out into a bucket. I felt it was rude. 
'But I've learnt my lesson that it is better to spit them out than to eat 15 sausages in a morning.'
The Globe Theatre's daft 'misogyny' warning to audiences before an upcoming production of A Midsummer Night's Dream evokes memories of Sir Peter Hall's 1968 movie version of the Shakespeare play starring the late Diana Rigg.
'I had this little slip of a cotton dress on,' recalled Dame Diana. 'And I bought some woolly knickers to wear underneath. I was up a tree and I heard Peter Hall say, 'Diana, take your knickers off!'
Ex-Labour MP Janet Anderson, who has died at the age of 73, delighted the Queen with a daily diet of gossip as the official parliamentary vice-chamberlain including the description of 'Squeaker' John Bercow as a 'rather odious little Tory MP from Buckingham'. 
Fingers crossed that HM and Janet, on some celestial cloud, are chuckling at her description of Michael Fabricant as looking 'for all the world as though he wears a wig but won't admit it'.
Source: Read Full Article