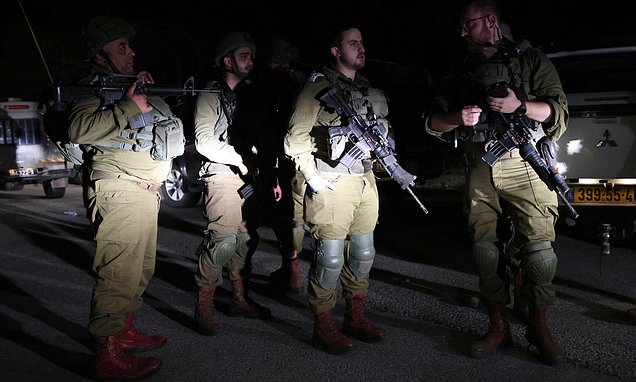 Israel strikes multiple military targets in Syria after six rockets were launched from Syrian territory overnight as tensions continue to escalate in region
Six rockets fired from Syrian territory towards Israel-occupied land overnight 
Israel retaliated by responding with artillery fire and by deploying fighter jets 
Latest cross-border tension comes amid increased violence over Ramadan 
Israeli forces have struck multiple military targets in Syria in retaliation to six rockets being launched into territory it controls overnight.
In a rare attack from its north-eastern neighbour, Syria fired the rockets at Israel's Golan Heights in two batches, but only three of the missiles fell within Israeli territory and no one is believed to have been injured.
The attack from Syria comes after Israeli forces stormed one of Jerusalem's most holy mosques during Ramadan – with videos purportedly showing Israeli police officers beating Palestinians with batons and rifle butts at the mosque. 
Following the second round of overnight rockets, Israeli forces confirmed they had responded with artillery fire into the Syrian territory where the rockets had been launched from. 
Later, the military said that Israeli fighter jets attacked Syrian army sites, including a compound of Syria's 4th Division and radar and artillery posts.
Israeli military forces have confirmed they have retaliated to six rockets being fired from Syria overnight. Pictured: Israeli soldiers on alert after the rocket launches
The six rockets, which were fired in two different batches, were aimed at Israel's Golan Heights (pictured)
The Israeli military 'sees the State of Syria responsible for all activities occurring within its territory and will not allow any attempts to violate Israeli sovereignty'.
Damascus-based Palestinian group Al-Quds Brigade, who are loyal to the Syrian regime, claimed responsibility for launching the three missiles on Saturday, according to Lebanese channel Al-Mayadeen TV.
The report quoted the Al-Quds Brigade as saying it fired the rockets in retaliation for the police raid on the sensitive holy site Al-Aqsa Mosque.
READ MORE: Shocking chaos as Israeli forces 'storm Islam's third-holiest site' during Ramadan 
An adviser to Syria President Bashar Assad described the rocket strikes as 'part of the previous, present and continuing response to the brutal enemy'.
The cross-border attacks come amid heightened tension in Lebanon, Gaza, East Jerusalem and the West Bank – which coincides with the crossover of Ramadan, Passover and Easter.
The raid of the Al-Aqsa mosque has led to increased violence in the country and on Friday, two British-Israeli sisters, Maya and Rina Dee, were shot dead in the occupied West Bank, allegedly by Palestinian gunmen.
In the first rocket attack, on Saturday, one rocket landed in a field in the Israeli-annexed Golan Heights. Fragments of another destroyed missile fell into Jordanian territory near the Syrian border, Jordan's military reported. 
In the second attack, two of the rockets crossed the border into Israel, with one intercepted and the second landing in an open area. 
Israel, which has vowed to stop Iranian entrenchment in Syria, has carried out hundreds of strikes in government-controlled parts of that country in recent years, though it rarely acknowledges them.
Before the latest strikes, Syrian officials had attributed 10 attacks to Israel this year, some of which put Damascus and Aleppo airports temporarily out of service and killed civilians as well as Syrian soldiers and Iranian military advisers.
The rocket firings came after days of escalating violence on multiple fronts over tension in Jerusalem and an Israeli police raid on the city's most sensitive holy site. An image on social media appeared to show worshippers with their hands cuffed behind their backs and laying the ground after Israeli forces stormed the Al-Aqsa mosque
British sisters Maya, 20, and Rina, 16, were murdered in a West Bank drive-by shooting on Friday
Meanwhile, in the occupied West Bank, Israeli security forces killed a 20-year-old Palestinian, named as Ayed Salim, in the town of Azzun, Palestinian health officials said.
The Israeli military said its troops were firing at Palestinians who were hurling stones and explosive devices.
More than 90 Palestinians and have been killed by Israeli fire so far this year, at least half of them affiliated with militant groups, according to a tally by the Associated Press.
READ MORE: Britain's Chief Rabbi pays tribute to two 'much loved' British sisters murdered in West Bank drive-by shooting as funeral is set to be held in Efrat today 
Palestinian attacks on Israelis have killed 19 people in that time, all but once of them civilians, including the British sisters and an Italian tourist killed by a suspected car-ramming in Tel Aviv. 
Late on Saturday, tensions ran high in Jerusalem as a few hundred Palestinian worshippers barricaded themselves in the mosque, which sits on a hilltop in the heart of Jerusalem's Old City sacred to both Muslims and Jews.
Israeli police efforts to evict the worshippers locked in the mosque overnight with stockpiled firecrackers and stones spiralled into unrest at the holy site earlier this week.
The latest escalations prompted Israeli Defence Minister Yoav Gallant to extend a closure barring entrance to Israel for Palestinians from the occupied West Bank and Gaza Strip for the duration of the Jewish holiday of Passover, while police beefed up forces in Jerusalem on the eve of sensitive religious celebrations.
In a separate incident in the northern West Bank city of Nablus late on Saturday, a leader of a local independent armed group known as the Lion's Den claimed the group executed an alleged Israeli collaborator who had tipped off the Israeli military to the locations and movements of the group's members. 
Israeli security forces have targeted and killed several of the group's key members in recent months.
The Israeli military 'sees the State of Syria responsible for all activities occurring within its territory and will not allow any attempts to violate Israeli sovereignty'. Pictured: Israeli soldiers on alert after rocket launches
The cross-border attacks come amid heightened tension in Lebanon, Gaza, East Jerusalem and the West Bank – which coincides with the crossover of Ramadan, Passover and Easter. Pictured: A flare fired to search for a rocket
The accused man's killing could not be immediately confirmed, but videos in Palestinian media showed medics and residents gathered around his bloodied body in the Old City, where the Lion's Den holds sway.
'Traitors have neither a country nor a people,' Lion's Den commander Oday Azizi said in a statement.
More than 2,000 police were expected to be deployed in Jerusalem on Sunday – when tens of thousands of Jews are expected to gather at the Western Wall for the special Passover priestly blessing.
The Western Wall is the holiest site where Jews can pray and sits next to the Al-Aqsa Mosque compound, where large crowds gather each day for prayers during Ramadan.
Jerusalem police chief Doron Turgeman met his commanders on Saturday for a security assessment. He accused the Hamas militant group, which rules the Gaza Strip, of trying to incite violence ahead of Sunday's priestly blessing with false claims that Jews planned to storm the mosque.
'We will allow the freedom of worship and we will allow the arrival of Muslims to pray,' he said, adding that police 'will act with determination and sensitivity' to ensure that all faiths can celebrate safely.
Source: Read Full Article