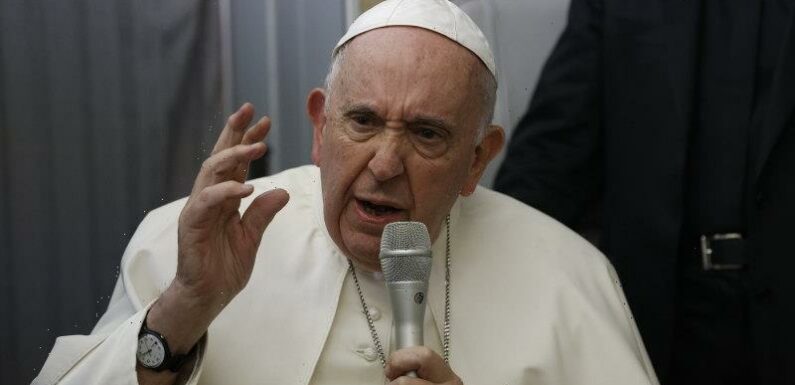 Pope Francis has defended his statements on the Russian invasion Ukraine, drawing criticism later for saying Chechens are generally crueller than other Russians fighting in Ukraine.
When the Pope was asked why he appeared reluctant to criticise Vladimir Putin and Russia over the war, he responded saying Ukrainians were being "martyred" by the invading forces, who have been accused of human rights abuses ranging from rape and torture to murder.
Pope Francis.Credit:AP
"When I speak about Ukraine, I speak about the cruelty because I have much information about the cruelty of the troops," he told America, a prominent Jesuit publication in the US.
"Generally, the cruellest are perhaps those who are of Russia but are not of the Russian tradition, such as the Chechens, the Buryati and so on.
"Sometimes I try not to specify so as not to offend and rather condemn in general, although it is well known whom I am condemning. It is not necessary that I put a name and surname (to it)."
Chechnya's regional leader Ramzan Kadyrov.Credit:AP
Buryats, an ethnic Mongolian group who live in eastern Siberia, were among Russian troops who occupied villages and towns outside Kyiv in the first weeks of the invasion.
Ethnic minorities such as the Buryats are often disproportionately represented in the Russian armed forces because military service offers them an escape from their economically depressed regions.
Recently it has been shown that the massacres in Bucha and other towns in the first months of the war were carried out by various military units rather than by one ethnicity.
Russians across the political spectrum heavily condemned the Pope for what they said were racist remarks. Maria Zakharova, a Russian foreign ministry spokeswoman, yesterday dismissed the comments as "absurd" and sought to remind him of the tenets of Christianity.
"I would like to remind our Catholic brothers that the Bible says all people have one father: this should put an end to all talk based on xenophobia, racism and nationalism," she said.
Alexander Avdeev, Russia's ambassador to the Vatican, also expressed his "indignation" over "the strange remarks attributed to Pope Francis".
"I'm really sorry that the Pope turned out to be a racist," Alexandra Garmazhapova, head of the Free Buryatia foundation, told a Russian radio show yesterday.
Garmazhapova added: "If the Pope truly cared about Ukraine, he would use his enormous influence and make a genuine effort to get the whole world to rally around [it]."
Telegraph, London
Get a note directly from our foreign correspondents on what's making headlines around the world. Sign up for the weekly What in the World newsletter here.
Most Viewed in World
From our partners
Source: Read Full Article