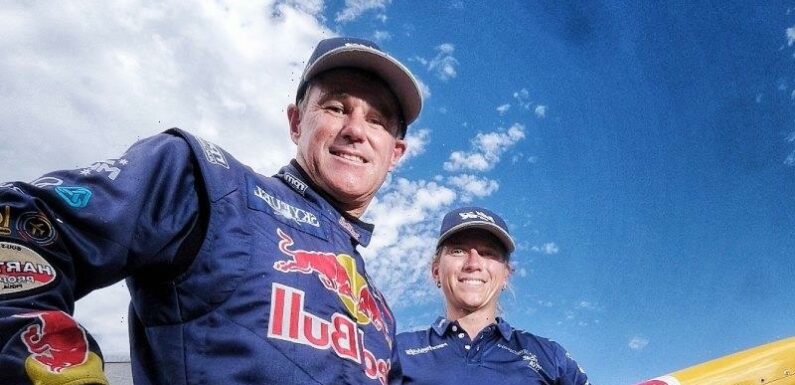 The small plane soars straight up into the sky, reaching a maximum height of 18,000 feet and 500 kilometres per hour. It makes a 180-degree turn, the tip of its nose pointing towards the ground. Suddenly, it begins to free-fall, plummeting to earth at great speed. Right before impact, its nose lifts and it sails seamlessly along the tarmac.
This manoeuvre – the "torque roll" – elicits shocked gasps from the nervous crowd below. Thankfully, the man in the aircraft doesn't feel nervous at all.
Aerobatic pilots Emma McDonald and Matt Hall at the Avalon Airshow.Credit:Luis Enrique Ascui
"Everyone assumes I'm an adrenaline junkie … I don't get adrenaline," says Matt Hall, the aerobatics pilot who was steering the aircraft just seen hurtling towards the Avalon Airport runway.
Hall, 51, is the reigning Red Bull Air Race world champion, a former Royal Australian Air Force top gun fighter pilot, and he owns and directs his own eponymous racing company. Wearing black sunglasses and a pilot jumpsuit covered in badges, he exudes the nonchalance of Tom Cruise in Top Gun.
He's been in the air enough to know that he only gets nervous when something has gone wrong – no matter how high, fast or upside down he is.
"Adrenaline is fired in when your body is concerned about its own survival … So when something is going wrong, when you're not in control," he says. "If I get that in an aircraft, it means I've pushed too hard."
That has only happened a handful of times, including when he crashed a plane and was being shot at during combat operations. The air show on the other hand, regardless of the inconceivable flips and tricks he masters, is Hall's safe space.
"It's probably the freest I feel. When you're engaged in something like what I just did, you don't have any external thoughts in your brain," he says. "Life becomes very simple. You're not worried about your bank balance, you're not worried about your car breaking down, all you're worried about is what's happening right now."
Despite his evident "cool factor", he remains humble. He says he doesn't fly to show people how talented he is but continues in the hopes of motivating others, particularly young children, to pursue aviation.
Flying alongside Hall is Emma McDonald – the only female aerobatics pilot at the Avalon Airshow. She wears that badge with honour, proudly representing a demographic that is not as common within the industry.
"I'm certainly very proud and privileged to be here. To be invited to perform at Avalon is really quite special," McDonald says.
Paul Bennet during the air display at Avalon Airshow.Credit:Luis Enrique Ascui
"Being a female pilot, there's certainly not many of us. There's more coming onboard, which is great to see, so I'm here to try to encourage more women to join."
Over the week, about 248,000 people flocked to the Avalon Airshow to watch jaw-dropping aerial stunts – more than 76,000 more than the total attendance at the last airshow, held in 2019.
At 11am on Sunday, more than 32,000 people had already arrived at the show.
This is the first year the airshow has offered free entry for those under 15 during the days it's open to the public (Monday through to Thursday are for those within the industry). This is part of an effort to encourage more young people to consider a career in aviation.
Aerobatics pilot Paul Bennet.Credit:Luis Enrique Ascui
Seeing so many kids is heartening for Paul Bennet, an aerobatic champion in both the advanced and unlimited categories.
"Heaps of kids have come to me, tapped me on the leg and said, 'I want to be just like you when I get older'," Bennet says with a smile. "I say, 'Anyone can do it, mate' … We're not any kind of genius."
All it takes is training, fitness and passion, he says.
"Obviously, it has cost us all a lot of money to get to where we've got to. But if you're determined to do something, you can do anything you want."
Bennet admits he still feels some nerves before each flight, but the meticulous planning and training before each show put his mind at ease.
"Everything's well rehearsed. We don't just come out here and start flopping around," he says. "It's a pretty complex display, there's a fair bit going on, but there's a lot of pre-work before we get here."
The Morning Edition newsletter is our guide to the day's most important and interesting stories, analysis and insights. Sign up here.
Most Viewed in National
From our partners
Source: Read Full Article