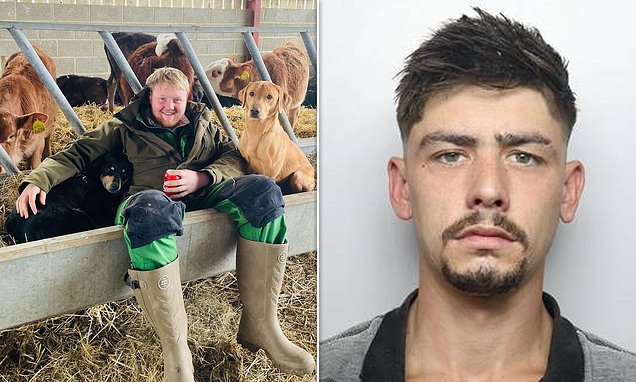 Jeremy Clarkson's Diddly Squat sidekick Kaleb Cooper rushed to help when 'bat out of hell' driver ploughed into Ford Ka outside TV star's farm, court hears
Kaleb Cooper was reportedly first on the scene following the high-speed crash 
Jeremy Clarkson's Amazon Prime farming sidekick Kaleb Cooper was reportedly a first responder after a 'selfish and careless bat out of hell driver' ploughed into a Ford Ka outside the TV star's farm. 
Mr Cooper was on hand to block off the road to block off traffic after Lewis Smith, 25, had ignored give way signs at a junction on the A361 near Chadlington and smashed into an oncoming Ford vehicle with his Ford Fiesta in September 2021. 
Smith, who the court heard was driving like a 'bat out of hell' wasn't wearing a seatbelt and was severely injured in the crash as was his seatbeltless passnger who suffered a bleed on the brain.
The Ka's driver was trapped in her car for hours before emergency crew could cut her free. 
Her daughter who was in the vehicle has since developed severe post-traumatic stress disorder reports the Oxford Mail. 
Kaleb Cooper, a fan favourite on Clarkson's Farm, was reportedly first on the scene
Jeremy Clarkson pictured with partner Lisa Hogan at his Diddly Squat farm in Oxfordshire
It's understood Mr Cooper rushed to the aid of the drivers following the crash near the farm 
Lewis Smith pleaded guilty to causing serious injury by dangerous driving and was sentenced to two years
Mr Cooper is often seen around Jeremy Clarkson's Chipping Norton farm whilst recording the pair's popular show Clarkson's Farm.
The show which follows Jeremy's attempts to manage his own 1,000-acre plot after his previous farmer retired, recently broke viewing records.
READ MORE: Clarkson's Farm star Kaleb Cooper says he 'pays himself 50p an hour' as he highlights farming difficulties
Fact-box text
The season 2 premiere of the farming show was watched by 4.3M viewers according to Barb, the official audience research group.
The figures made it Amazon's highest rated show since the company began reporting viewing figures in November 2021, beating smash hit The Lord of the Rings: The Rings of Power, which launched on the platform last year with 3.2M viewers.
Smith pleaded guilty to causing serious injury by dangerous driving and was sentenced to two years and banned from driving for 24 months. 
Sentencing, Recorder John Bate-Williams said: 'You deliberately drove at a very excessive speed and an obviously dangerous speed after ignoring the need to stop or give way to traffic on the main road. 
'You seem to have paid no thought at all to the likelihood of oncoming traffic, poisoned as you were by some degree of alcohol and what seemed to me to be a desire to put [your friend's] car through its paces with what can only be described as catastrophic consequences.'
Investigating officer, PC Chris Weatherley, of Thames Valley Police Joint Operations Roads Policing Unit, said: 'I am pleased with the sentence handed out to Smith.
'This was a very serious collision which has not only effected the lives of those involved but their families and friends around them.
'I hope this sentence today serves as a reminder to people who chose to drive in such a manner that there are consequences not only for them but for others too.'
Source: Read Full Article