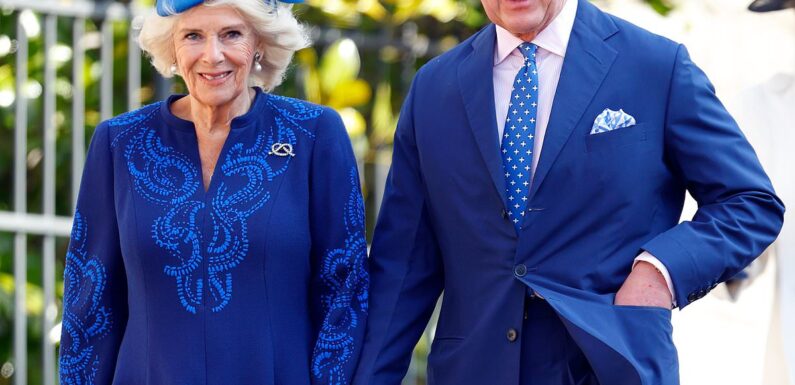 King Charles and Queen Camilla's state visit to France which was postponed after widespread rioting will now take place on September 20, Buckingham Palace announces
The King and Queen's state visit to France, which was postponed in March after widespread rioting, will now take place from September 20-22, Buckingham Palace has announced.
Charles and Camilla were due to tour Paris and Bordeaux in March but after violent nationwide demonstrations, from those opposed to President Emmanuel Macron's retirement age reforms, the trip was shelved.
The overseas tour was to be the King and his wife's first state visit, but Germany – the second leg of the journey – became the historic first destination for the royal couple.
Buckingham Palace said in a statement: 'The King and Queen will undertake a state visit to France, visiting Paris and Bordeaux, from Wednesday, September 20 to Friday, September 22.
'The visit will celebrate the shared history, culture and values of the United Kingdom and France.'
Buckingham Palace has announced the new dates for Charles and Camilla's postponed state visit to France. Pictured: The King and Queen in Windsor on Easter Sunday this year
Mr Macron telephoned the monarch on the morning of March 27 and asked him to stay in the UK after a call to 10 Downing Street with the same advice.
The French President's aides feared the event could stir up revolutionaries across the Channel, given the chateau's links to the 1789 Revolution and the last king of France Louis XVI and his wife Marie-Antoinette, who were guillotined in 1793. 
At the time, royal commentator Richard Fitzwilliams said the postponement was a 'humiliation' for Mr Macron.
He added: 'The country is descending into anarchy and it was clearly impossible to guarantee the safety of the royal party and to keep to any set schedule where security could be relied on.
The King and Queen's original state visit to France was cancelled due to nationwide rioting over Emmanuel Macron's pension reforms
'Threats to disrupt the visit were all too real, especially give the symbolism attached to Versailles, where a state banquet was to be held.'
It is understood the programme for the state visit will remain broadly similar to events planned for the March trip. 
President Macron is still expected to host a state banquet in honour of his guests the King and Queen. 
Source: Read Full Article