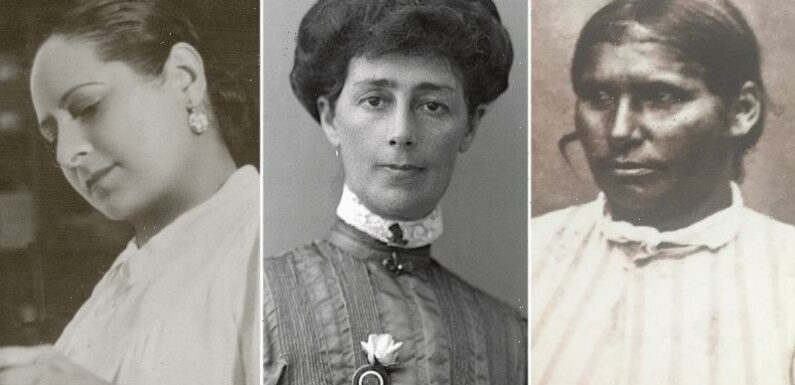 Key points
Louisa Briggs was stolen by sealers lived in Tasmania then returned to country and became a nurse, a matron and defender of her people during the earliest days of the colony of Victoria. 
Helena Rubinstein came to Melbourne as a Polish immigrant and opened her first makeup store on Collins street and was in many ways the inventor of the modern cosmetics industry and having opened five stores in Melbourne she moved to the US and went on to build a global cosmetics empire. 
Vida Goldstein was the first woman in the world to nominate for election to a national parliament.
Melbourne is set to get three new statues of women as well as a road named after former premier Joan Kirner in a bid to address the gender imbalance in the city's landmarks.
The City of Melbourne is proposing erecting statues of Boonwurrung woman Louisa Briggs, who advocated for Indigenous rights, politician Vida Goldstein and entrepreneur Helena Rubinstein.
Of the 580 statues in Melbourne, only nine depict real women. There are more statues of fairies and nymphs.
The council is proposing erecting statues of Louisa Briggs, Vida Goldstein and Helena Rubinstein. Credit:The Age
Deputy Lord Mayor Nicholas Reece will move a notice of motion at the City of Melbourne's meeting next week calling for the council to work towards getting at least three new statues of women.
"We want to have a community conversation about which of those remarkable women should be memorialised in statues to start the ball rolling. I stress this is only the start of the conversation, not the final word," he said.
"Melbourne has ignored its great women for too long.
"While we work toward 50:50 quotas in almost every sphere of life, the gender gap when it comes to statues is beyond absurd. It is a moral hazard for Melbourne."
Clare Wright, professor of history at La Trobe University and co-convenor of lobby group A Monument of One's Own said the push for three statues was a marvellous outcome.
"We are not going to get to statue equality by two statues being announced, but each statute is going to change the game … and each statute goes towards closing the respect gap in our commemoration of women's past contributions to Australian history."
Clare Wright, La Trobe University history professor, says each new statue will change the game.Credit:Susan Papazian
The council will also consider a motion to name a new road in North Melbourne, Kirner Street, after former premier Joan Kirner at its meeting next week.
The former Labor politician, who died in 2015 after a battle with oesophageal cancer, was first elected to parliament in 1982. She became the state's premier in 1990 after John Cain resigned and held office for two years before Jeff Kennett's landslide win at the 1992 election.
Former premier Joan Kirner may have a street named after her. Credit:Justin McManus
The road is located in a North Melbourne development called The Academy.
Lord Mayor Sally Capp said the proposal to name the street in Kirner's honour would be considered by councillors next Tuesday evening.
"Joan Kirner was a remarkable Melburnian," she said.
City of Melbourne councillor Rohan Leppert said while he supported the proposal to name the street after Kirner he had also put forward a submission for the council to formalise a community-led road naming policy.
"The Kirner Street proposal is great but one of the consequences of the proposal is it will be difficult to name another street or road after Joan Kirner in a five-kilometre radius, so there is a question as to whether this is a significant enough road for a former state premier," he said.
Leppert said he was interested in shaping the council's policy going forward with a significant opportunity coming up to name a lot of new roads with the Arden, McAuley and Fishermens Bend developments under way.
"We don't have a policy of speaking to traditional owners or community groups. We have a practice of talking to developers who take the lead of proposing the new name," he said.
"I want to make sure we have a community-led process."
The Morning Edition newsletter is our guide to the day's most important and interesting stories, analysis and insights. Sign up here.
Most Viewed in National
From our partners
Source: Read Full Article